Rhode Island Biker Gangs: 49 Arrested Following 'Largest Ever' Police Crackdown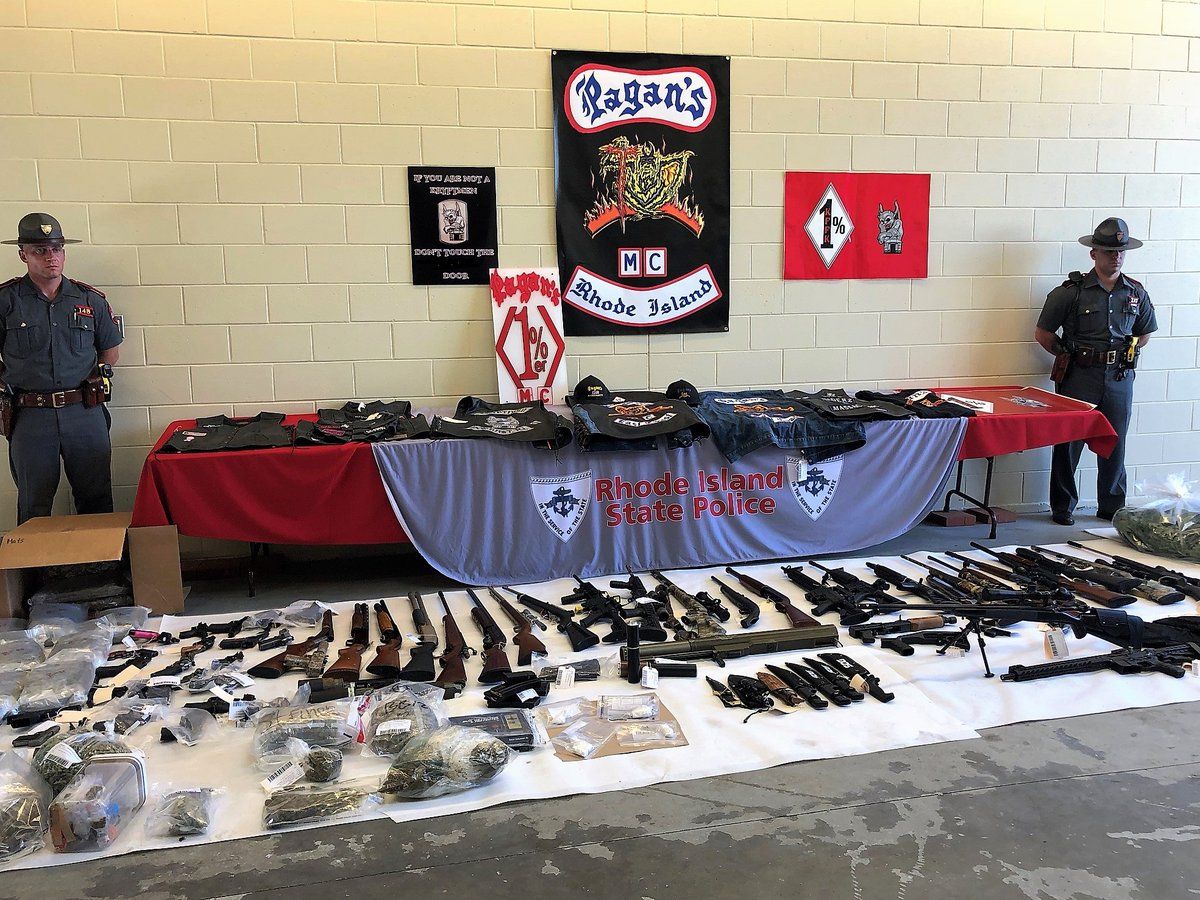 Nearly 50 people have been arrested as part of a massive police crackdown on biker gangs in Rhode Island.
A total of 49 people have been arrested following the year-long investigation involving more than 150 state, federal and local law enforcement officers, with 53 illegal guns and large quantities of marijuana, crack, cocaine and heroin also seized.
The arrests were made following a series of pre-dawns raids by the Rhode Island State Police. During the raids, explosive devices were used to breach heavily fortified buildings, as well as an armored truck and battering ram to break down doors. Dozens of heavily armed SWAT team members were also deployed to detain the suspects.
Announcing the arrests, Superintendent of the Rhode Island State Police, Colonel Ann C. Assumpico, described the operation as the "single largest takedown" in the department's history.
"These gang members are not recreational bikers organizing local charities. These are violent criminals who belong to some of the most sinister motorcycle gangs in this country," Assumpico said.
"When I learned they were trying to establish a foothold here in Rhode Island, I ordered my detectives to use whatever means necessary to investigate and eradicate these gangs.
"Today's arrests send a clear and convincing message: We will not allow motorcycle gangs and other criminals to sell guns and drugs on our streets and commit violent crimes in our communities."
According to the police, one of the suspects they arrested was en route to committing a premeditated murder. The alleged gang member was stopped in his vehicle near to the potential victim's home in possession of a 9mm Ruger pistol.
"I commend the excellent work by the network of law enforcement agencies involved in this investigation, especially the prosecutors from my office and the Rhode Island State Police. As with all good investigations, it took patience and tenacity to unravel what is a vast and complex network of drug and gun traffickers in Rhode Island and bordering Massachusetts and Connecticut," said Attorney General Peter Kilmartin.
More than a dozen additional suspects are being sought by Rhode Island State Police for a string of crimes.
The investigation, Operation Patched Out, focused on targeting members of two gangs: The Pagans and Kryptmen, who are allegedly involved in gun and drug trafficking, with local chapters known for a long history of criminal activity including murder, kidnapping, robbery.