Donald Trump May Not Be on the 2020 Election Ballot in Some States Unless He Releases His Tax Returns
Donald Trump made headlines throughout the 2016 campaign for his refusal to release his tax returns to the public. Now, if he doesn't comply to disclose that information in the lead-up to the 2020 election, he could find his name stripped from the ballot in some states.
The Rhode Island Senate on Tuesday passed a bill that would require all presidential candidates to make their tax returns from the past five years available for voters to see, or risk being left out at the polls. Lawmakers approved of the bill overwhelmingly, 34 to 3. The legislation will now move on to the statehouse for a vote.
The Democrats who run Rhode Island's state Senate told The Providence Journal that"tax returns provide essential information about candidates' conflicts of interest, and other vital information to a voter weighing a decision."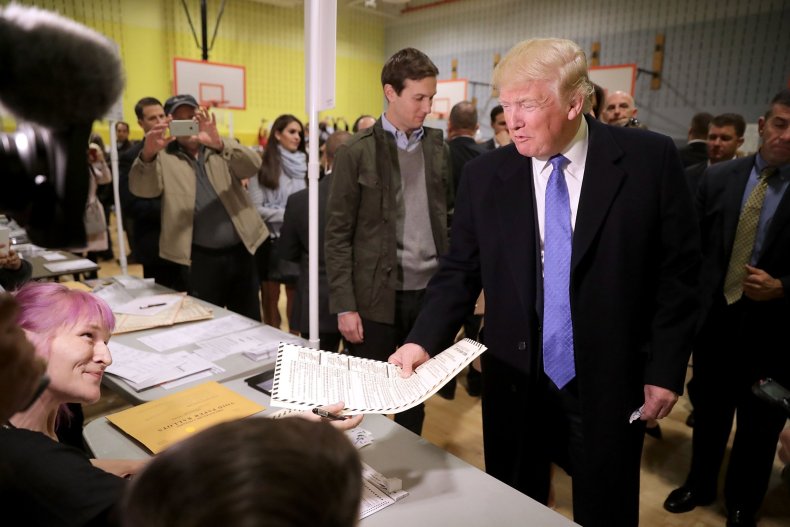 Rhode Island is not the only state passing this kind of legislation. In early May, Maryland lawmakers passed a similar bill that would force presidential candidates to publicize their tax returns in order to appear on the state ballot.
Trump is the only candidate to not release his tax returns in over 40 years. His reasoning during the 2016 election was that at the time, he was being audited by the Internal Revenue Service and couldn't release any information until its review was over.
"I get audited every year. I will absolutely give my return, but I'm being audited now for two or three years, so I can't do it until the audit is finished, obviously. And I think people would understand that," Trump had said in a Republican debate in Houston in 2016.
The IRS responded to Trump's reasoning, saying there was nothing holding back a candidate from releasing the records even if they are being audited.
The precedent of making these personal financial records available to the public started in 1973 with Richard Nixon, who was under scrutiny for cheating on his tax returns. His write-offs became public because of the Watergate trial; the public demanded that he make his finances public.
Nixon replied that he welcomed "this kind of examination, because people have got to know whether or not their president is a crook. Well, I am not a crook." Months later, he resigned from office and was accused of misusing government agencies like the IRS and the FBI.
According to the White House, the current president filed an extension on his 2017 tax return and has until October 15 to submit his records.