Rhode Island Gov. Dan McKee Signs Legislation Increasing Minimum Wage To $15 An Hour By 2025
Rhode Island Gov. Dan McKee signed legislation on Thursday to increase the state's minimum wage from $11.50 to $15 by 2025.
"Raising the minimum wage will benefit thousands of working Rhode Islanders and families across our state," McKee said in a statement. "This boost in wages will go back into our local economy, supporting small businesses and our communities."
Beginning January 1, 2022, minimum wage will go up to $12.25 and will increase annually until it hits $15 on January 1, 2025.
The bill was introduced by McKee's fellow Democrats, Sen. Ana Quezada and Rep. David Bennett.
McKee thanked Quezada and Bennett and other labor advocates for their work on Friday, adding, "this is an important step in the effort to help lift Rhode Island families out of poverty and support many of our essential workers who put themselves at risk to keep our state running during the pandemic."
The Rhode Island Department of Labor & Training estimates that the new law will raise wages for approximately 70,000 workers by next year and approximately 140,000 over four years.
The state's tipped minimum wage will remain at $3.89 an hour.
Union rights organization Jobs with Justice applauded Rhode Island for the increase, calling the new legislation "a crucial, necessary step in addressing systemic poverty in their state."
"We know that almost 90,000 workers in Rhode Island currently make less than $15 an hour -- this will help ensure that thousands can keep their homes, keep food on the table, and that they are not forced into deeper poverty," Jobs With Justice said in a statement sent to Newsweek.
Rhode Island joined Massachusetts and Connecticut, which have also approved minimum-wage increases that get up to $15 by 2023.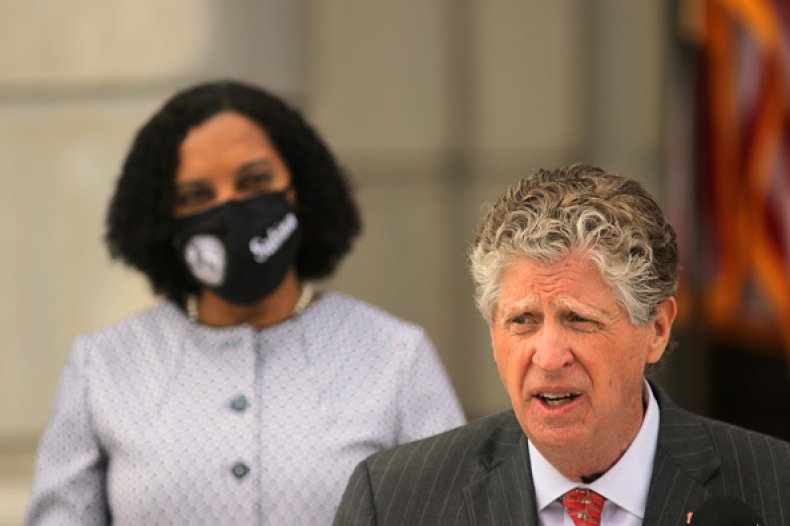 Private companies have also taken matters into their own hands and raised minimum wages for their workers.
On Tuesday, Bank of America announced it would raise the hourly minimum wage of its US employees to $25 by 2025. A day later, Under Armour also declared its plans to boost the company's minimum wage up to $15 an hour.
These changes come as the nationwide debate around a federal minimum wage continues as President Joe Biden pushes for $15 an hour, an endorsement he renewed during his April 28 address to a joint session of Congress.
Last month, Biden also signed an executive order lifting the minimum wage for federal contract workers to $15 in early 2022.
"Employers may seek to raise wages for workers earning above $15 as they try to recruit and retain talent," the White House said in a press release. "And, research shows that when the minimum wage is increased, the workers who benefit spend more, a dynamic that can help boost local economies."
The federal minimum wage was last raised more than a decade ago in 2009 when it went up from $6.55 to $7.25 per hour in the last step of a three-step increase approved by Congress.
Back in March, the Biden administration and Senate Democrats unsuccessfully tried to include a $15 minimum wage in the American Rescue Plan, Biden's $1.9 trillion economic stimulus bill.
A February study from the nonpartisan Congressional Budget Office found that increasing the federal minimum wage would bring nearly one million people out of poverty over the next four years, but it also found that it would result in the loss of 1.4 million jobs and result in higher prices for goods and services.