Rhode Island Governor Attends Wine and Paint Event After Urging People to Avoid Nonessential Activities
Rhode Island Governor Gina Raimondo was photographed last week attending a wine and paint event, just a few days after she urged the state's residents to avoid all nonessential activities amid the ongoing novel coronavirus pandemic.
According to WLNE-TV, the photo of Raimondo was taken by Erica Oliveras on December 11 while the governor and her husband, Andy Moffit, attended a wine and paint event at Barnaby's Public House in Providence.
Susan Goodman, a Providence resident, told WLNE that the governor, "shouldn't even be at an event like that."
"You can drink wine at home. I'm an experienced wine drinker Gina, do it at home," she told WLNE.
The photo shows Raimondo at the event without a protective face mask on, which is a requirement in the state while in public settings, but Oliveras defended the governor's actions.
"She only took her mask off whenever she was drinking her wine," Oliveras told the tv station. "That's the only time she took it off. When she came into the building she had her mask. Whenever the waiters approached her she had a mask on."
Oliveras also said that she saw the governor's attendance at the event as a positive sign for the community.
The photo taken of Raimondo comes just a few days after she urged Rhode Island residents to stay home and avoid nonessential activities in an effort to mitigate the spread of COVID-19 in the state.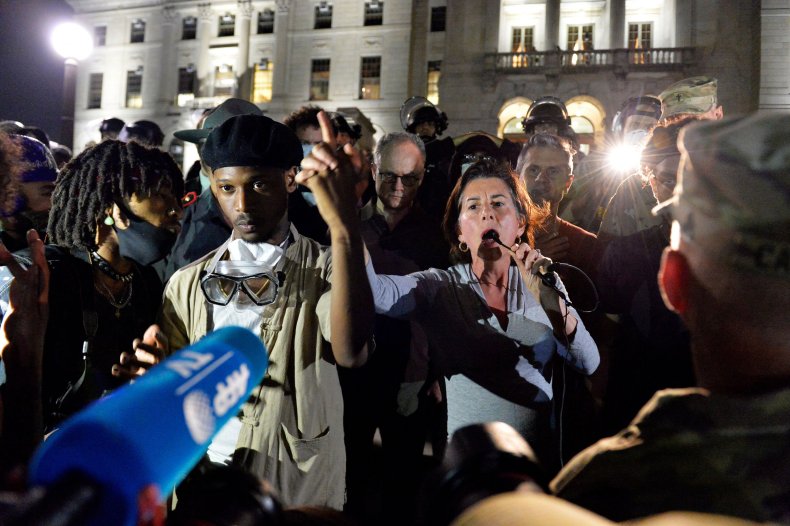 "It's week two of our pause. I know it's been hard, but I want to thank every Rhode Islander who's following our guidance," Raimondo wrote in a December 7 tweet. "Please, stay home except for essential activities & wear a mask anytime you're with people you don't live with. Together, we can turn our case numbers around."
According to data from the Rhode Island Department of Health, there are currently over 76,000 confirmed cases of the novel virus, as well as at least 1,590 deaths. Recently released data from the Centers for Disease Control and Prevention (CDC), shows Rhode Island having at least 110 average daily cases per 100,000 residents over the past seven days, which is the third most across all U.S. states.
In an interview with the Providence Journal on Tuesday, Raimondo spoke about the photograph and her attendance at the wine and paint event.
"What I was doing was trying to help the local economy," she told the Journal. "My husband and I did a little shopping on Westminster Street.... So instead of going on Amazon, we bought a bunch of books at some local bookstores, we bought a bunch of things at a craft shop and popped into a local restaurant."
According to the Journal, she added, "I think if everyone did that and followed the rules carefully and spent some money in the local economy then it would be fine."
Newsweek was directed to the interview with the Journal after reaching out to Raimondo's office for comment.