Rhode Island Governor Signs Law Banning Guns on School Grounds
Rhode Island has banned anyone from carrying a firearm on school grounds.
On Monday, Gov. Dan McKee Monday signed into law the Harold M. Metts School Safety Act of 2021, which prohibits people from bringing guns onto school property. The only exceptions are for school security personnel, peace officers and retired law enforcement members.
Senate President Dominick Ruggerio, a Democrat, said in a statement that "private citizens have no business bringing a gun on school property."
"Carrying firearms in schools increases risk, not safety," Ruggerio added. "There have been dozens of examples of mishandling and accidental discharge of firearms in schools across our nation. We are working hard to improve education in our state. The presence of firearms in schools is detrimental to a positive learning environment."
Rhode Island was one of six states that had no law prohibiting people with conceal-carry permits from bringing guns onto school property—according to the Giffords Law Center, a national gun control advocacy group. Hawaii, Kansas, New Hampshire, Oregon, Utah and Wyoming still allow concealed-carry exceptions in schools.
In 2018, the Rhode Island Board of Education issued a directive banning all firearms, including concealed-carry firearms, from all public school buildings and grounds by anyone other than visibly identified active law enforcement officers.
The law signed by McKee on Monday codified the ban and extended it to cover public and private K-12 schools and buses.
Anyone who violates the law will face one to five years in prison, or a fine between $500 and $5,000.
The National Rifle Association (NRA) previously criticized the bill as an "attack" on concealed carry on school property.
"This bill really amounts to a mandate to leave your gun unattended in the parking lot," the NRA's lobbying arm said in a statement last month. "The existing school carry law has been on the books for decades with no problems. This legislation is a solution in search of a problem."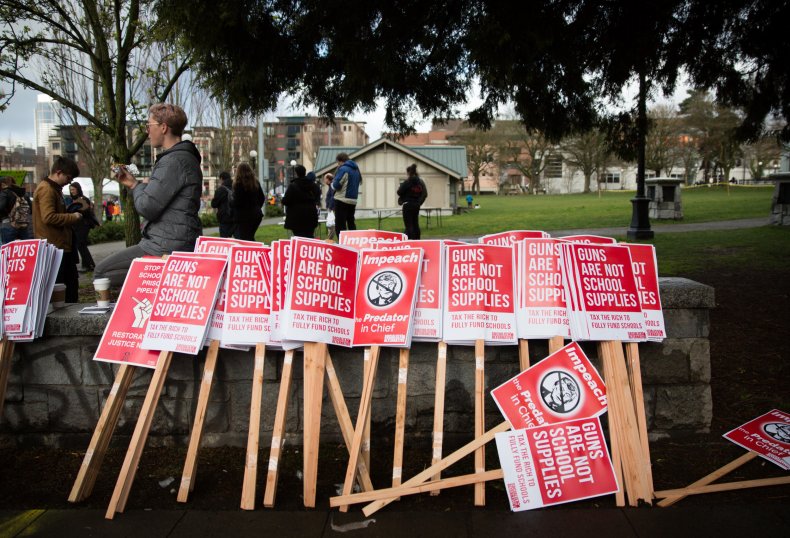 McKee signed a second gun control bill on Monday prohibiting "straw purchases" of guns.
The legislation makes it illegal to purchase a firearm on behalf of someone who is legally prohibited from possessing one, as well as selling or transferring it to someone unable to possess one.
"We must do everything we can to end gun violence and make our communities safer," McKee said in a statement. "These pieces of legislation will make a difference by keeping firearms out of the hands of dangerous criminals, and keeping firearms off school property."
The governor's signing of the gun reform legislation comes one day after a 20-year-old man was fatally shot in Providence. It was the state's 12th homicide of the year.