Rhode Island Gubernatorial, Attorney General Candidates Arrested With 48 Pounds of Weed
Rhode Island State Police arrested gubernatorial and attorney general candidates accused of possessing 48 pounds of marijuana.
Anne Armstrong, who is running for governor, and Alan Gordon, who is vying for attorney general, are both members of the Compassion Party, NECN reported.
Each candidate was charged with possession of marijuana in excess of five kilograms, possession of marijuana with intent to deliver and contributing to the delinquency of a minor.
A 15-year-old was found in the house when police arrived to investigate a complaint, authorities said.
"Members of the [High Intensity Drug Trafficking Area] Task Force and West Greenwich Police Department executed a court-authorized search warrant at 99 Hudson Pond Road, West Greenwich. This search warrant was the result of a complaint and investigation into the strong odor of marijuana emanating from marijuana plants being illegally grown outdoors on the property," the release said. "As a result, members of the HIDTA Task Force seized approximately 48 pounds of marijuana."
Armstrong wrote on social media about the arrest.
"Under arrest for cannabis again," tweeted on Thursday morning, according to Reuters. "I guess our poll numbers were high enough to scare them into committing an atrocity. Pray for our police."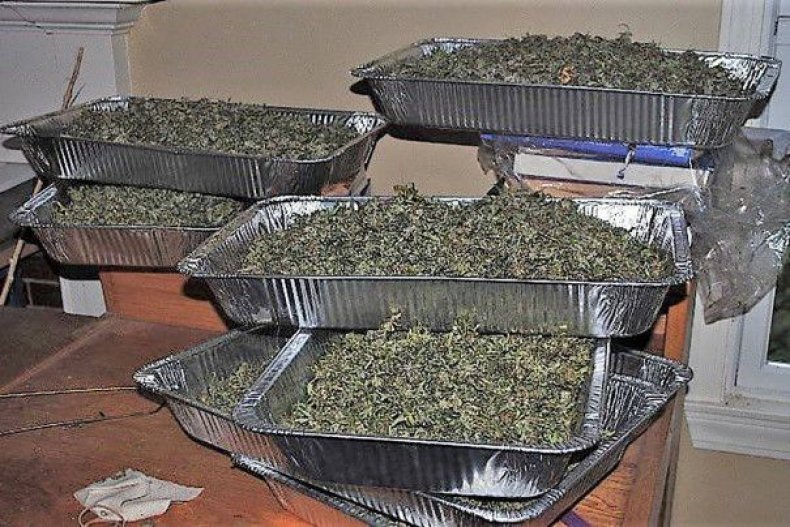 The Associated Press said that "the two are frequent unsuccessful candidates for office and are known for promoting a church that considers cannabis a healing drug. They argue the term 'marijuana' is racist and refer to Armstrong as the church's deaconess and Gordon as its canon."
The couple appeared in court on Thursday. Armstrong requested District Court Judge Joseph P. Ippolito Jr. to "refer to her as reverend or deaconess," The Providence Journal reported.
The couple did not enter pleas. They could face life in prison and are being held on $25,000 bail.
Although medical marijuana is legal in Rhode Island, outdoor growing is not. Further, neither Gordon nor Armstrong has been permitted by the state to grow medical marijuana.
Commenters on Armstrong's Facebook page claimed that the arrest was a setup. "SOMEONE just doesn't want them mucking up the election...WHOM is SOMEONE? That is the real issue," one user wrote.
The couple was arrested in 2016 under similar circumstances. Authorities took 12 pounds of marijuana, 59 plants and 10 pounds of hash oil during the prior arrest.
The charges leveled against them after the 2016 arrest were subsequently dismissed.