School District Slammed for Plan to Punish Kids With Unpaid Lunch Bills by Serving Them Cold Sandwiches
A Rhode Island school district has been criticized after ruling that students who owe lunch money will only be given cold sandwiches until fees are paid.
Warwick Public Schools said online the policy would take effect on May 13. "If money is owed on a paid, free or reduced lunch account a sun butter and jelly sandwich will be given as the lunch choice until the balance owed is paid in full or a payment plan is set up," it noted.
The notice, posted to Facebook on Sunday, sparked intense debate on social media. It has since attracted dozens of shares—and hundreds of personal opinions. The policy was also blasted by the owner of a local business called Gels Kitchen, which said the district declined an offer of $4,000 to help pay off some of the debt—which was reportedly tens of thousands of dollars.
Opponents of the district's decision called the move "lunch shaming," arguing that children should not be punished or singled out for the potential financial problems of their parents.
"Why take it out on kids if parents are struggling?" Facebook user Jennie Holmes wrote in a comment to the Rhode Island school district that has been "liked" dozens of times.
Another Facebook user, named Marie Ann Hopkins, called for a more nuanced approach to the lunch debate—as others fumed over the policy. She wrote: "While it is inappropriate to embarrass a child over their parents failings—there's also the argument that if we provide free lunches with no accountability, many parents will purposely choose not to bother paying at all—and that money will simply go to something else other than the obligation of feeding their child."
Every public school in Rhode Island is mandated by state law to provide lunches to school children. Under the National School Lunch Program, officials said they provided low-cost or free lunches to more than 72,000 children daily. Just under 70 percent of the lunches served in Rhode Island are served free or at a reduced price, according to the Rhode Island Department of Education.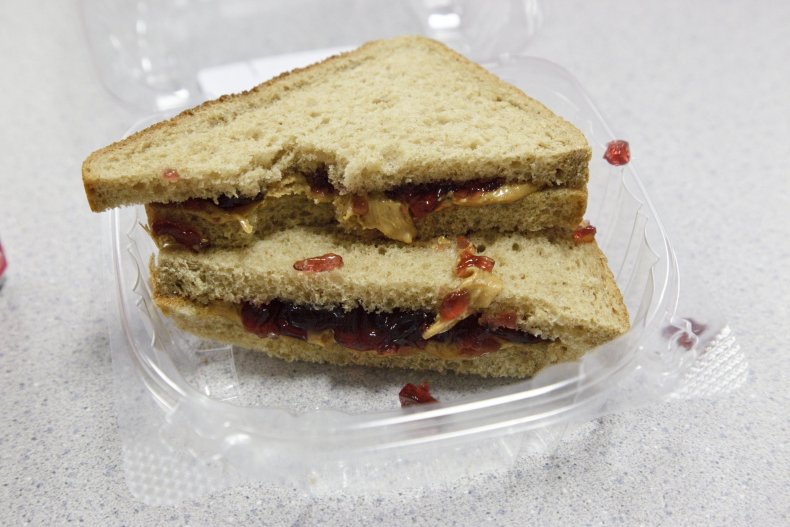 WPRI-TV reported last year that the state's public schools had more than $300,000 worth of debt due to unpaid lunch bills. Warwick's debt was listed at $27,569. As reported by NBC News, some students may have accumulated financial bills by adding food or drink items to their free lunches.
One local business owner, Angelica Penta, attempted to donate thousands of dollars raised from the community to help pay for school lunches—but was reportedly turned away by officials.
"I have met with Warwick twice, and the second time I left in tears after they refused to take a $4,000 check," said Penta, who runs Gels Kitchen. "They don't want parents getting upset if their child's lunch gets paid for, but if they are going through hard times they may need help."
Warwick Public Schools said in a statement—obtained by local media outlet WJAR—that the money could not be taken "given the school's mission to treat all children equitably."
It said: "On a number of occasions, Warwick Public Schools has been approached by a local business owner who solicited funds from the community for the benefit of students that have not paid for their school lunches. Each time these offers were made, Warwick Public Schools stated the department was not in the position to single out or identify specific students that should be selected for a reduction in their…debt while excluding others."
It suggested Penta should "create a program to decide which students would be eligible to have their account reduced or expunged." It noted the business owner preferred to give one donation to the district and leave selection to the faculty.
"There is no need for any child to be denied a hot lunch," the Gels Kitchen account said on social media. "We never know a child's or their families situation, everyone struggles at some point." Warwick Public Schools district did not immediately respond to Newsweek's request for comment.