Rhoden Family Killings Update: Arraignments for Murder Suspects Set, Grandmothers Released on Bail
The four members of the Wagner family accused of killing eight members of the Rhoden family in Ohio will appear for the first time in court in the next two weeks, Pike County Prosecutor Rob Junk announced. Meanwhile, two other suspects in the case were released on bail.
George "Billy" Wagner, 47, wife Angela Wagner, 48, and sons Edward "Jake" Wagner, 26, and George Wagner IV, 27, were arrested on November 13, and charged in the deaths of the Rhoden family in April 22, 2016. They were accused of killing Christopher Rhoden Sr., 40; Kenneth Rhoden, 44; Dana Manley Rhoden, 38; Clarence "Frankie" Rhoden, 20; Hanna May Rhoden, 19; Chris Rhoden Jr., 16; Gary Rhoden, 38; and Hannah Gilley, 20.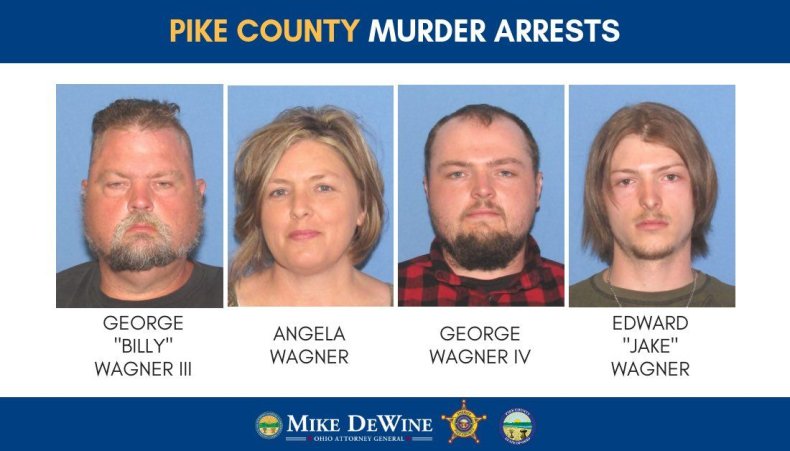 The four suspects were each charged with eight counts of aggravated murder with death penalty specifications. In addition to the murder charges, the four members of the Wagner family were also charged with forgery in relation to child custody documents.
Edward "Jake" Wagner was scheduled to appear for his arraignment on November 27 at 9 a.m. The 26-year-old, who shared a daughter with one of the victims, was also charged with a fourth-degree felony count of unlawful sexual conduct with a minor.
Prosecutors alleged that custody of Wagner and Hanna May Rhoden's daughter, Sophia Wagner, was a key motive behind the slayings. The little girl was placed in state custody after her father, uncle and grandparents were arrested.
George Wagner IV has an arraignment set for November 28 at 10 a.m., according to WKYC. Their mother, Angela Wagner, was scheduled to appear at a hearing the following day, November 29, at 1:30 p.m. Meanwhile, George "Billy" Wagner has a hearing set for December 4, at 1:30 p.m.
Two others were also arrested in connection to the Rhoden case. Rita Newcomb, mother of Angela Wagner, and Fredericka Wagner, mother of George "Billy" Wagner, were arrested and accused of helping cover up the slayings. The two women were charged with perjury and obstruction of justice.
Pike County officials said that Newcomb, who was also charged with three counts of forgery, was released after a bond company posted a $50,000 bond on her behalf, the Cincinnati Enquirer reported. Newcomb was placed on house arrest with an ankle-mounted GPS monitoring device as condition of her bond.
Meanwhile, Fredericka Wagner posted 10 percent of a $100,000 bond on November 15 following her arraignment. The 76-year-old was also placed on electronically monitored house arrest and barred from contacting the Rhoden family.