Rhoden Family Killings: Four People Arrested in Execution-Style Deaths of Eight People
Four members of the Wagner family were arrested in connection with the execution-style killing of eight people in 2016, Ohio's Attorney General Mike DeWine said Tuesday. Seven adults and one teenager were killed in Pike County on April 22, 2016.
DeWine identified the suspects as George "Billy" Wagner III, 47; Angela Wagner, 48; George Wagner IV, 27 and Edward "Jake" Wagner, 26. The family, consisting of a couple and their adult sons, were charged with the deaths of the Rhoden family and Hannah Gilley, the attorney general said.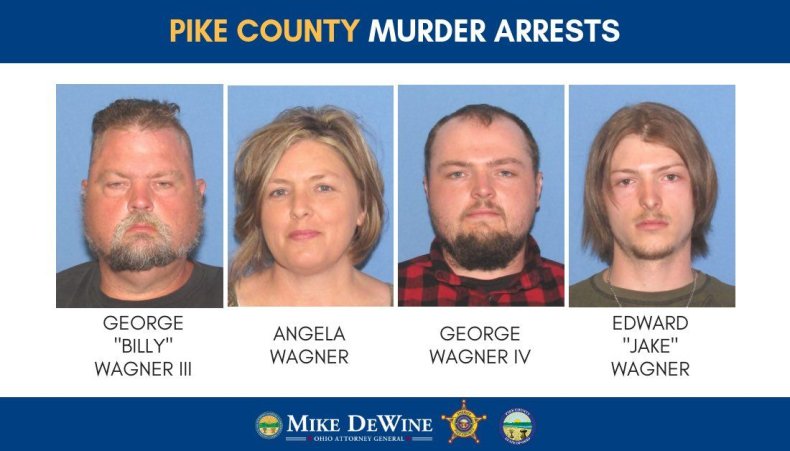 "Billy" was arrested on Tuesday afternoon on Georgetown Road near Spur Road in Lexington, Kentucky, by Lexington Police and the FBI. Lexington Police spokesperson Brenna Angel told the Lexington Herald-Leader that he was taken into custody without incident. He was being held at Lexington Fayette County Jail.
Angela Wagner was arrested at her home in Scioto County and her two sons were arrested during a traffic stop in Ross County, Pike County Sheriff Charles Reader said on Tuesday. George Wagner IV was being held at Ross County Jail, according to jail records.
The four members of the Wagners were charged with eight counts each of aggravated murder with death penalty specifications, authorities announced in a news conference on Tuesday. The Wagners were also charged with other offenses, including conspiracy, evidence tampering, obstruction of justice and aggravated burglary.
DeWine said Tuesday that no other suspects were involved.
The Wagners reportedly had "close business and family relations" with the Rhoden family before the brutal, execution-style killings in April 2016. The slayings occurred in Piketon, around 70 miles south of Columbus, Ohio.
An autopsy report released earlier in 2018 revealed that 40-year-old Christopher Rhoden Sr. had been shot nine times and had suffered a defensive wound to his right forearm. His body was discovered in the back bedroom of a trailer, Fox News reported.
Christopher's cousin, 38-year-old Gary Rhoden, was found dead with a gun pressed to his head in the same trailer, according to the Cincinnati Enquirer.
The other victims were identified as Christopher's brother, 44-year-old Kenneth Rhoden, his ex-wife 38-year-old Dana Manley Rhoden and the couple's three children: 20-year-old Clarence "Frankie" Rhoden, 19-year-old Hanna Rhoden and 16-year-old Chris Rhoden, Jr. Frankie's fiancee, 20-year-old Hannah Gilley, was also killed.
Three young children were found unharmed.
The Wagners moved to Kanai, Alaska, in June 2017 and claimed that speculation of their involvement in the murders pushed them to move far away. Jake Wanger told the Enquirer that they moved so his daughter, 3-year-old Sophia, would not hear about the speculation.
Sophia, who was just days old at the time of the slayings, is the daughter of victim Hanna Rhoden. She was found in bed with her mother's body, the Lexington Herald-Leader reported.