RHONJ's Amber Marchese: Son Wants 'Special Privileges for Being Gay' After Claim They Won't Pay for College
Former Real Housewives of New Jersey cast member Amber Marchese denied her stepson's claim that her husband, James Marchese, refused to pay his college tuition because of his sexuality. She claimed the decision came down to economics and accused her stepson of wanting "special privileges for being gay" by having them finance a school they wouldn't for their other children.
Joining the cast for Season Six of the Bravo franchise, Amber and Jim were often the target of their other cast members and left after one season. In December, Jim was heavily criticized for making homophobic comments on Twitter, drawing the ire of Andy Cohen, the show's producer, and his son's recent claim that his father withheld tuition over his sexuality renewed the backlash.
James Michael Marchese, 19, posted on a GoFundMe page that he moved in with his mother after his father mentally abused him for being gay. He claimed his father wouldn't pay for him to attend Fairfield University until he lived within his father's standards, which he described as being "straight and [dating] women while admitting that I chose to be gay so that I could get something out of it from my mother."
"It really means the world to me that anyone would care what's going on, that I'm not being allowed to go to the college that I've been working so hard for just because of my sexuality," James said in a video on his GoFundMe page.
On Thursday, days after news broke of James' claims, Amber posted a lengthy response on her Instagram, during which she denied that her stepson's sexuality was the reason behind their decision not to finance his college education. She wrote that she never treated him any differently than her biological children and claimed that his behavior was "parent alienation at its best."
"As far as college, we tell all of our children that we are going to be economically smart about it. Michael does not get a more expensive school because he wants special privileges for being gay," Amber wrote. "Michael is using our platform to brow beat us into going to a school that we said no to. Currently, it is not in our budget."
Amber called her stepson's claims a "temper tantrum from a spoiled rotten, privileged young teenager," a sentiment that Jim also expressed. On Thursday, Jim wrote in a tweet that the "big picture" of a story was that a "spoiled kid used LGBT card to get overpriced college so he can party on your dime." Newsweek reached out to Amber but did not receive a response in time for publication.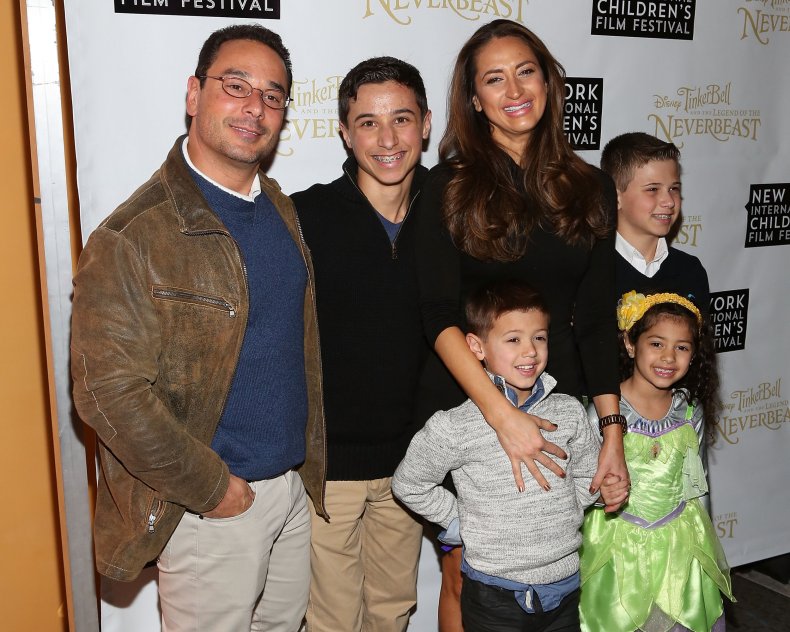 In December, after comedian Kevin Hart stepped down from hosting the Oscars following criticism for comments he made in past years, Jim came to the comedian's defense.
"So true NO STRAIGHT MALE wants his son to be gay," Jim wrote on Twitter. He added that a gay son is a "curse" and people who identify as LGBTQ "destroy families." Having a gay son, Jim wrote, "ruins holidays like Christmas."
He later claimed on Twitter that it wasn't discriminatory to want your children to marry someone of the opposite sex and that he doesn't hate people who are LGBTQ, but felt "sad" for their fathers.
In response, Cohen tweeted for people to "pray for his poor kids." Cohen hasn't publicly commented on the most recent backlash against Jim and Amber. However, Greg Bennett, who appeared on multiple episodes of Real Housewives of New Jersey over the years, shared the story on Twitter and wrote, "Jim and Amber are the grossest."
As of Friday morning, James' GoFundMe raised over $12,000 of his goal to raise $35,000. Vanderpump Rules' Ariana Maddix posted about the fundraiser on Twitter, encouraging people to help James and there was a $500 donation listed on the fundraising page from someone with the same name.
RHONJ's Amber Marchese: Son Wants 'Special Privileges for Being Gay' After Claim They Won't Pay for College | U.S.