Ric Flair Slept with More than 10,000 Women, and Five More Facts from His '30 for 30' Documentary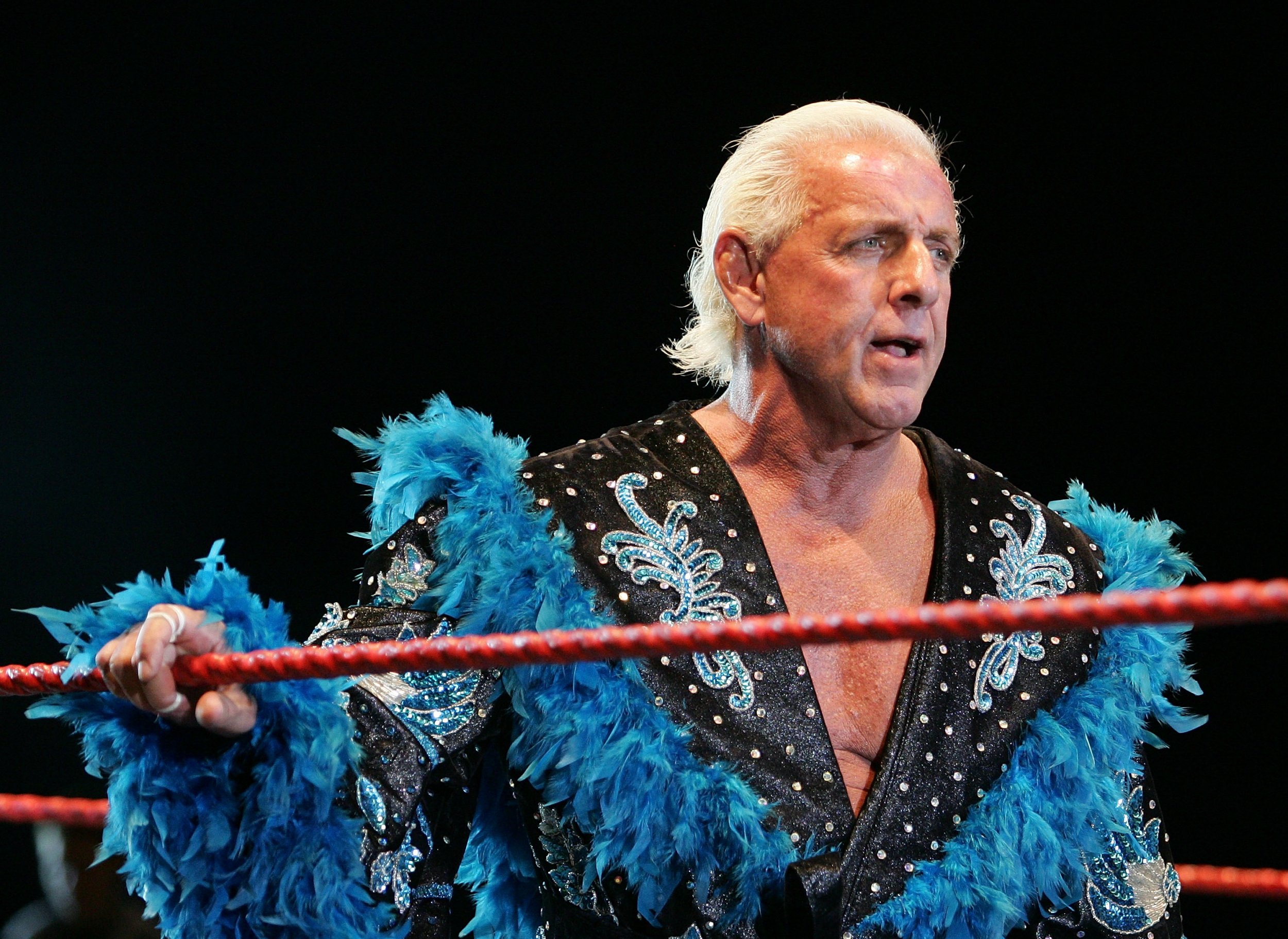 He's the "Rolex wearin', diamond ring wearin', kiss stealin' (WOO!), wheelin'-dealin', jet flyin' son of a gun [who's] having a hard time holding this alligators down."
That's Ric Flair, in his own words. The retired professional wrestler, who used the moniker "The Nature Boy," is one of the most popular of all time (and easily the most entertaining of the '80s). On Tuesday, he was the subject of the highly anticipated 30 for 30 documentary on ESPN. Based on the film, his blustery, cocky wrestling persona bled into and infected his personal life.
Born Richard Fliehr, Ric Flair was massively successful in the ring but struggled to find a healthy way to live outside of it. In August, that lifestyle caught up with him when he nearly died of kidney disease. Doctors gave him just a 20 percent chance of surviving, but Flair beat the odds. At one point in the documentary he says, "There's no way I should be alive after some of the stuff I've done."
The documentary explores Flair's life and career, in sometimes shocking ways. Here, a few things we learned about Nature Boy, as well as telling quotes from the wrestler, via the Charlotte Observer, the AV Club and Fox.
1. Flair claims to have imbibed 15 drinks per day, every day, during his prime. In the film, he recalls talking with a sports psychologist.
"[He asked] 'How much do you drink a day?' I said, 'I'll drink at least 10 beers, and probably five mixed drinks.' He said, 'Well, how many days a week do you do that?' I said, 'Every day.' He said, 'Well, how do you mean every day?' I said, 'I work every day. I drink a beer in the car, I get to the hotel and I drink vodka.' He came out of his chair and [said], 'You drink every day, seven days a week, 365 days a year, and you've been doing that for how long?' I said, 'Well, let me see. It's 1989, I started in '72, you do the math. Almost 20 years.' He said, 'That's not possible.' I said, 'Oh yeah, it is.' By the time I got through with that son of a bitch, he was laying on the couch and I was on the chair talking to him."
2. Flair claims to have slept with some 10,000 women. Of course, he could be making this up—sounds suspiciously like claims famously made by the late Wilt Chamberlain.
3. He explains his sleeping around thusly: "Let me tell you something, if you're wrestling and you're in Hutchinson, Kansas, and you're gonna spend the night there, I'm gonna find something to do. I'm not going through that night by myself."
4. On his "Nature Boy" persona, which he assumed in 1978, inciting a feud with the original "Nature Boy," wrestler Buddy Rogers: "I had a really cool gimmick—the robes and everything. I was the modern-day Buddy Rogers, but I took Buddy Rogers stuff to a whole different level."
5. On where his trademark "woo" came from. "I loved Jerry Lee Lewis...in 'Great Balls of Fire' [he sings] 'woo.' I give them the 'WOO' or the 'woo, woo' or the 'woo, woo, woo, woo, woo, woo, woo, WOO.'"
6. Via ESPN's Phil Mackey, Flair described what he felt was the difference between himself and Hulk Hogan, arguably the most famous wrestler of all time: "He was selling vitamins and milk. I was selling sex and booze." (Hogan concedes in the documentary that he thinks Flair was the better wrestler.)