Ric Flair Is 'Full of Shit' for Claiming He Slept With 10,000 Women, Steven Tyler Said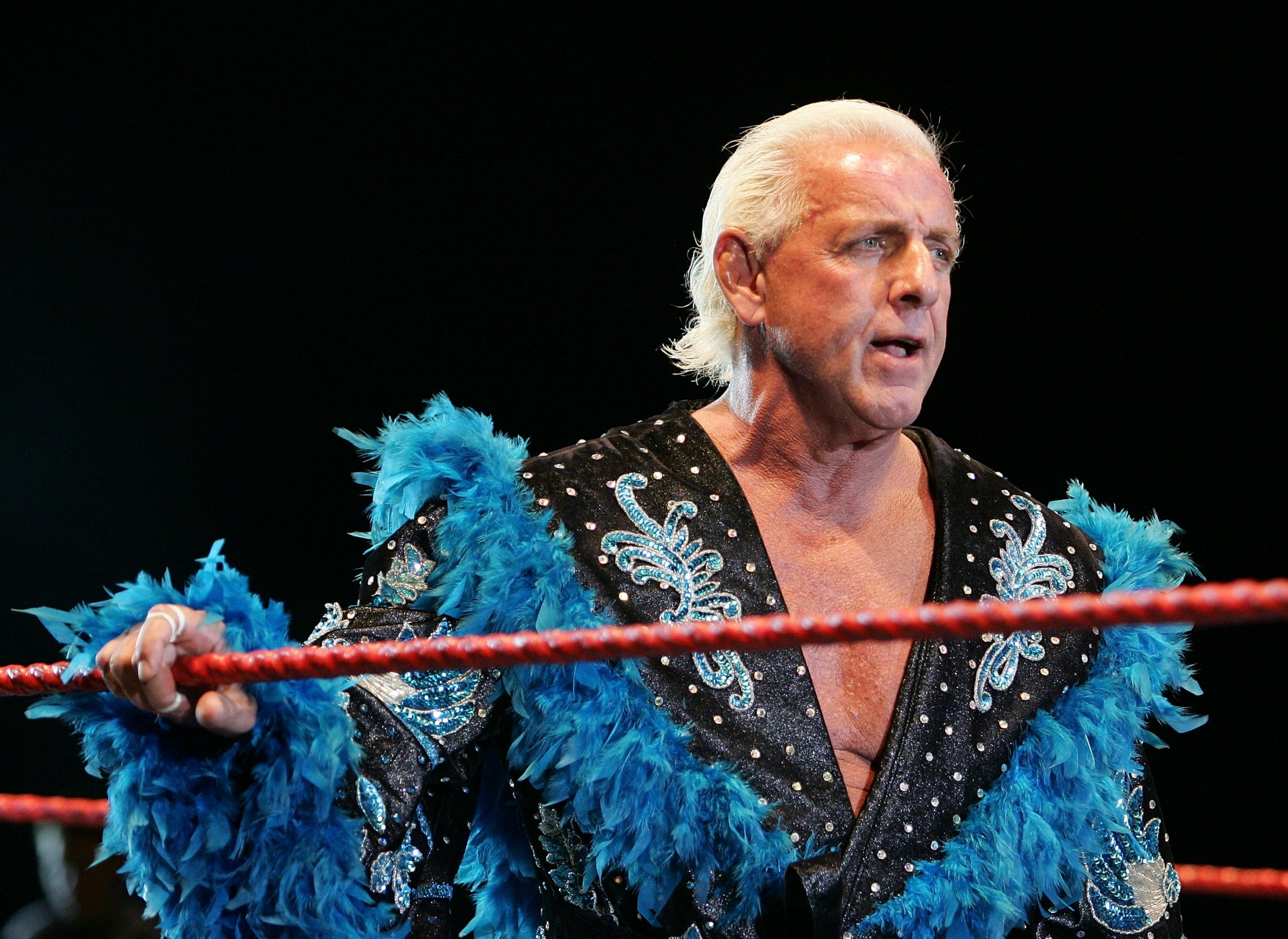 TMZ caught up with Steven Tyler, the famed Aerosmith frontman, and (for some reason) asked him about the number of women Ric Flair slept with.
The famed wrestler claimed he had slept with 10,000 women in the recent ESPN 30 for 30 documentary on his life, Nature Boy. Tyler wasn't buying it, according to a video published Wednesday.
"Ric Flair, you know the wrestler, just came out and said he slept with 10,000 women during his wrestling career," a person, presumably a TMZ employee, said to Tyler as he signed autographs.
"Oh, I got him so beat," Tyler said jokingly, later saying he didn't have a number. "I was too busy getting high," he added.
Get your unlimited Newsweek trial >
"Do you think it's possible to sleep with 188 women per year and 3.6 per week?" the person asked Tyler after apparently doing some pretty specific math about Flair's sex life. Tyler kind of ignored a lot of the questioning from then on before being asked about Flair's nickname for his um...member.
"You know what, that guy's full of shit," Tyler said as he climbed into a car. So, there you have it—the 69-year-old Aerosmith singer's thoughts on Flair's sex life because...well...who knows.
The documentary on the wrestler—born Richard Fliehr—examined his hard-partying, controversial life and rise to stardom. The Wilt Chamberlain-esque claim about his sleeping around drew a fair bit of attention. Flair attributed that lifestyle choice to traveling so much for his work.
Get your unlimited Newsweek trial >
"Let me tell you something, if you're wrestling and you're in Hutchinson, Kansas, and you're gonna spend the night there, I'm gonna find something to do. I'm not going through that night by myself," he said in the documentary that was rife with quotable moments.
In the film, Flair also claimed to have consumed about 15 alcoholic drinks per day for many years, recounting a trip to a sports psychologist where he laid out his addiction.
Said Flair: "[He asked] 'How much do you drink a day?' I said, 'I'll drink at least 10 beers, and probably five mixed drinks.' He said, 'Well, how many days a week do you do that?' I said, 'Every day.' He said, 'Well, how do you mean every day?' I said, 'I work every day. I drink a beer in the car, I get to the hotel and I drink vodka.' He came out of his chair and [said], 'You drink every day, seven days a week, 365 days a year, and you've been doing that for how long?' I said, 'Well, let me see. It's 1989, I started in '72, you do the math. Almost 20 years.' He said, 'That's not possible.' I said, 'Oh yeah, it is.' By the time I got through with that son of a bitch, he was laying on the couch and I was on the chair talking to him."
Ric Flair Is 'Full of Shit' for Claiming He Slept With 10,000 Women, Steven Tyler Said | Culture