Wrestling legend Ric Flair is in a dispute with WWE over the use of the moniker "The Man," the nickname once used to describe him and now used to describe one of WWE's hottest acts, Becky Lynch.
Flair made famous the catchphrase, "To be the man you gotta beat the man," in the 1980s.
The 70-year-old wrestler told TMZ he feels WWE should compensate him for use of the moniker in relation to Lynch, the reigning Raw women's champion, and is considering filing a lawsuit against the company.
Flair said he has tried to strike a deal with WWE in private that would allow WWE to continue billing Lynch as "The Man" and compensate him for doing so. However, the two-time WWE hall of fame inductee claims WWE has yet to agree terms.
Flair filed an application to patent "The Man" moniker with the U.S. Patent and Trademark Office on August 26.
The application specifically refers to the use of "The Man" in relation to "wrestling exhibitions, live appearances and performances by a professional wrestler and entertainer rendered live and through broadcast media, namely, television and radio, and via the internet or commercial online service."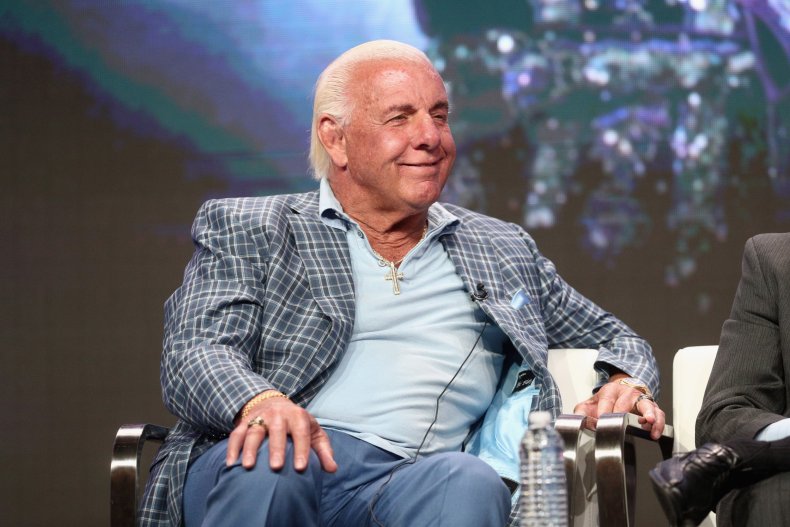 Flair said he is happy for Lynch to use the moniker, and has no ill will toward the Irish wrestling star, but wants to be compensated by WWE for the use of the phrase.
The multi-time wrestling champion added that he is willing to pursue legal proceedings against WWE because he wants to be able to provide for his family if he dies.
Two years ago, Flair went through a major health scare when he experienced the early stages of kidney failure and had to be placed in a medically-induced coma. He credited his wife Wendy Barlow for sticking by him through the traumatic ordeal, and said he wanted to ensure his wife is taken care of.
"I'm gonna take care of her, and her family, and my family that has taken care of me no matter what," Flair told TMZ.
"I don't care what the WWE thinks of me personally, I know they love me, but obviously they've lost respect for me."
Ric Flair's "The Man" dispute leads to rift with WWE superstar daughter
Flair's business dispute with WWE has also caused some personal problems between him and his daughter Charlotte Flair, herself an accomplished WWE superstar.
Flair told TMZ the trouble with WWE has led to a rift with his daughter.
Charlotte Flair, 33, currently competes on WWE's SmackDown Live series on USA Network. She is a record-setting nine-time WWE women's champion, creeping up on her father's record of 16 world championships.
Charlotte Flair has yet to comment on the apparent rift with her father on her social media accounts.
Ric Flair and Becky Lynch, meanwhile, have tweeted some subtle allusions to the ongoing drama.
On August 24, Flair tweeted both Lynch and singer Taylor Swift, who has a song called "The Man" on her new album Lover:
And on August 31, Flair and Lynch tweeted the below:
Newsweek has contacted WWE for comment, but a spokesperson for the wrestling company did not immediately respond.