Rice University Mocks Football Rival Baylor University's Anti-LGBTQ Policies With Display of Solidarity
Rice University's halftime show Sunday was filled with solidarity for its LGBTQ members—and filled with sass for its rivals, Baylor University, according to LGBTQ Nation and the Houston Chronicle.
Rice's halftime display, conducted to the tune of the Village People's "YMCA" as played by the Rice University Marching Owl Band (MOB), included dozens of LGBTQ pride flag-waving students and alumni. The band's members then joined in formation to spell the word "pride" on the field.
Chad Fisher, spokesman for the MOB, told the Houston Chronicle that the band had decided on a Star Wars-themed halftime show months ago, but reconsidered after learning about Baylor students' protest activities.
"We just think that's kind of ridiculous," Fisher told the Chronicle. "And so we all got to our show writing meeting Sunday, and we were like, 'Oh my gosh, this is like exactly what our show needs to be about. We absolutely need to call Baylor out for this.' From there, it just kind of happened."
Over 70 flags were donated by students and alumni alike for the display.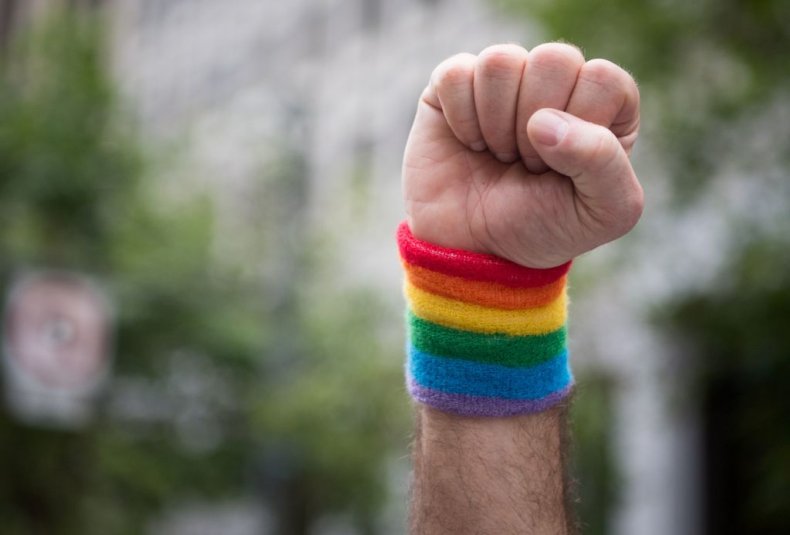 Baylor recently refused to acknowledge Gamma Alpha Upsilon, a student group for LGBTQ+ students which has existed since 2011, resulting in campus outcry and protest, as well as the claim that "homosexual behavior" isn't permitted at the Baptist school. On September 6, a spokeswoman confirmed to the Houston Chronicle that the university would once again decline to acknowledge the group.
This has prevented Gamma Alpha Upsilon from receiving benefits accrued to approved student groups, such as the ability to reserve university spaces for meetings, receive funding through Baylor's student government, and the ability to advertise student group events on campus.
In August, Baylor students wrote a letter to the Big 12 Conference asking them to examine Baylor's anti-LGBTQ policies, alleging on-campus harassment and homophobic targeting.
"We write to you as current LGBTQ+ and allied Baylor University students and recent graduates who have been engaged in efforts to ensure that Baylor University's campus is safe, secure, and hospitable to LGBTQ+ students," the letter said.
Thousands of alumni, faculty members, faith leaders, parents and current students united in protest of Baylor's policies, according to the letter submitted by the students and a statement in the Waco Tribune.
"Baylor is committed to providing a loving and caring community for all students, including those who identify as LGBTQ," a Baylor spokesperson told the Waco Tribune in August. "We believe that Baylor is in a unique position to meet the needs of our LGBTQ students because of our Christian mission and the significant campuswide support we already provide to all students."
The university has a policy on human sexuality which reads in part on their official website, "the university affirms the biblical understanding of sexuality as a gift from God" and that "Christian churches across the ages and around the world have affirmed purity in singleness and fidelity in marriage between a man and a woman as the biblical norm."