Rich Man Who Wants To Impeach Trump Bought A Copy Of Michael Wolff's Book For Every Member Of Congress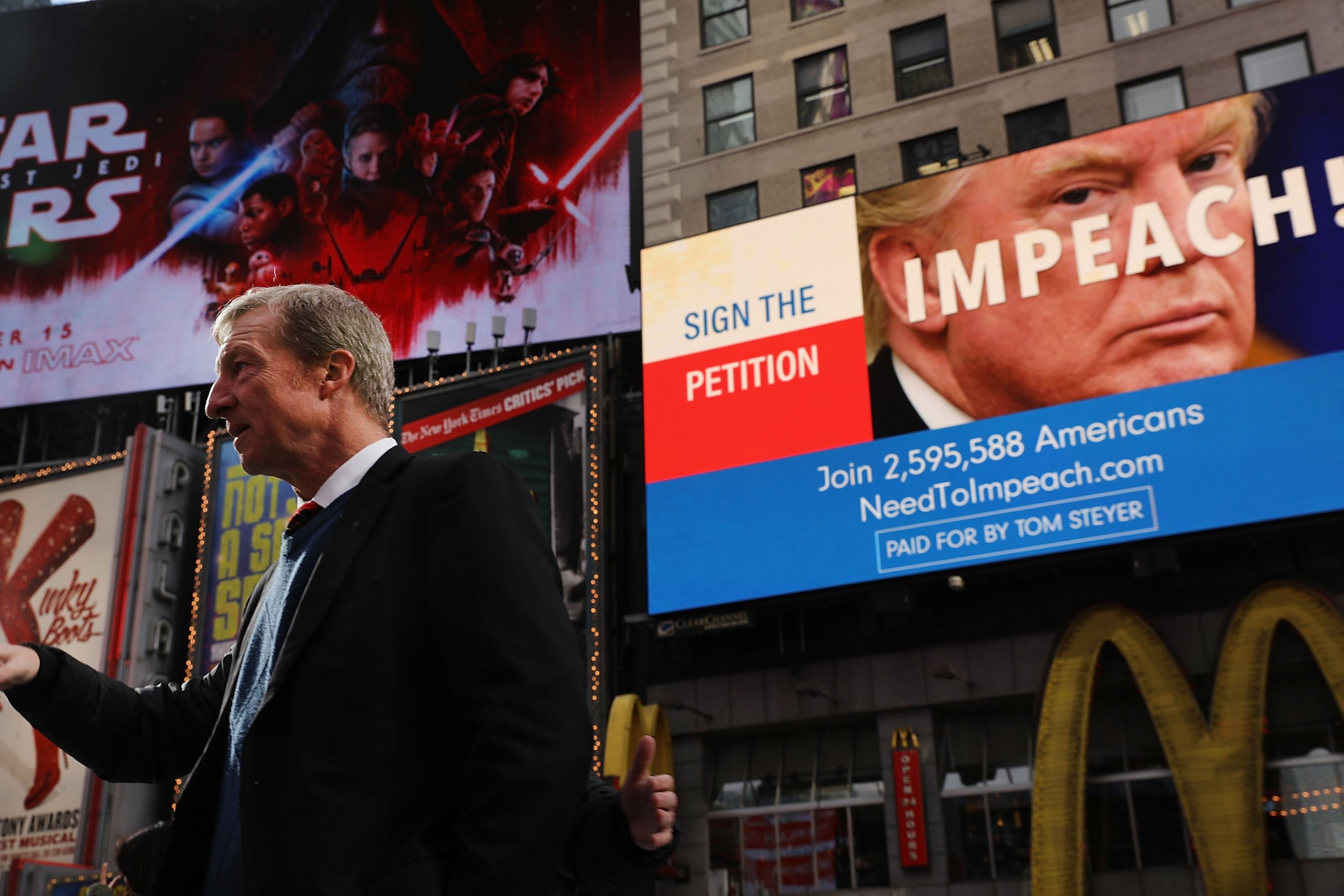 A democratic mega-donor purchased a copy of Michael Wolff's tell-all book on Donald Trump's presidency for every single member of Congress to read, he told California's KQED public radio station today.
Steyer, an environmental activist, told the station that he plans to hand-deliver all 535 copies of Wolff's Fire and Fury: Inside the Trump White House to each member of the House and Senate.
This is only the most recent of Steyer's acts of defiance toward the president. According to The Hill, he spent at least $20 million of his personal money on the "Need to Impeach" campaign against Trump.
During the KQED interview, Steyer also said he plans to make a "major announcement" about his political plans on Monday. According to the publication, this could include a possible candidacy for California's governor or for the House of Senate.
The book has been making the rounds online in recent days, but hit bookshelves Friday—four days early.
"Due to unprecedented demand, we are moving the on-sale date for all formats of 'Fire and Fury,' by Michael Wolff, to Friday, January 5, at 9 a.m. ET, from the current on-sale date of Tuesday, January 9," a Henry Holt spokeswoman told CNN.
In it, Wolff claims that Trump didn't want, or expect, to win the presidency. He depicts Trump as juvenile, unwilling to listen, crass and unthoughtful.
The book claims that Trump spent just 10 minutes on the decision to ban transgender personnel from the military.
"Ten minutes after receiving the discussion points, and without further consultation, Trump tweeted his transgender ban," Wolff wrote.
The controversial book also claimed that Trump isn't very kind to either of his sons.
"Donald Trump's sons, Don Jr. thirty-nine, and Eric, thirty-three, existed in an enforced infantile relationship to their father, a role that embarrassed them, but one that they also professionally embraced," Wolff wrote. "The role was to be Donald Trump's heirs and attendees. Their father took some regular pleasure in pointing out that they were in the back of the room when God handed out brains..."
Trump has already lambasted Wolff's book in a tweet.
"Well, now that collusion with Russia is proving to be a total hoax and the only collusion is with Hillary Clinton and the FBI/Russia, the Fake News Media (Mainstream) and this phony new book are hitting out at every new front imaginable. They should try winning an election. Sad!"
On Friday, the White House said the book was full of lies. Meanwhile, Trump's personal attorney issued a cease-and-desist letter to Holt and Wolff on Thursday morning demanding that the book not be published, released or disseminated.