Rich Strike Wins Kentucky Derby, Gets Punched by Race Handler: Video
Rich Strike had no business being in the Kentucky Derby race on Saturday. He was a late entry who made the starting lineup by just a few seconds. He was nearly a 100-to-1 longshot to win on the morning of the race and he had the farthest entry gate on the outside.
He was basically a dud when it came to folks wagering money on the longest of longshots.
He was the ugly duckling for sure-thing bettors. And when it came down to the final stretch of the 148th running of the Kentucky Derby, it looked like race favorite Epicenter would win. But from nowhere, Rich Strike struck it rich for his owners, trainer and jockey.
Rich Strike came from the middle of the pack to walk down Epicenter and win the race. It's already being called one of the greatest upsets of all time in sports, which happened in "The Greatest Two Minutes of Sports."
As Rich Strike was galloping to cool down and relax after one of the most improbable wins in sports history, the nipping began.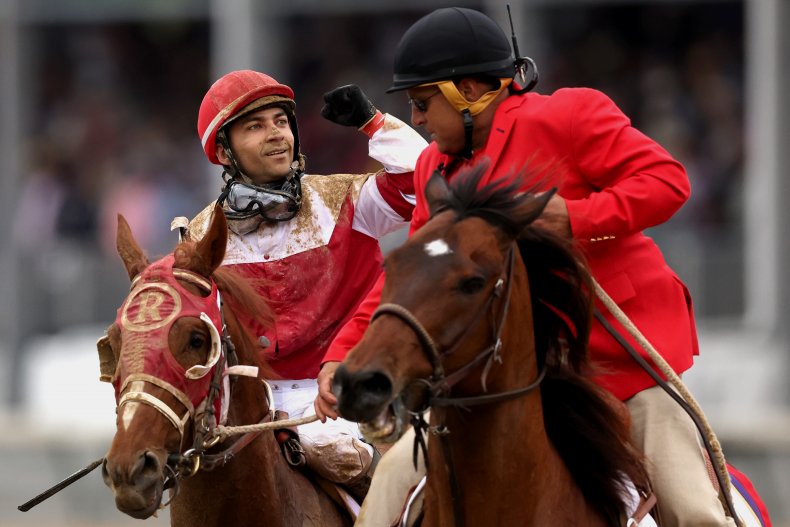 A man rode a horse next to Rich Strike and jockey Sonny Leon—as like most races of this nature. Rich Strike began trying to gnaw the horse next to him. This led the handler to throwing a constant right elbow to the head of Rich Strike.
It was a seemingly dangerous situation for both the horses and the men who rode them during a time which should have been joyous.
Here's a video of what happened on the dirt at Churchill Downs immediately after Rich Strike won.
The scene sparked a wide array of comments on Twitter, like: "I had a horse for a while. He was a bit of a bully with the other animals and had to be tethered or in his own pen. If you tried to carry hay , he would be grabbing at it while you carry and then hog it from the sheep, he killed two baby sheep for wandering into his pen."
Here are more people chiming in at the bites and subsequent punches.
"People who have spent time around horses understand this. You aren't going to injure a 1000 lb animal by punching it. I have punched our horses in the nose when they are pushy and I could possibly be hurt. They are fine. They bite asserting dominance."
"Wants to run the Preakness and the Belmont right now cause he's having a good day."
"He wanted to run another mile, this was a warmup!"
"That horse is jacked up on Mountain Dew and Red Bull!"
The Kentucky Derby is the first leg of horse racing's Triple Crown. Here are the next two legs of the Triple Crown:
May 21, 2021 — Preakness Stakes (Pimlico Race Course, Baltimore, Maryland)
June 11, 2021 — Belmont Stakes (Belmont Park, Elmont, New York)
The last Triple Crown winner was Justify in 2018, and the previous Crown winner was American Pharoah in 2015, which ended a 37-year drought with no horse that swept the three races (Affirmed, 1978).