Richard Barnett, Capitol Rioter Who Sat at Desk in Pelosi's Office, Calls Incarceration 'Not Fair'
Richard Barnett, the Arkansas man who was photographed sitting at a staffer's desk in Speaker Nancy Pelosi's office during the Capitol riot, became incensed over his continued confinement during a court appearance on Thursday.
Photos of Barnett during the January 6 riot at the Capitol became some of the most well-known images and he was arrested on January 8. Barnett, who pleaded not guilty to several charges he faces for the alleged role he played, has remained in custody since his arrest, and the prospect of spending another month in jail sent him over the edge.
"I've been here a long time," Barnett yelled during an appearance in court on Thursday. "Another month ... It's not fair ... You're letting everyone else out. I need help."
Barnett also expressed frustration that people who "did much worse things" were "already home." Judge Christopher R. Cooper paused the hearing so Barnett, who phoned in from jail, could confer with his attorneys. Joseph McBride, the lead attorney for his case, told Newsweek Barnett was "understandably" frustrated when the judge told him the next status hearing wouldn't be until May 4. That hearing is related to the purpose of discovery, but Steven Metcalf, Barnett's co-counsel, said their client thought that meant his bond would not be addressed for another month.
"That's not the scenario," Metcalf said. "We plan on addressing his bond before such date. We just need a reasonable time to get the material we need to make the application."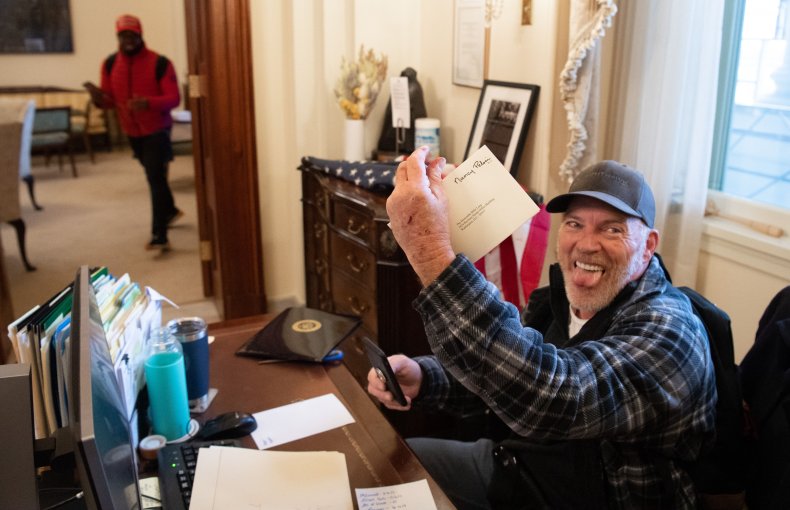 A federal judge granted Barnett release on "very, very restrictive conditions" for house arrest, but Chief U.S. District Judge Beryl Howell overruled that decision. As he was set to be released, Howell ordered that Barnett remain in jail and be transferred to Washington, D.C.
Barnett spoke with media outlets after he allegedly left the Capitol building and was seen with an envelope that had Pelosi's return address on it. When asked how he got it, he said he didn't "steal it" and that he he left her a note that said, "Nancy, Bigo was here, you b****."
He was also carrying a stun gun at the time of the riot, according to the indictment.
McBride acknowledged that there were a lot of politics and charged emotions related to the riot, but Barnett, he said, was not an "enemy combatant" and therefore should be granted release until his trial. He pointed to this being his first "substantial interaction with the criminal justice system," employment status and the fact a judge already deemed him appropriate to be released as arguments in favor of granting him bail.
"He should be able to fight this case from the outside. Just because people are angry about what happened doesn't mean he should have to fight this on the inside," McBride said.
The issue of pretrial detention is going to be a focus for the attorneys, who just took over the case, in part, because the pandemic has thrown a wrench into court proceedings. At this point, Metcalf said they're unsure what will happen with trials and if there could be a months-long delay because of COVID-19, McBride said it's an added reason as to why he should be allowed to return home.
Correction 03/05/2021, 12:20 p.m. EST: An earlier version of this story and headline mistakenly said that Richard Barnett was seen sitting at Speaker Nancy Pelosi's desk. He was photographed sitting at a staffer's desk inside Pelosi's office.