'Richard Branson Took a Photo of My Late Wife Into Space'
Kath, my late wife, was diagnosed with a very rare brain tumor in 2010. Unfortunately, as soon as I knew what it was, I had an idea of what might happen. One of my best friends had exactly the same diagnosis and had passed away when he was 35. Kath had an operation straight away, followed by chemotherapy and radiotherapy, so there were then a couple of years where she was as fine as she could be, under the circumstances.
Knowing that her life could be cut short, Kath created a bucket list and on the list was going to Morocco. I found a hotel about an hour outside Marrakech and we went there for a week in June, 2013. It was a Virgin Limited Edition hotel, so it was expensive but obviously nothing like the cost of hiring Necker Island!
We were sitting at breakfast one day on the terrace of the hotel, when Kath said, "Richard Branson is sitting behind you!" I think I used two words, one beginning with "f" and the other beginning with "o." But I turned around and it was him.
It was a once in a lifetime opportunity, so I thought I'd go and say hello. I told him how amazing the place was, and that the staff were all extremely friendly and helpful. He was quite open but I kept it brief as I thought he must have so many people approaching him.
Later on that day, Kath and I were sitting by the pool, when the hotel manager came over, asked us what our plans that night were and explained that Mr. Branson wanted to invite us to dinner with a champagne reception beforehand.
We went along, but most of the guests at the hotel were super rich or celebrities, so of the 10 or 12 other dinner guests there that night, I think we were the only "normal" people. There was someone there who had sold his IT company, a model, a soccer pundit, a guy who owned a betting company and a newspaper CEO. Richard went around to speak to everyone during the drinks reception and we told him a bit about ourselves and our kids before we all sat at the dinner table. It was the most amazing Moroccan barbeque and buffet.
At some point during the dinner conversation, the topic of space came up. Kath told Richard that she wasn't well and that she didn't know how long she had to live, and she asked him when he was going to space, because she wanted to go along. She told him to save her a seat. He laughed and agreed. At the end of dinner, we all shook hands and I did see him around the place and say hello in passing, but that was it really.
Kath was ill for five years in total and the last holiday we had together was to Portugal in July 2015 and by then we'd had to get stairlifts in the house. After that holiday, she got a lot worse very quickly. People said we should keep her at home, but I think there is a lack of understanding around how hard that can be. I still had to work, so we had nurses and carers coming in and then I would come in from work and spend an hour trying to get Kath upstairs with the help of two carers. My 12-year-old daughter was emptying catheter bags and Kath was having facial seizures, so it became harder and harder for everyone.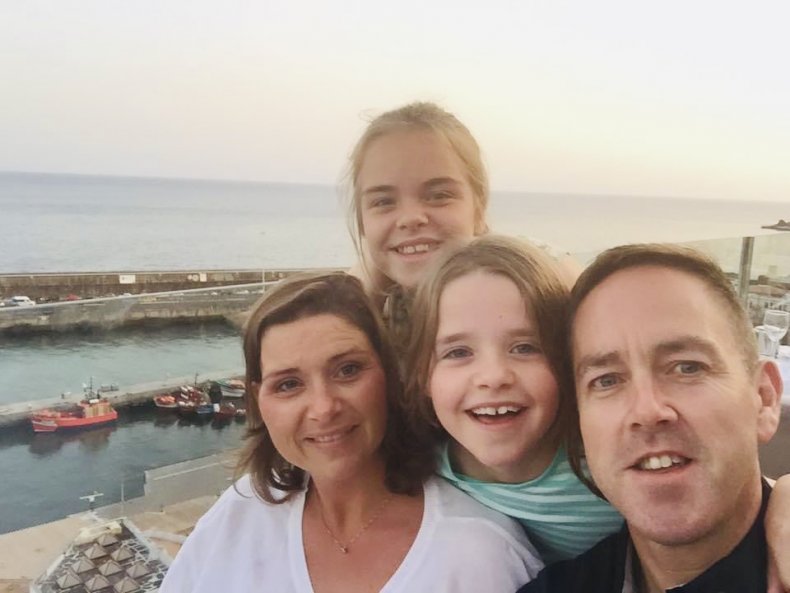 We decided to move Kath into a hospice in October 2015. She had always said she wanted to make it to her 40th birthday, and she did. Her friends came in and threw a party for her. I don't think that hospice had ever seen the place so busy. Kath had friends and family camping out in the café there for weeks. But she was more or less asleep for the last few weeks and she passed away on November 27, 2015. It was a tough time, the kids were only 8 and 12.
I guess grief is a process everyone will go through at some point in their life and we all handle it in different ways. I think I buried it for a while as I was on autopilot and still had to work and support the children. They handled it as best as they could but it affected them for a long time, and still does. Luckily, we were able to access support from Listening Ear, a charity and social enterprise based close to where we live England, who had provided pre-bereavement counselling to the kids, and continue to be an amazing source of support, counselling and care.
Then, in May this year, I remember wondering when Richard was going into space. I'd actually reached out to him after our holiday about a charity we were involved with, so I still had his email address, and I emailed him to ask. He replied that his space trip would be happening in July, so I reminded him that Kath had cheekily asked him to take her into space and explained that sadly she wasn't around anymore. I asked if he could take a picture of Kath and the kids up to space and take a photo of himself up there with it. He said yes.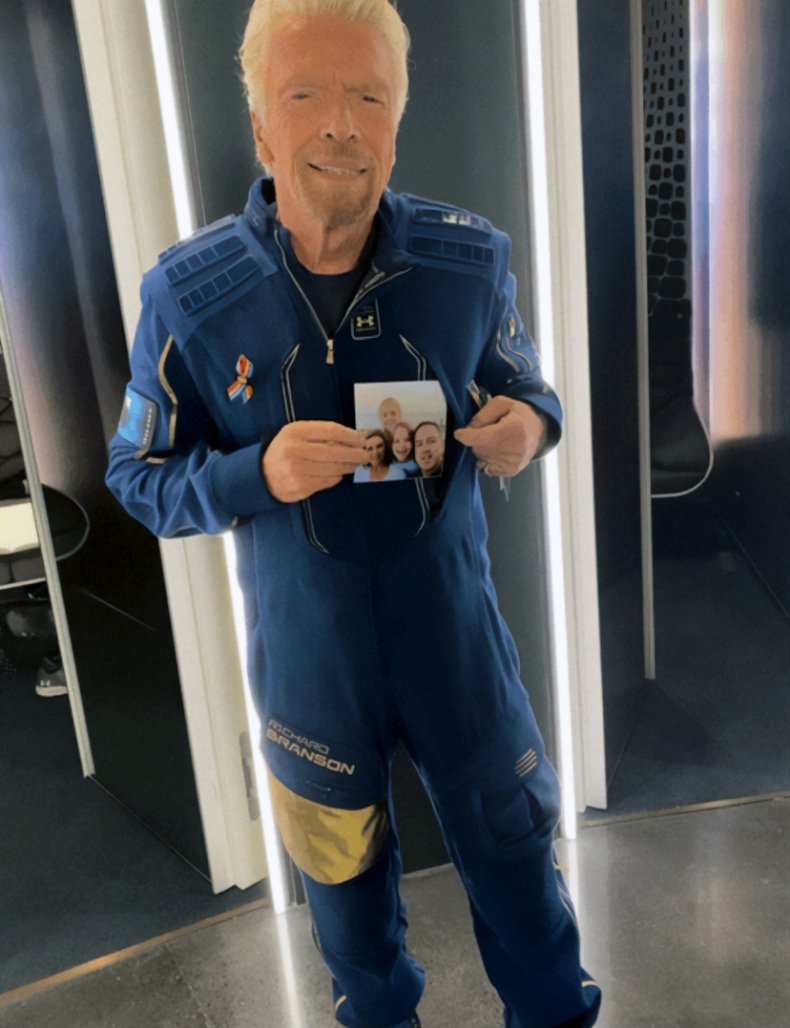 The picture I found actually has me in as well and it was from Kath's last bucket list vacation. It was taken on July 11, 2015 and Richard Branson actually went to space on July 11 six years later.
After his space trip, I got in touch and he then sent me the picture of him holding our family photo in space. It was quite emotional seeing it. I also got emotional in front of the kids when they realized it wasn't just amazing because it was Richard Branson holding our photo, it was also amazing because that picture had gone into space.
I sent an emotional response to Richard telling him how happy I was that he'd found the time to take that photo on such a busy day. I told him that it had brought a tear to my eye, and that little things can mean a tremendous amount. My youngest daughter is dyslexic so I've always used Richard Branson as an inspiration for her. I told him that, and that she's started reading all his books. I said that although my kids' mommy didn't make it to space, she was cheeky enough to ask and at least her picture had gone.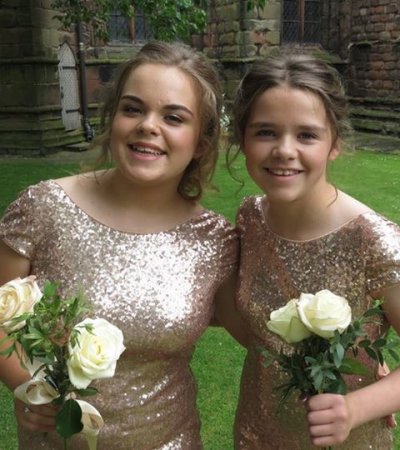 What he did was relatively simple, but the fact is, he remembered to do it on the day he went into space. Celebrities and billionaires must get a lot of people making requests of them all the time.
I shared the photo on Facebook for my kids and then I thought I would put it on LinkedIn, just to inspire people to take opportunities and ask for what they want. In the end, I had to turn off my notifications, the post has had hundreds of thousands of likes, and I've had thousands of people connect with me on the platform.
Kath died six years ago now, so although we go to her grave and my current wife, Chelsea, sits with my daughters and goes through photos and videos of their mommy, I think this photo taken by Richard Branson has given them another way to honor her memory. What he did also shows my daughters that even someone you don't really know, someone who is a billionaire, can take the time to make a memory for you. I think they liked that.
But it's quite surreal really. You'd never expect from a chance conversation that you'd end up with your photo in space.
Karl Connor is a senior commercial manager living in Cheshire, England. You can connect with him on LinkedIn here.
All views expressed in this article are the author's own.
As told to Jenny Haward.