Richard Branson Thinks He Can 'Open Up' Space With Bezos After 'Extreme' Flight Experience
Richard Branson said Monday that his flight to the edge of space was "much more extreme" than he had anticipated, while speculating that he and rival billionaire space enthusiast Jeff Bezos will soon "open up space."
Last month, Branson announced that the space tourism company he founded in 2004, Virgin Galactic, would be launching him into space on June 11. Only hours earlier, Amazon founder Bezos had announced that he would be on board the maiden manned spaceflight from Blue Origin, the space tourism company that he founded in 2000. Branson boasted of the "extraordinarily beautiful" view that he experienced on Sunday during an appearance on CNN's The Situation Room with Wolf Blitzer.
"It takes your breath away... our earth is extraordinarily beautiful, the sky is vivid from wonderful blues to black," Branson said. "It was much more extreme and much more beautiful than I'd ever envisioned throughout my life."
Host Wolf Blitzer asked Branson if he had any advice for his fellow billionaire, prompting the Virgin magnate to suggest that Bezos should "try to get a good night's sleep" before his launch. Branson said that Bezos should expect the "most exciting, rewarding day of your life." He also spoke about the benefits of space exploration and expressed hope that Virgin Galactic and Blue Origin would "open up" the flights for those who would otherwise have no chance of traveling beyond earth.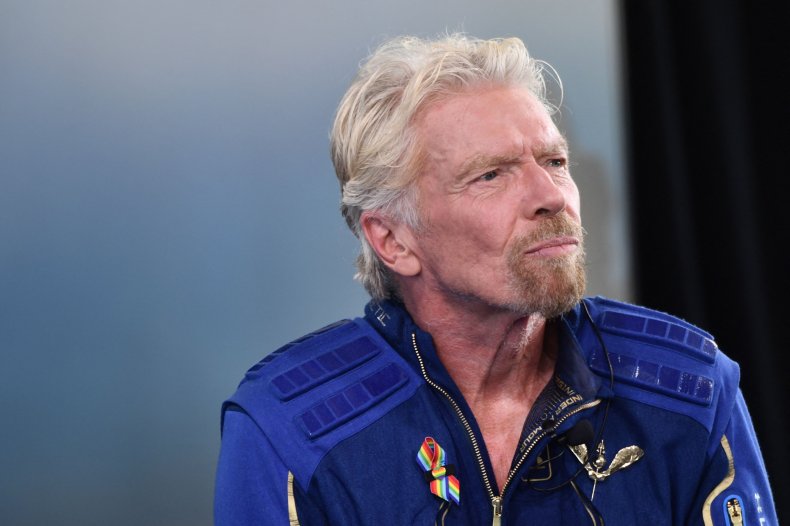 "Between us, we can open up space for many, many people who would never, ever have dreamt they would be able to go to space," said Branson. "There's only 500-and-something people who've ever been to space since space travel started... it's exciting what's happening...space is absolutely essential for the world."
Newsweek reached out to Blue Origin for comment.
Virgin Galactic plans to begin regular commercial space flights with paying passengers next year. Tickets are likely to cost at least $250,000 per seat, far less than the traditional cost to put astronauts in space but still an astronomical fee for the average would-be space traveler. Branson touted a contest on CNN that would allow one winner and a guest to board a Virgin Galactic flight for little or no money. Entries into the contest, which benefit charity, are currently on sale.
After Branson announced that he would be beating Bezos into space by only nine days, Blue Origin suggested that the Virgin Galactic flight would not count since it was set to fly considerably lower than the altitude that Bezos is expected to reach.
While both companies offer suborbital flights that result in weightlessness, Virgin Galactic flights fall short of the Kármán line—a theoretical boundary between earth and space that begins at 62 miles. NASA considers 50 miles to mark the boundary to space, an altitude that Branson's flight exceeded.
Elon Musk, the third prominent billionaire working in the area of space travel, has purchased a ticket to fly into space with Virgin Galactic, according to The Wall Street Journal. The purchase is somewhat puzzling since spacecraft built by Musk's own SpaceX have already successfully ferried astronauts to the International Space Station, although Branson told The Sunday Times that "Elon's a friend and maybe I'll travel on one of his ships one day."