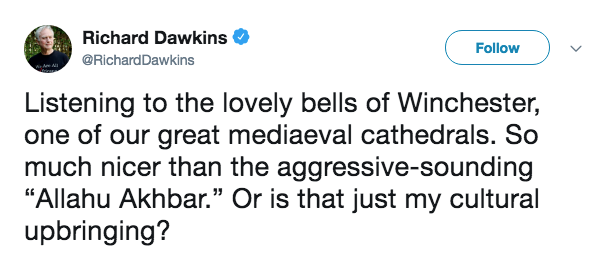 Renowned atheist author and longtime Oxford University professor Richard Dawkins was the target of "bigotry" accusations after a tweet about the phrase "Allahu Akhbar."
Dawkins has published several perennial books mocking all religions throughout his long career, but the English evolutionary biologist is now being labeled a "racist" by some on social media for a Monday tweet showing him outside the Winchester Cathedral in Hampshire, England. His tweet compared the pleasance of hearing Christian church bells to that of the "aggressive-sounding" Muslim phrase, called the Takbir in Arabic, meaning "God is great." The tweet immediately drew condemnation and discussions on Islamophobia.
"Listening to the lovely bells of Winchester, one of our great mediaeval cathedrals. So much nicer than the aggressive-sounding 'Allahu Akhbar.' Or is that just my cultural upbringing?" Dawkins wrote in a Monday tweet. The Twitter photo and caption posted by Dawkins, 77, prompted an intense debate on whether criticism of certain religions is "prejudice" or simply a challenging opinion.
"You can't sit on a park bench on a sunny day without turning it into something Islamophobic?" responded Amarnath Amarasingam, a senior research fellow at the London-based Institute for Strategic Dialogue. Another Twitter user rebuked that opinion, positing, "A phobia is an 'irrational fear of something.' The word Islamophobia doesn't make sense. Islamophobia is a word created to silence criticism of Islam."
Much of the debate around Dawkins's tweet centers on whether Islam is given preferential treatment versus other world religions.
"He merely states he dislikes something because [it] sounds aggressive to him. That's his liberty. It's not prejudice. It's criticism. Or are you suggesting that people are obligated to like religion?" tweeted Max Waterman.
The author of The God Delusion and The Selfish Gene has traditionally targeted all religious institutions with his atheist criticisms, but his negative comments on Islam, in particular, have repeatedly led to accusations of hate speech. In 2017, Dawkins remarked to a crowd at the Cheltenham Science Festival in Gloucestershire, England, that Islam is the "most evil" religion in the world. Berkeley, California, radio station KPFA canceled Dawkins' book event and condemned his views on Islam for having "offended and hurt ... so many people."
But Dawkins has repeatedly clarified that he does not view "individual Muslims" as bad, rather they are victims of what he sees as a regressive religious institution. Dawkins has reiterated his belief that it is hypocritical for his critics to ridicule him over his comments about Islam, but say nothing when he regularly insults Christianity, Judaism, Buddhism and all other organized faiths.
In response to his ban from the Berkeley radio station appearance, Dawkins told The Guardian: "I have criticized the appalling misogyny and homophobia of Islam, I have criticized the murdering of apostates for no crime other than their disbelief. Far from attacking Muslims, I understand—as perhaps you do not—that Muslims themselves are the prime victims of the oppressive cruelties of Islamism, especially Muslim women. I am known as a frequent critic of Christianity and have never been de-platformed for that. Why do you give Islam a free pass? Why is it fine to criticise Christianity but not Islam?"
But Dawkins' indiscriminate rebuke of all religions was not registered by the thousands of Twitter users who focused on the auditory affability of azaan, or muezzin-led Islamic calls to worship.
"Dear Richard," Professor Gad Saad remarked sarcastically. "Arabic is my mother tongue. When properly translated, 'Allahu Akbar' means 'We love all people but hold a special fondness for Jews, women, and gays.' Don't worry. It's a message of love, tolerance, and liberalism."
Dawkins has not yet responded to the criticism, but his social media prowess is widely considered ahead of its time. Dawkins is credited with coining the term "meme" in his 1976 bestselling book, The Selfish Gene.