Richard E. Grant on 'Dispatches from Elsewhere,' 'Star Wars' and the Barbra Streisand Sculpture in His Yard
If you're looking for a puppet master, look no further than Richard E. Grant. Think about it: he's got that voice—which somehow is able to seamlessly jump between authoritative and regal to downright terrifying—and of course the acting chops. So when Jason Segel needed somebody to play a master (and somewhat evil) manipulator in his new AMC anthology series Dispatches from Elsewhere, he didn't look any further than Grant.
"It's a mystery story in that what you think you're seeing is maybe not what is actually going on," Grant told Newsweek Conversations about Dispatches from Elsewhere, which also stars Segel, Sally Field, André "3000" Benjamin and Eve Lindley. The 10-episode series, currently airing Mondays, follows a group in Philadelphia attempting to uncover a mysterious puzzle set in place by Grant's character, Octavio Coleman. The series is based on a true story from 2008, and later described in a 2013 documentary film, The Institute. The real-life game, called the "Jejune Institute," in which some 10,000 people in the San Francisco area—responding to flyers—took part in the eccentric endeavor was created by artist Jeff Hull.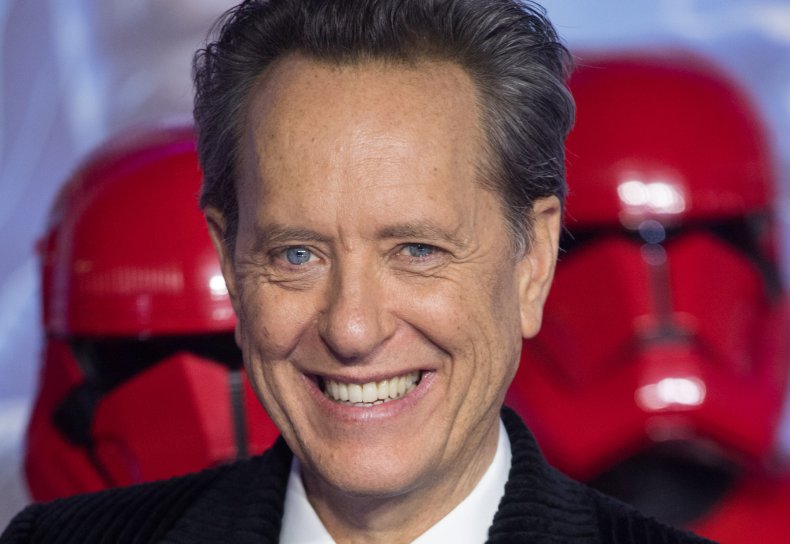 Dispatches is just another impressive addition to what is already an impressive resume spanning both stage and screen. Grant has appeared in films like The Age of Innocence, The Portrait of a Lady and Gosford Park. Most recently, Grant earned an Oscar nomination for Best Supporting Actor for the 2018 movie Can You Ever Forgive Me?, and appeared in Star Wars: The Rise of Skywalker in 2019.
"I began the year with an Oscar nomination and a Golden Globe and I ended it by being in a Star Wars movie that's taken in over a billion dollars. It's been an unbelievable year," Grant said.
After Grant earned that Oscar nomination, he made news not just for his performance, but for a letter he wrote to Barbra Streisand when he was 14. Standing outside the singer's home, he tweeted a picture of himself and shared the letter he wrote in 1971.
Shocking Grant, Streisand promptly replied.
Since that tweet, Grant has not only met the singer "many times," but has constructed a statue of the singer in his yard.
"I had a sculpture, 2-foot-tall, in my yard," Grant said, jokingly adding that there might be a "restraining order."
"She did say to me when I told her I had commissioned a sculpture, 'you're insane.'"
Watch the full interview with Richard E. Grant on Newsweek Conversations.
Dispatches from Elsewhere airs Mondays on AMC.