Richard Nelson Breaks Down 'What Do We Need to Talk About?' — The First Play Created for Zoom
With the onset of COVID 19 stay-at-home orders, live theater—an art form that's all about large groups gathering in tight spaces—has been particularly hurt. So during the shutdown, theater rats, show queens and other assorted sordid characters have been scrambling to get their fixes. Some plays, such as Lips Together, Teeth Apart, Buyer & Cellar and The Little Dog Laughed, have been performed on Zoom to help fill the void.
Richard Nelson's What Do We Need to Talk About? is the latest entry on Zoom, but it is the first play created specifically for the medium. It is the latest installment of Nelson's Rhinebeck Panorama, which is composed of the Apple Plays, the Gabriels and the Michaels, a series of finely crafted Chekhovian slices of life about three families in that upstate New York town about 60 miles from Albany.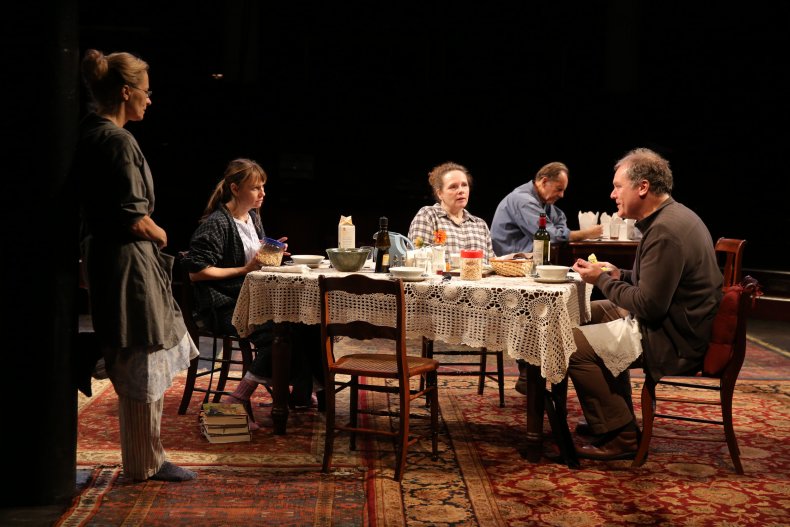 In many respects, Nelson was uniquely positioned to write a play for Zoom. The Rhinebeck plays were set on the day the play was scheduled to open, which was a "significant moment in American politics"—e.g., 2010 midterm elections, the 10th anniversary of 9/11—and were updated continuously to reflect any news developments that might affect the characters. What Do We Need...? reunites, in a manner of speaking, the members of the Apple family, who are self-isolating during the coronavirus pandemic.
While this project came together really quickly—six weeks ago, the number of plays on Zoom was approximately zero—Nelson was actually prepared for something like this about 2011, almost since before there was a Zoom.
"Once we entered into this lockdown," he tells Newsweek, "as a writer and as a theater person and with all the theaters closing, I felt a real desire to have some engagement, to somehow deal with that. Initially, I thought about getting actors from around the world each to read chapters of The Decameron by Giovanni Boccaccio. That was my initial thought, but The Decameron by and large is about waiting something out. And I was getting from my friends that we weren't quite there. We were trying to navigate something. So The Decameron didn't feel quite right.
"So I spent some time thinking about what the Michaels are going to do right now. And that made me think of the Apples—because the Apples are still living two blocks from me, at least in my imagination. And I thought that I could bring them back.
"[In about 2010 or 2011,] when I had finished the first play [That Hopey Changey Thing] and was working on the second [Sweet and Sad], I had a conversation with Oskar Eustis, [artistic director of the Public Theater]. I said, 'If some event were to happen, world event, a national event that we wanted to have an immediate response to—I was thinking more of a kind of a 9/11 or maybe a hurricane—I think I could do that.'"
Fast-forward to 2020.
"So I went to Oskar, and I had the idea right away try to write a play about Zoom because that is what everybody is on. It was unique, and he said that sounded fantastic, and so I wrote it quickly. And we're putting it up very quickly. We're in rehearsal, and we're going to do it Wednesday."
What has emerged in What Do We Need...? is an amalgam of The Decameron and the Apple plays in which the family gathers together, as it were, and shares stories to help forget the pandemic.
Aside from the resources of the Public, to help speed things along, Nelson used a virtual—in the old sense of the word—stock company. All of the actors had appeared in stage and the televised productions of the Apple plays. So there was a familiarity between the director and the actors and the actors with their characters. In fact, if you watch the plays, which are streamable for New York–area audiences on Thirteen.org, by the end of That Hopey Changey Thing, you get the sense that the actors and their characters—they've melded into one—know each other very well. By the end of the second play, Sweet and Sad, you get the sense that they know each other too well.
Staging, if that is the word, What Do We Need...? presented a whole new set of challenges for Nelson, the director.
"There are a lot of plays out there being done on Zoom," he says. "This is something else. It's not a stage play. It's a play for Zoom. As a writer, it's a different form, and as a director it's a very different form."
An art form is defined as much by its limitations as by its possibilities. In movies and television, focus is established by the position, framing and movement of the camera. In a stage play, speech and movement (and an occasional a cellphone going off in the audience) establish focus. For a Zoom play, it is not yet entirely clear how to draw focus. No grammar has been established Actors speak, the frames in which they position themselves can be moved or even eliminated from the screen. The sample size of plays on Zoom is too small to determine what works best. Whether the intimacy of the actors with the camera or computer may counter a lack of audience or scenery remains to be seen. What Zoom does allow is for Nelson to use a conversational style of speaking that creates an intimacy between the actors and a sense of what he calls "verisimilitude," as opposed to realism or naturalism. Regardless, the challenge excites Nelson.
"Limitations are good," he says. "They push you in ways to discover things. So here people get up; they go off away from the computer; they come back. There are two people who are next to each other and talking to each other; that's a very different dynamic than talking through the computer. There's a lot of textures, a lot of different complexities."
One thing that Nelson discovered is that he had to move away from is making What Do We Need...? a date-specific play, like the rest of those in the Rhinebeck Panorama.
"I originally thought it was going to be a date-specific play, like the others—a very particular day in April. But the situation of those other plays is not the political or outside world. It's a thread that's worked constantly through them, but the Gabriels was about them losing their home. The specificity of the date was a good way to thread the outside world through their lives. In this play, the fact that it is on Zoom what is happening to the people is all about the world of pandemic. So I chose to set the play in the month of April, as opposed to a specific day."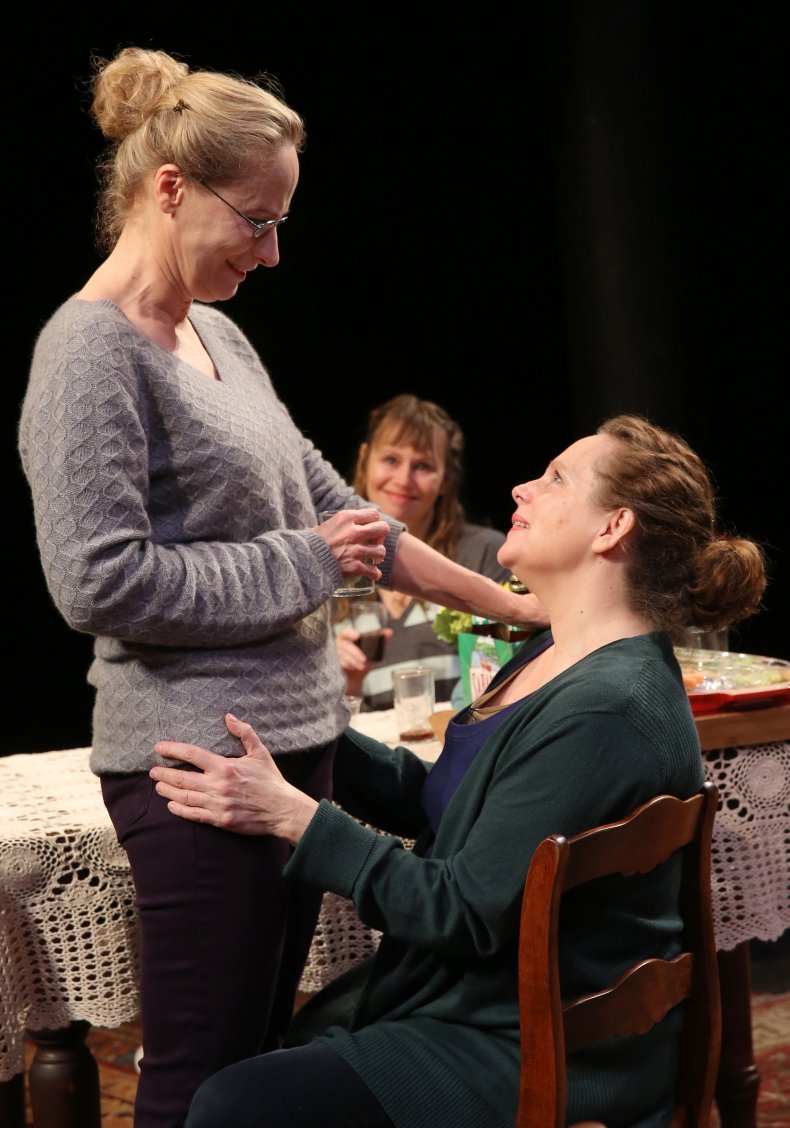 That means that on Wednesday night, What Do We Need...? there are not going to be any references to what someone—Donald Trump, Anthony Fauci or Andrew Cuomo—said or did. "Because," Nelson says, "it is about the pandemic. If I chose to do something about that day, it would verge on journalism." Real life does enter the story with a discussion of Mark Blum, a popular character actor who died of COVID-related symptoms.
Plays that are so current, so specific, risk being dated, but none of Nelson's date-specific plays have aged badly at all. "When I started the first Apple play [That Hopey Changey Thing]," he says, "I promoted it as a 'disposable' play. But then I learned the lesson that sometimes the more specific you are the more universal a play becomes."
Even he is surprised, however, at the reception the plays got overseas. "The Apple and Gabriel plays toured around the world and often with supertitles," he says. "You would think that the audience wouldn't get it, but they did and they connected with it. In Hong Kong, for example, they had Mandarin supertitles."
That is likely because at the heart of all Nelson's plays, especially the Rhinebeck plays, is his focus on showing human beings interacting. And that speaks to Nelson's admiration of Anton Chekhov, a subject about which he is effusive.
"I think Chekhov is very misunderstood and often misrepresented or done in a way that's not there on the page. He was simply interested in the complexity of human beings and trying to put that on stage [without] trying to lead one to a conclusion about an action or what to do. His is basically a view of theater that is trying to create worlds that are as complicated and confused and ambiguous as the worlds that we live in.
"I often say at the start of rehearsals to the actors that that's our goal: to create people on stage who are as complex and lost as anyone in the audience—and that we will always fail. We will never achieve that complexity. Chekhov has taught me that his is a rich and generous view of humanity. It's not a sentimental view; it's not a simple view. We learn this not through a character but through relationships.
"In life, we are different people depending on who we're dealing, with who we are talking to, who we are listening to, and that's at the heart of Chekhov.
"I think it's the putting of complex people ambiguous people on the stage and having them exposed and expressed, not through a performance but through the relationships that are revealed that we, the audience, learn about them. It's a totally different kind of theater, and that's why I keep looking back to Chekhov."
In his recent plays, Nelson has focused mostly on life in upstate New York. Like William Faulkner and Horton Foote before him, Nelson has discovered his own "little postage stamp of native soil" that is worth writing about. In the individual Rhinebeck plays, he has shown himself to be a master miniaturist, and through the saga, he is proving to be master weaver of a fine and complex tapestry depicting life in the early 21st century. In doing so, his stature among dramatists has kept rising, to where he can seriously be in the conversation as one of the top American playwrights.
What Do We Need to Talk About? will be performed on Zoom and streamed live on Wednesday, April 29 at 7:30 p.m. EDT on YouTube Live and The Public Theater's website.
On May 13, the Public Theater announced that What Do We Need to Talk About? was returning and is available to watch for free via YouTube and The Public's website through Sunday, June 28.
Update: This story has been updated to include information about the play's return and availability.