Richard Ojeda, First Democrat to Announce 2020 Run, Becomes First to Drop Out of the Race
Richard Ojeda was the first Democrat to throw his hat into the ring for the 2020 presidential election after the midterm elections in November. But now, just one month into 2019, Ojeda has announced that he is dropping out of the race.
"When I was a kid in grade school, my teachers always said that anyone could grow up and become president," Ojeda said in a video clip provided to The Intercept on Friday. "Unfortunately, what I'm starting to realize is that unless you have wealth, influence and power, it's not gonna happen."
Ojeda announced his candidacy for president after losing a congressional race against Republican Carol Miller in West Virginia. The race was surprisingly close for a state that voted overwhelmingly for Donald Trump in 2016, with Miller garnering 56 percent of the vote.
For his presidential run, Ojeda said he would stand by a populist platform and vowed to support working-class Americans. He also said he would aim to end financial elitism in government by proposing wage limits for lawmakers.
Before entering politics, Ojeda served in the Army for more than two decades. After retiring from the military, Ojeda ran for the state senate and won. Throughout his years in public service, Ojeda has been described as a "Tea Party liberal" and "JFK with tattoos."
Ojeda, despite being a Democrat, supported Trump in 2016 because he believed Hillary Clinton was a "Democratic elitist." He also supported President Trump's pro-coal stance and his concern for the struggles facing miners.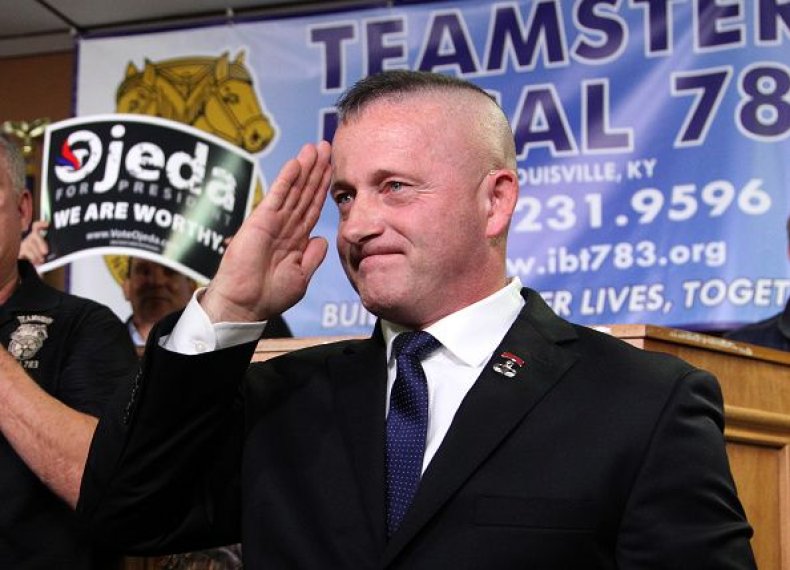 But Ojeda has said that Trump's presidency has been disappointing and called his administration a "train wreck." He says he would not vote for him again today.
Ojeda was still serving as a state senator while running his 2020 campaign, but gave up his seat a few weeks ago in order to focus on becoming president. He told local news outlets that he gave up the seat because he did not want to leave residents without representation as he campaigned.
But on Friday, in a Facebook post announcing the suspension of his 2020 campaign, Ojeda said that he could not continue to ask people to volunteer time, money and resources to a campaign "that does not have the ability to compete."
"But know this, this campaign was never about me but about the issues we care about, checking big pharma, ending corruption and elevating the working class citizen. Nothing and no one can stop me from fighting for what's right," Ojeda wrote in the post.