Richard Pryor's 1977 Speech About Capitalism Leading to Racism Is Striking a Chord Decades Later
There has been a ton of discourse surrounding the relationship between capitalism and racism in light of the Black Lives Matter protests that continue to flood the streets of America.
Activists on podiums, podcasts, TV programs and social media have been sharing their thoughts on capitalism being a system that's both propped up by and perpetuates racism—an economic engine masked as a ladder of opportunity, even though some believe it only truly excels in keeping one certain group of people at the top. Racism obviously existed on its own before capitalism, but there are some people who believe that capitalism is just part of a continuum of racism, and that's why executives and political leaders don't want it to stop.
Legendary comedian Richard Pryor believed that to be true. In his standup comedy, he often pointed out the United States' historical flaws, like discrimination and the big divide between not only the treatment of Blacks and whites but the socioeconomic differences, too. Clips of a 1977 interview that Pryor did with journalist Bill Boggs surfaced on social media on Friday, in which the comedian explained his thoughts on how capitalism and racism go hand-in-hand.
Speaking to Boggs, Pryor highlighted the reasons why TV networks were afraid to give him the same opportunities as his white counterparts. When asked why executives were so worried about the influence his show and comedy may have on white households, Pryor responded: "[They're afraid I'm] going to stop some racism."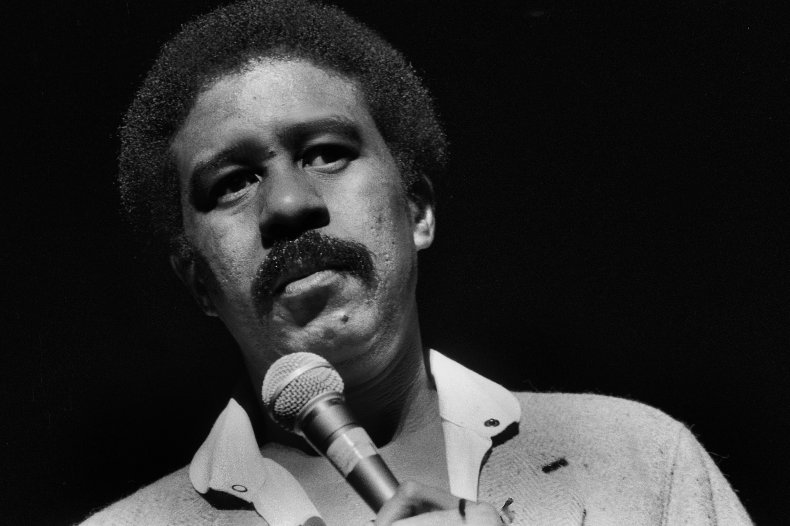 "They're probably afraid of that, because then people don't hate each other. Then people start talking to each other, and if people start talking to each other, then they find out who's the problem: greedy people."
The comedian and actor did the interview shortly after his own variety series, The Richard Pryor Show, was canceled on NBC. Only four episodes of the series had aired before it was axed.
During the interview, Pryor suggested that capitalism was just the machine that flossy executives, like the ones at NBC who cancelled his show, used to keep people separated despite the fact that many white and Black Americans were similarly underprivileged.
"I just think it's part of capitalism to promote racism, right? In order to make things work—if you feel better because you're white and you can get a job, you use that. I would. 'I'm sorry Jack, but they say I'm white. I'm [going to] use this, get this job. I'm hungry,'" Pryor said. "And that separates people. So they keep people separated and that keeps them from thinking about the real problem. That's as simple as I see it."
Another issue Pryor took with the issue of capitalism is how opportunities are handed down to people who seem to suck up to those in positions of power; in turn, they just become just as consumed by power as those who have always had it, and that keeps the system churning.
"It seems that the only time you get into positions of power is if you like the people that are in power. To me, that's the way it goes," Pryor explained. "The people that get to become executives become like the people that were already executives. They may go in there with good intentions, but it eats them up. It's like a cesspool."
A clip of Pryor's remarks has been making the rounds on social media, and some people on Twitter seem to feel as though the comedian's comments are just as relevant today as when he first made them more than 40 years ago.
"How does capitalism lead to racism? Let Richard Pryor explain in 1977. As true today as it was then," one user wrote.
Another wrote: "In a clip that's almost 40 years old, one of the greatest comedians of all time, Richard Pryor, explains how capitalism & greed encourages racism in an already broken system. #BlackLivesMatter."