Is Richard Ramirez Still Alive? Everything You Need to Know About the 'Night Stalker'
Netflix's latest true-crime series will dive deep into a set of murders that occurred in Los Angeles in the 1980s and the man who had evaded police to keep on killing. Richard Ramirez, also known as the "Night Stalker," is the subject of Netflix's new documentary series, The Night Stalker: Searching for a Serial Killer.
In it, viewers will get both a recap of Ramirez's crimes as well as the maddening hunt to identify one of Los Angeles' most notorious threats.
Ramirez was actively killing women in the '80s, but his story is a bit odd compared with those of other killers. More famous names like Ted Bundy would meet the women in public places and lure them into a car or a second location. Ramirez, however, took to invading the houses of his victims, where he raped and killed them.
One unusual sign of a crime committed by the Night Stalker was satanic symbols that he left behind at the scene. He also was not quick to flee the crime scene. Ramirez is known to have spent time inside his victim's home, even making himself a snack from the pantry, according to The Wrap.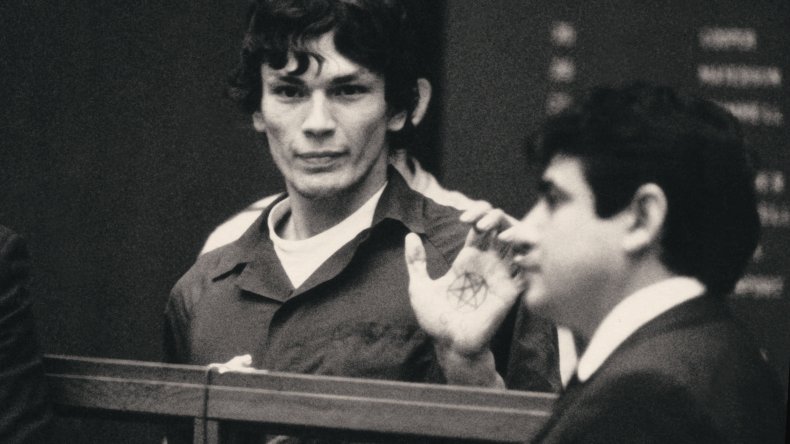 Though Ramirez's crime spree lasted only from 1984 to 1985, he was found to have killed at least 13 people. In 1989, he was convicted of "13 murders, five attempted murders, 11 sexual assaults and 14 burglaries" in 1989, according to CNN. While it is believed Ramirez had many other victims, an exact number is unknown.
His words to the court have become famous for their scary factor.
"I am beyond good and evil," Ramirez said in 1989, as reported by CNN. "I will be avenged. Lucifer dwells in us all."
Ramirez spent the rest of his life in prison. He died in 2013 at the age of 53 of natural causes. One of those causes included complications from B-cell lymphoma, as well as hepatitis C, according to USA Today. Apparently, Ramirez contracted the latter as the result of lifetime of extensive drug use, which left his liver in a bad shape.
At the time of his death, Ramirez was on death row, awaiting execution.
The story of Richard Ramirez's may be well-known by true-crime fans, but the details of the hunt to find, restrain and convict him a probably not be as famous as the murders that he committed. Night Stalker began streaming on January 13.