Richard Scrushy 'Devastated' by Netflix's 'Trial By Media' Episode About Him
The Netflix docuseries Trial By Media examines several court cases that turned into media circuses. The fourth episode focused on Richard Scrushy, founder of HealthSouth Corporation, who was charged with 36 of 85 counts of accounting fraud in 2004. It was one of the biggest corporate fraud cases in American history. In the docuseries, Scrushy insisted he was innocent until proven guilty.
He was ultimately acquitted from the charges in 2005, five months later he was indicted with 30 counts of money laundering, extortion, obstruction of justice, racketeering, and bribery of former Alabama governor Don Siegelman. He was convicted the following year and sentenced to several years in prison. Scrushy was released in July of 2012.
Scrushy spoke exclusively to Newsweek about his portrayal in the Netflix show, and said he was "devastated" by the result. "There's no way in the world I would have done that documentary if I'd known it was not going to be the truth and that they were going to do another hyped-up story," he revealed.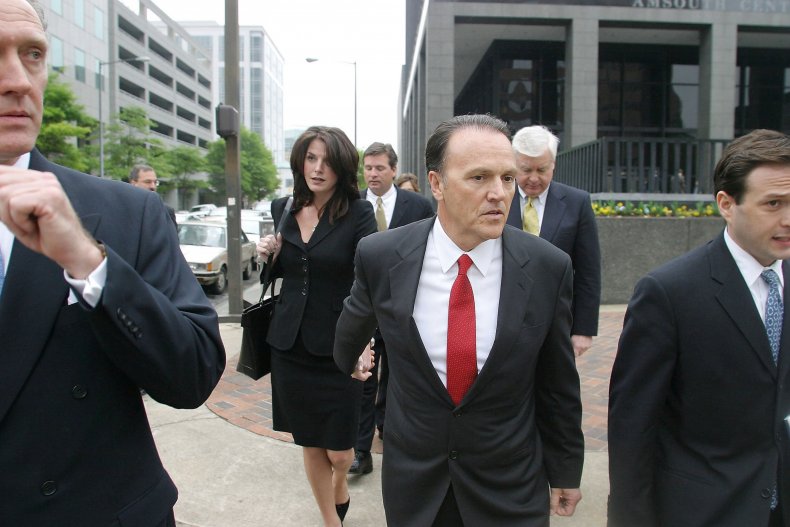 Scrushy was initially onboard with participating in the docuseries when Netflix approached him. "I choose to be interviewed by the Netflix team for the Trial By Media documentary because they told me that the purpose of the show was to show how the media in many trials presented a story that was much different from what actually took place in the courtroom or what the truth was," Scrushy told Newsweek.
"I was told that they had reviewed my story and that they felt I was mistreated by the media and they intended to set the record straight with this documentary and that it would be a positive thing for me and my family because our side of the story would finally be told."
However, after he saw the episode about his story titled "King Richard," he was shocked. "Had I known that they would do more of the same hype with very little of the truth I would never have agreed to be interviewed,"he admitted. "There was a lot of cutting and pasting going on with the interviews to get the hype they wanted. I could give you numerous examples. There were things that were twisted to achieve their intended outcome which was not at all what they told me they intended to do."
Scrushy described the interview Netflix did with Bishop Lowe as "one of the biggest cut-and-paste jobs" of the episode. "They knew that I left his church to start Grace and Purpose Church with another pastor with the blessings of the Bishop. They also knew that I have been back to visit his church as well. But the truth wasn't good enough so they twisted the truth to increase the hype in the documentary." Scrushy added that he trained under Bishop Lowe and gave his first sermon at his church. He noted that the documentary episode made it look like he just left.
The Alabama native also explained that he didn't get much screen time during hour-long episode after days of one-on-one interviews. "They interviewed me for two to three full days. I had what, a minute, in the whole thing?" he said. "A whole hour to it, and you couldn't even get any of the comments that i had in there? I talked about many things that were important and I didn't get any of my comments in there."
Scrushy said he was very generous with his donations to both the black and white communities, which he felt was not depicted. He gave money to colleges and hospitals before the Healthsource fraud scandal. "[Netflix] failed to mention that I had been [a] philanthropic giver to both black colleges and schools for many years prior to my trial."
"I supported the black community probably even more than I supported the white community," he told Newsweek. "For them to make me out like I just did this for just this period of time was a total lie. And they knew it, because they had interviewed people and told the truth.
Ultimately, Scrushy said he was "broken-hearted" over the Netflix episode about him. "I think they lost some respect from mine and a lot of people for what they did to me," Scrushy lamented. "Is more lies good? I don't think it is."
We reached out to Netflix and Brian McGinn, who directed the episode, but did not receive comments by the time of publication.
Trial By Media is available to stream on Netflix.