Could Richard Sherman's Injury Kill Off Thursday Night Football?
With one cruel pop in the third quarter of a Thursday Night Football game between the Seattle Seahawks and Arizona Cardinals, the NFL watched another of its most marketable players disappear for the season.
"No coming back from that until you get surgery," Seahawks head coach Pete Carroll said of the ruptured achilles suffered by cornerback Richard Sherman in the third quarter of his team's 22-16 win at University of Phoenix Stadium, in quotes reported by Reuters. "He's [Sherman] been a bastion of consistency, competitiveness and toughness. We're going to miss the heck out of him."
Sherman hadn't missed a game since entering the NFL in 2011, according to ESPN. He said his achilles had been bothering him all season. "One of those things that you have to play through for as long as you can. When it goes, it goes," Sherman said of the injury. "I've put a lot of stress on it. Think it would have gone eventually."
The 29-year-old isn't just the durable centerpiece of the "Legion of Boom"—one of those rare defensive players you would pay to watch. He's a bright, charismatic and occasionally controversial figure in a league that tends towards the bland soundbite. Even past their zenith, the Seahawks remain one of the NFL's most intriguing, engaging franchises.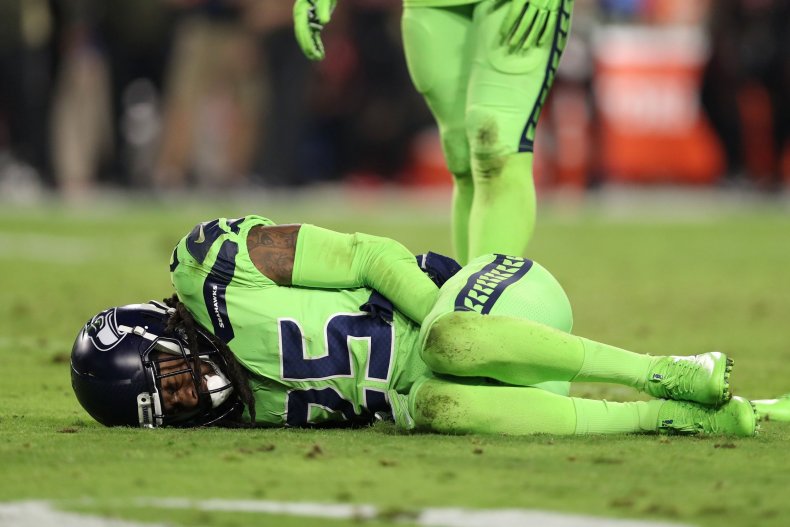 And now there will be no more Sherman for this season, on the field at least. Like there has been no JJ Watt since October 8 (Watt fractured his tibia on a Sunday night, though). The Texans' defensive end is, like Sherman, a dominant and charismatic defensive presence you pay to watch, and listen to.
There's no way of knowing, of course, whether Sherman's achilles would have given way had the Seahawks played the Cardinals on Sunday, off a full week of rest. His teammates—like many in the NFL—have long since made up their minds. "This s*** should be illegal," Doug Baldwin told The Tacoma News Tribune after the Seahawks' victory. "It is not OK. It's not OK. You can quote me on that.
"This is not OK.... Absolutely, guys do not have enough time to recover. You can't recover in four days." Bobby Wagner, the Seahawks linebacker, called on the NFL to, "Change the format" of Thursday night games, possibly by giving the two teams involved a bye in the runup week.
That News Tribune report makes grim reading. "So many Seahawks couldn't walk without significant pain after this Thursday night 'showcase,' about 10 piled onto an equipment cart from all angles outside locker room so they could avoid having to walk to the team bus," Greg Bell wrote. "Sherman and his crutches plus Pro Bowl defensive end Michael Bennett with his plantar-fascia injury on top of wrecked toe were among them." Quarterback Russell Wilson briefly left the game to be evaluated for a hit to the head, before returning to orchestrate the victory.
Adam Schefter's alarming list of injured NFL stars, tweeted out by the ESPN reporter on Friday morning, includes many injured on Sunday afternoons and evenings, the league's bread-and-butter. But that, in itself, begs the question. If the league's most marketable players are dropping so frequently on a regular schedule, should the NFL not reexamine the wisdom of short weeks? Sherman's injury may yet be a catalyst for a move away from "Thursday Night Football."