NFL Star Richard Sherman Makes $7,400 Donation to Wipe Out School's Cafeteria Debt
Cornerback Richard Sherman of the San Francisco 49ers made a donation of more than $,7400 to cover Cabrillo Middle School's cafeteria debts, KCRA reported.
The football star delivered the check himself to the school's principal, Stan Garber.
In a statement on the Santa Clara school's website, Garber shared the good news." On Saturday, November 23rd, 49ers Cornerback Richard Sherman pulled me from my shift as a docent in the 49ers Museum to give me a personal check for $7,491.27 to cover Cabrillo Middle School's cafeteria debt," the statement read.
The school also celebrated Sherman and the 49ers victory against the Green Bay Packers on Sunday. Richard's gesture created such good will for the 49ers that they went on to sack Aaron Rodgers and the Green Bay Packers the next day on national TV by a score of 37-8.
"Go 49ers, Go Richard Sherman," the statement concluded.
CBS SF Bay Area reported that Sherman's foundation, Blanket Coverage, the Richard Sherman Foundation, also sent a letter to the school's nutrition department. The letter stated that the charity found that covering lunch debt is often the helpful to families. "We have found that eliminating student lunch debt is one way to help assist students and their families in relieving some of the stress that comes with attending school on a daily basis," the letter read. "The last thing any child should have to worry about is being able to afford eating breakfast and lunch at school; we aim to do our part in eliminating that obstacle."
Blanket Coverage has worked to provide low-income communities with both clothing and school supplies since 2013. Sherman also tries to instill the values of setting and achieving goals to students, the same way he feels NBA star Magic Johnson did for him when he was a student, according to his website.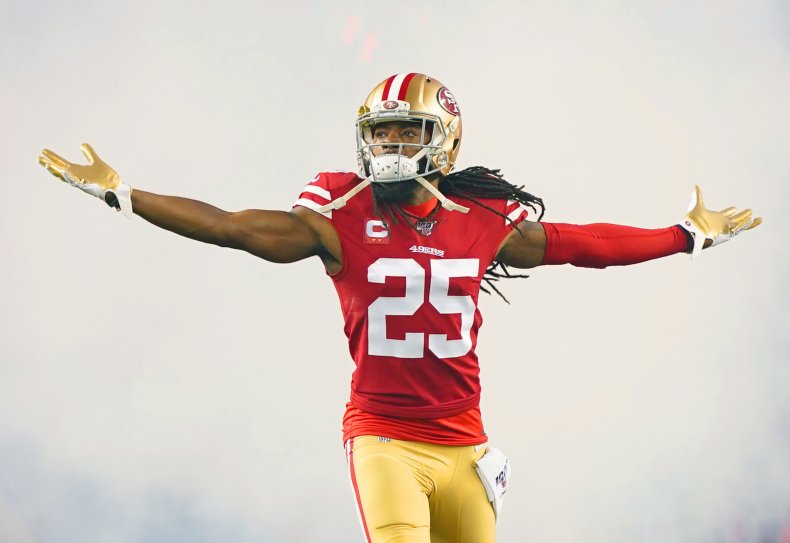 Sherman began playing for the 49ers in 2018. Prior to that, he played for the Seattle Seahawks from 2011 to 2017. In that time, he helped lead the Seahawks to victory in Super Bowl XLVIII.
On Wednesday, the Baltimore Ravens' Earl Thomas, who had played with Sherman on the Seahawks, dissed the 49ers in a statement on Wednesday. "You think the 49ers are going to the Super Bowl?" he responded when asked if Sunday's game could be a Super Bowl preview, ESPN reported.
Sherman showed he was unfazed by his former teammate's comment. "Worrying a bit what other people say isn't going to change how we're going to go out there and play," he said, the San Francisco Chronicle reported.
So far in the 2019 season, Sherman has recorded three interceptions, according to Pro Football-Reference.com.