NFL star Richard Sherman makes his first court appearance on Thursday in Seattle following his arrest for burglary domestic violence on Wednesday morning.
The circumstances of the free agent cornerback's arrest are coming to light, as are the legal nuances surrounding his case. Below is a breakdown of what is known about his arrest and what will immediately come next for Sherman.
Sherman, 33, was booked into jail on Wednesday after the police said he tried to break into his in-laws' home. Since he knows the people whose house he tried to enter, it's being termed "burglary domestic violence," even though he is not believed to have physically harmed any of the occupants and he is not accused of stealing anything.
He currently remains in custody in the King County jail and has not yet been charged or arraigned. Despite his jail roster listing a "charge" for Sherman, he has not actually been criminally charged. The "charge" listed is a formality as the reason for booking by police. Police refer investigations for charging, but the decision for any charges against Sherman will be made in court.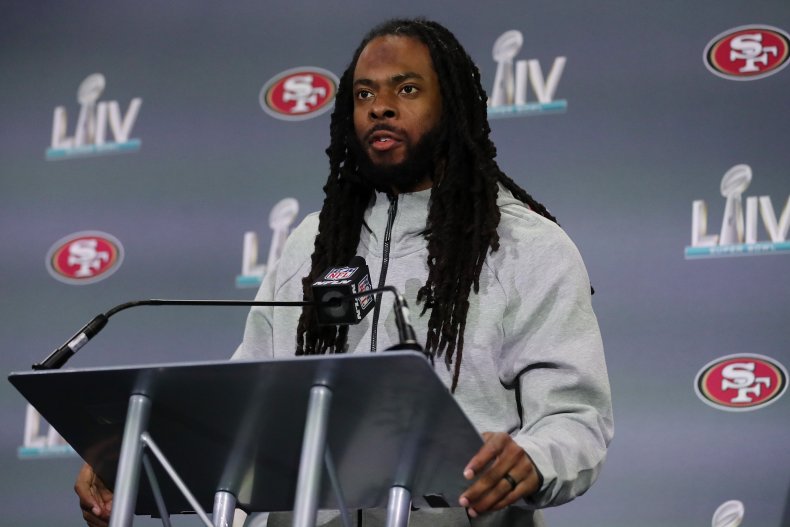 His arrest came after a Tuesday dispute with his wife, Ashley Sherman, who tried to leave their home in Maple Valley, Washington. In a 911 call that night, Ashley told the operator that her husband was "drunk and threatening to kill himself." She said he had left their home and was headed to her parents' house in Redmond, Washington. Officers responded and spoke with the couple at their home.
Ashley left their home a short time later, and Richard drove after her with officers behind him. He eventually stopped following his wife, and a short time later the Washington State Patrol received a report that a car hit a concrete barrier in a construction zone before driving off. His car was found nearby, but he had traveled by foot and attempted to force his way inside his in-laws' house.
Sherman got into a physical alteration with officers who tried to arrest him, and a police dog caused minor scrapes to his leg. He was treated at a hospital before being booked at the jail.
He also was accused of malicious mischief by police because he allegedly damaged the home's door. Other charges may come pending a blood sample taken from Sherman to test him for driving under the influence.
What immediately comes next for Sherman is an appearance on Thursday before a judge in King County Courtroom No. 1 in Seattle. The scheduled hearing time is 2:30 p.m. PDT.
At the hearing, a document written by police will be presented by the King County Prosecuting Attorney's Office to a King County District Court judge. A deputy prosecutor and a defense attorney will both address the judge before the judge makes a probable cause determination. A discussion about bail may also occur, and if so, the judge will hear from both sides before making a bail determination.
A lot of media attention was given to the fact that bail was denied for Sherman upon his arrest, but that is the protocol before the first court appearance and a bail hearing has taken place. A spokesperson from the King County Prosecuting Attorney's Office said bail amounts are typically set at a first appearance hearing or sometimes at a second hearing.
It's currently unclear if Sherman will appear in person. A person can waive their right to appear and instead be represented by an attorney. That decision, according to the prosecuting attorney's office spokesperson, is announced at the time of the first appearance hearing.
Today's hearing, like all first hearings in the county, is not available to be watched remotely or via videotape. "That's the normal procedure for first appearances and is not unique to this case," the King County Prosecuting Attorney's Office spokesperson told Newsweek in a statement.
About the writer
Jon Jackson is an Associate Editor at Newsweek based in New York. His focus is on reporting on the Ukraine and Russia war. Jon previously worked at The Week, the River Journal, Den of Geek and Maxim. He graduated Summa Cum Laude with honors in journalism and mass communication from New York University. Languages: English.