Nazis in America: Richard Spencer's Visit to Florida Targets Jewish and Hispanic Students, Professors Say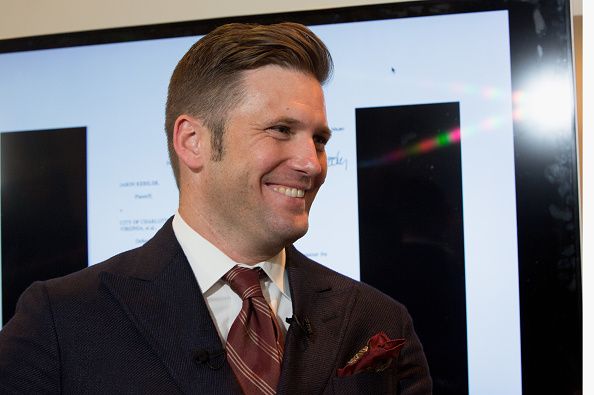 Richard Spencer and a cadre of his white nationalist chums are dropping in for a speech at the University of Florida in Gainesville Thursday afternoon, and there is not much that students or faculty can do about it.
The tightly controlled event kicks off at 2:30 p.m. Eastern time, and it will be an expensive undertaking for the school and other agencies, according to the university, costing upwards of half of a million dollars to pay for the enhanced security needed to keep white nationalists and protesters from warring on school grounds. Spencer's organization, the National Policy Institute, is also hand-selecting the people who will attend the event, a spokesperson tells Newsweek. Despite these measures, worries about the potential for violence breaking out are weighing heavily on Gainesville residents in the hours leading up to the event taking place.
Faculty members, most notably some of the school's history professors, have lobbied passionately to prevent the speaking engagement from happening, to no avail. Norman J.W. Goda, a professor of Holocaust studies at the University of Florida's Center for Jewish Studies, tells Newsweek that when he listens to Spencer's rhetoric and reads his writing, he finds similarities to the language used by Adolph Hitler in his autobiography, Mein Kampf.
"When I hear Spencer saying, 'For us, it is to conquer or it is to die,' I hear echoes of [Hitler]," Goda says, referring to words Spencer has used about the fate of the white race. "I'd rather he not be here."
Goda, who calls Spencer a "Nazi," argues that the public speaker is interested in "inciting violence," even though he frequently claims to be peaceful.
"He's arguing for a peaceful ethnic cleansing, but nothing like that could be achieved without incredible amounts of violence," Goda says. "American Jews are not going to be sent to Israel without putting up a fight. The Latin people I know are not going to be sent out of the country without putting up a fight."
"The women I know are not going to give up their right to vote without putting up a fight," Goda adds, referring to a recent Newsweek story in which Spencer said he didn't believe that a woman being allowed to vote was a "great thing."
Meanwhile, Gainesville residents are bracing for all possibilities when Spencer arrives, including the kind of violence seen in Charlottesville, Virginia, on August 12. Protest groups have been preparing for the event since it was first announced, hoping to mobilize as many interested people as they can find to show opposition to Spencer.
Paul Ortiz, director of the Samuel Proctor Oral History Program, says the diversity of college cities like Gainesville—which has a significant Jewish and Latin population—is why far-right figures like Spencer focus on them so intently.
"There's been a real morale problem," Ortiz says of Jewish students and the students of color that are "appalled" by Spencer's speaking engagement. "It's had a devastating impact on staff morale as well."
Ortiz says that beyond the psychological pain of knowing that someone is advocating the creation of a white ethnostate on campus, the groups of armed neo-Nazis and white supremacists that frequently follow Spencer around add the potential threat of physical danger as well.
"He claims that he has nothing to do with the people carrying weapons, but that's what Hitler used to say about his SA," Ortiz says, referring to the paramilitary wing of the Nazi party of Germany during the 1920s and 1930s, which provided security for Hitler's rallies.
Spencer denies that he associates with violent groups and has frequently claimed that anti-fascist protesters instigated the violence that took place at his doomed event in Charlottesville, Virginia this August.
Marilyn Mayo, a senior research fellow at the Anti-Defamation League's Center on Extremism, tells Newsweek that Spencer, while not inherently violent in his rhetoric, is in denial of the degree to which his ideas create a dangerous environment everywhere he goes to speak.
"He talks about a white ethnostate, using Israel as the example without acknowledging that in reality that would create havoc," Mayo says, calling him a "white supremacist" rather than simply a white nationalist. "He's trying to mainstream his ideas by reaching out to young, articulate white males."
Roxanne Palmer, a member of the steering committee for the Central Florida chapter of Democratic Socialists of America, says she plans to protest Spencer's appearance, and that hundreds if not thousands of others could be joining her from leftist groups thoughout the southeast. Even with those numbers, the heavy law enforcement presence and the memory of Virginia's violence over the summer have helped cast a shadow over the city in the hours leading up to Spencer's talk.
"It's pretty tense in Gainesville right now," Palmer tells Newsweek. "I'm not gonna lie to you."