Richard Spencer Event Linked to Attempted Murder Suspect, According to Planning Document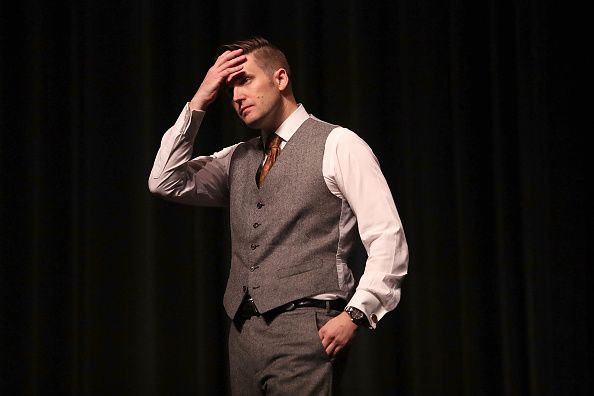 It was a warm Thursday afternoon in Gainesville, Florida, and white nationalist Richard Spencer was doing his best to talk over a room of protesters who were shouting down his persistent vows that the "alt-right" movement would one day take over the world.
"You think that you shut me down. Well, you didn't. You failed at your own game," Spencer told the protesters as his event wrapped up that afternoon. "The world is going to have a very different impression of the University of Florida."
Moments later, three white men from Texas who came to support Spencer threw up their arms in Nazi salutes on the streets outside and yelled "Heil Hitler!" One of them, Tyler Tenebrink, fired a shot into a crowd of protesters. No one was injured, but all three men were charged with attempted homicide.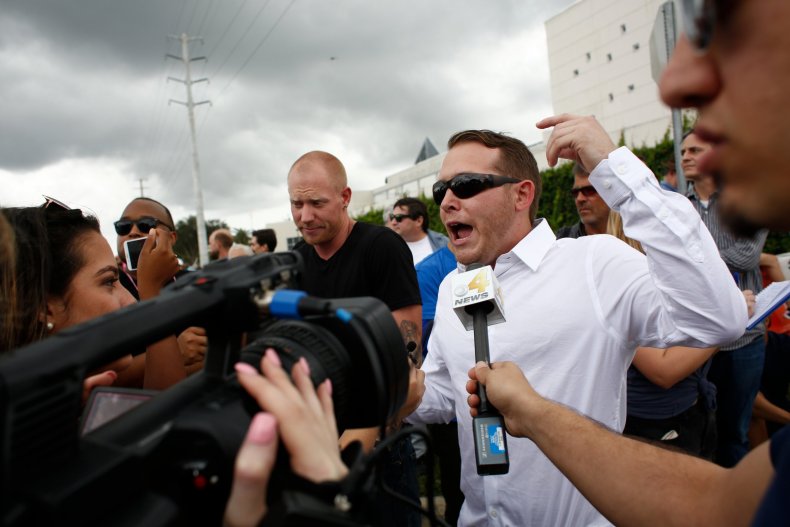 Spencer, who wants to create a country solely for white people, has said that he publicly disavows violence. But like the chaos that ensued at the doomed Unite the Right rally in August in Charlottesville, Virginia, which led to the alleged murder of activist Heather Heyer, Spencer's event at the University of Florida in Gainesville was overshadowed by the specter of violence.
It may not be by coincidence. A planning document that was originally composed by the director of operations for Spencer's think tank, the National Policy Institute, reveals that various alt-right groups associated with violence were invited to the event "to promote our ideals by exercising free speech, triggering the Opposition, and making a splash in U.S. and international news." The document was first leaked to antifascist organizers based out of Atlanta.
The groups mentioned in the document include Patriot Front, whose membership includes William Fears, one of the three white men who were arrested for the Gainsville shooting. Fears has publicly participated in events alongside Patriot Front, according to multiple eyewitnesses who spoke with Newsweek, video and photographic evidence that is publicly available and Keegan Hankes, an intelligence analyst from the Southern Poverty Law Center.
Patriot Front, which declined multiple requests to comment for this story, is believed to be an offshoot of Vanguard America, which the Southern Poverty Law Center describes "a racist right-wing organization." James Fields, the man charged with the murder of Heather Heyer, was pictured with Vanguard America during the melee that took place in Charlottesville. The group subsequently denied his involvement to The Washington Post.
"Fears was a known quantity in white nationalist circles," Hankes told Newsweek, noting that he had an active and readily identifiable social media presence. "They absolutely knew who Fears was [before Gainesville] and they simply weren't able to control him."
Evan McLaren, a spokesperson for NPI, confirmed to Newsweek that a planning document drafted by the group had been leaked, but said he was "not aware of any relationship between NPI and any of the defendants" despite Fears' presence at Patriot Front events prior to what took place in Gainesville. He added NPI has "not resisted reporting on the leaked planning document… because we feel it vindicates us—it shows that we are well organized and are going out of our way to mindfully plan, with great attention to detail, events that are not violent or dangerous, to the extent that it is within our control."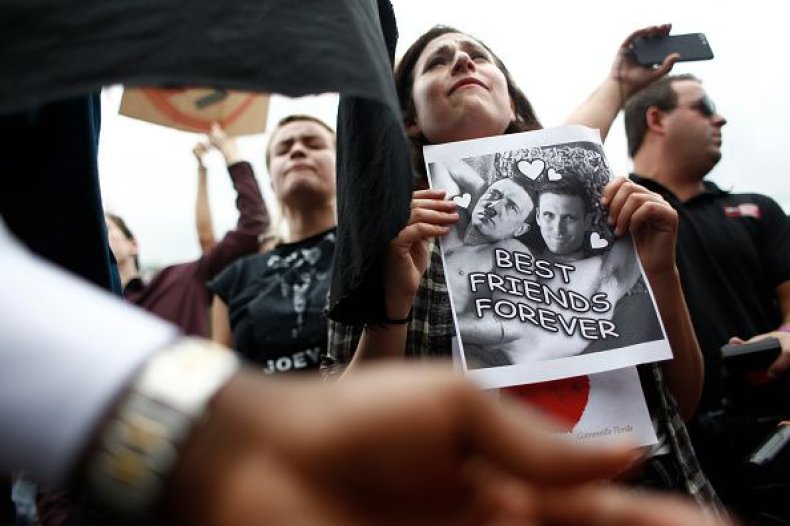 "Anticom", another nascent, thinly organized group that claims not to be associated with white nationalism, despite its demonstrable and recurring associations with Spencer, was also mentioned in the planning document. A spokesperson for that group told Newsweek that they were charged with providing security in Gainesville. "As far as Fears is concerned, we aren't associated with Patriot Front," the spokesperson, who asked to remain anonymous, said of the planning document.
"'Task Force Vandal' (TF Vandal) comprises primarily members of Identity Evropa, The Florida Gators and Patriot Front. It may be augmented by individual members of [Commander Thomas' Group], League of the South, Identity Dixie, Anti-Comm, TRS, Stormer Book Clubs and others," the document states. "Alt-Right forces (TF Vandal) conduct College Visit in support of Richard Spencer."
Eli Mosley, the head of Identity Evropa, a self-proclaimed "European Heritage" group that participates in white nationalist rallies, and has aspired to indoctrinate young white people on college campuses into far-right politics, also denied any links between the leaked document and the violence that took place in Gainesville.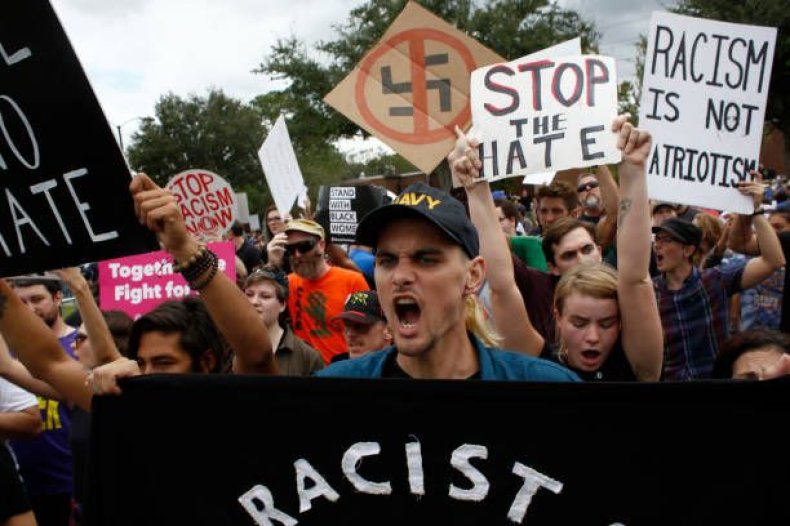 Patriot Front's links to Fears, however, are well established. Fears was with members of Patriot Front when the group staged a protest outside of an "anarchist book fair" in Houston, Texas, on September 24, according to Kit O'Connell, a writer and antifascist organizer who was a scheduled speaker that day. Fears and other people in the crowd chanted "Blood and Soil!," a neo-Nazi slogan, outside of the event during O'Connell's lecture, which he said was a class geared around teaching self-defense against hate groups. Fears can also be seen participating in the ragtag protest in photos published on social media, as well as a livestream video published by the neo-Nazi website The Daily Stormer.
Fears had also participated in other white nationalist events prior to the formation of Patriot Front, according to activists that spoke to Newsweek, and was engaged in acts of violence at the August rally in Charlottesville that descended into chaos, according to the Southern Poverty Law Center. Tenbrink, the man who fired the shot, had a criminal history, according to The Dallas Morning News, but it is unclear if he was a known quantity to organizers.
"Essentially, someone like Richard Spencer doesn't have anyone else to reach out to," O'Connell said. "Who can he turn to other than people like this?"
Robert Warren Ray, an avowed white supremacist writer for the Daily Stormer who goes by the pseudonym "Azzmador," and appeared to be leading chants with Fears and others at the Patriot Front protest in Houston, suggested that he thought that Fears and the other two suspects in the attempted murder case in Gainesville may have acted in self-defense, echoing familiar claims made by others in his movement. He also said that people were told not to bring guns to the event.
"We have told our readers many times not to take guns to these events, and to stay with the group," Ray told Newsweek on Gab, a social media site that attracts many far-right users. "I am disappointed in anyone who doesn't follow those common sense guidelines."