Richard Spencer Shouted Down in Florida, Cuts His Speech Short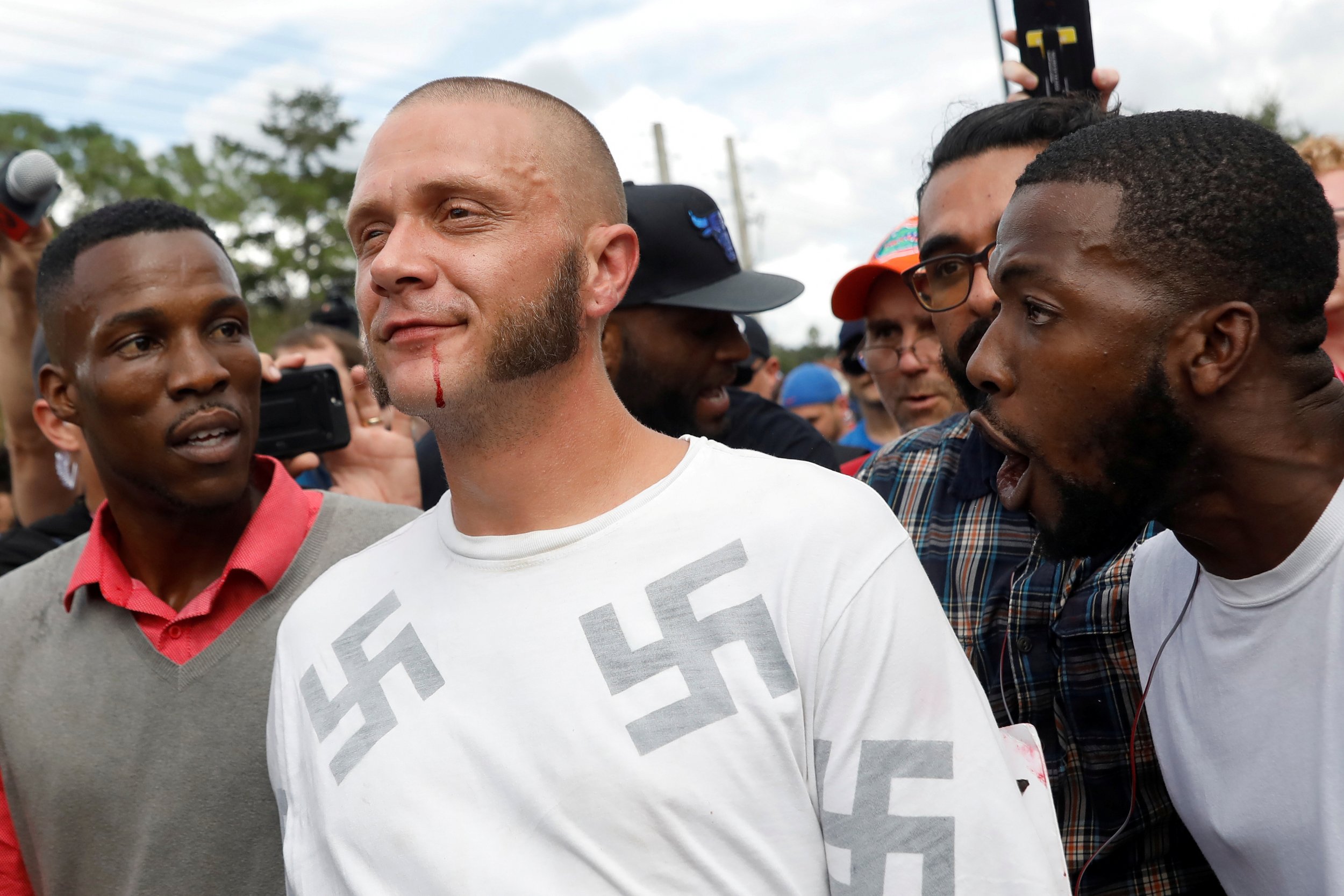 White nationalist Richard Spencer was mostly drowned out by protesters during a controversial speech in Gainesville, Florida, Thursday.
Protesters sitting in the audience at the University of Florida shouted "go home, Spencer" and raised their fists throughout Spencer's talk, drowning him out several times.
The interruptions forced the self-described leader of the "alt-right" movement—a mix of white nationalists, misogynists and conspiracy theorists—to leave the podium earlier than planned. Spencer said the university "failed" because the crowd was disruptive, according to The Gainesville Sun.
"Do you think this is going to be read as 'great victory for U of F'?" Spencer asked the crowd. "No, it's going to be read as the University of Florida is filled with child-like antifa, who shout at people as opposed to talking to them," he said, referring to the protesters as members of the anti-fascist movement. "I feel sorry for you," Spencer said.
"Y'all aren't tolerant. Y'all aren't anything! Y'all are full of shit! You all are acting like animals and the communist antifa that you are," said student Cameron Padgett, who organized Spencer's talk, when the audience would not be quiet.
Padgett has said he's not racist, but an "identitarian" like Spencer, who advocates through his white supremacist National Policy Institute think tank that the United States should become a white-only nation.
Spencer was scheduled to appear for two hours but his talk was cut short by about 25 minutes.
Early this week Florida Governor Rick Scott declared a state of emergency in advance of Spencer's talk, putting extra police at the ready in case violence broke out.
Read more: White supremacists inspired by Trump primed to do something more daring than Charlottesville, experts warn
State troopers and police in riot gear stood by as Spencer's supporters and people protesting his talk marched outside the university's Curtis M. Phillips Center for the Performing Arts before and during Spencer's speech.
Some protesting the talk chased a man wearing a swastika T-shirt before police escorted him away. A neo-Nazi website advised Spencer's supporters to hide any white supremacist tattoos they have ahead of the event.
University of Florida officials defended their decision to let the event go ahead, arguing Spencer had a right to speak. About 2,500 protesters showed up. Estimates before the event suggested the university would spend $500,000 on security for the talk.
In August Spencer was one of the leaders of the "Unite the Right" rally in Charlottesville, Virginia, that became violent. Counter-protester Heather Heyer died and 19 others were injured when a man police believe was a white supremacist drove a car into the protesting crowd.
President Donald Trump faced criticism after the event for failing to call out white supremacists and saying there were good people "on both sides." On Wednesday, former President George W. Bush warned that "bigotry seems emboldened" in the current political climate. "We've seen nationalism distorted into nativism," Bush said in a speech, and "forgotten the dynamism that immigration has always brought to America."