U.S. domain registrar GoDaddy has shut down AltRight.com, the website co-edited by white nationalist posterboy Richard Spencer, following a legal complaint accusing the site of "actively inciting violence" against racial and ethnic minorities.
The decision was made following a letter sent by the Lawyers' Committee for Civil Rights Under Law on April 20, appealing for GoDaddy's chief executive Scott Wagner to help purge the website over its policy-breaking content. The registrar's rules say a website using its services cannot promote illegal activity or violence.
"By promoting illegal and violent acts in its articles, AltRight.com's content has an impact beyond its published articles and encourages a downward spiral of violent and threatening posts in its comments section," the lawyers' letter read. In some cases, the filing said, it advocated for woman-beating and sexual assault.
One comment on the website stated: "These whores need round-the-clock beatings, spankings, pussy poundings, throat-fuckings and humiliation to be put in their place." There were also numerous mentions of Jews and "faggots," the lawyers said.
A January 2018 article referenced in the complaint allegedly encouraged the use of "live ammunition at the border" to create a "substantial chance that [immigrants crossing] lose their life in the process." The letter concluded: "This type of language clearly violates the provisions of GoDaddy's terms of service."
In a statement given to Buzzfeed, GoDaddy said: "It is our determination that altright.com crossed the line and encouraged and promoted violence in a direct and threatening manner. As is our standard process when dealing with these incidents, we gave the customer 48 hours to transfer the domain elsewhere."
Spencer, who is president of a Virginia-based white supremacist think tank, was a speaker at the 2017 Unite the Right rally in Charlottesville, Virginia, which sparked violent clashes and claimed the life of counter-protester Heather Heyer.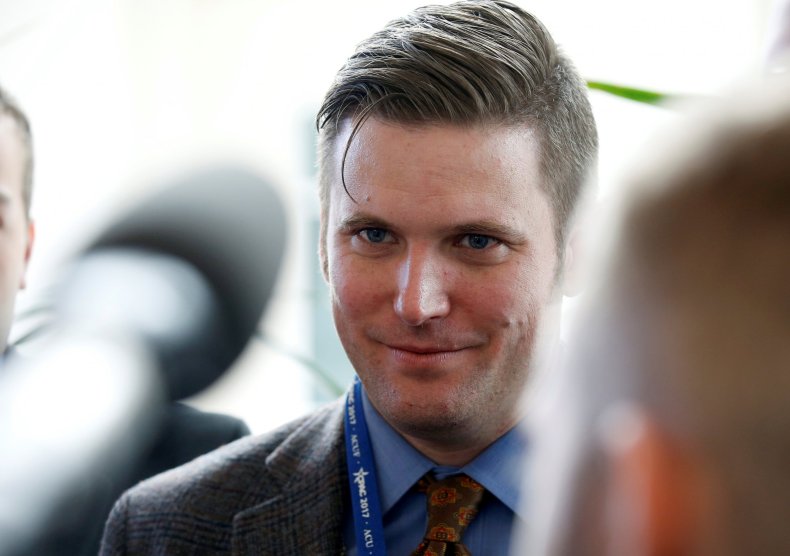 The so-called "alt-right" movement was seemingly emboldened by the rhetoric of Donald Trump during his 2016 presidential election campaign. Spencer, who once shouted "Hail Trump! Hail our people!" during a gathering in November 2016, is widely known for quoting Nazi propaganda and getting punched in the face. He is facing legal action and is now appealing for supporters' loose change.
Kristen Clarke, president and executive director of the non-profit Lawyers' Committee, tweeted on Thursday: "We will continue using every tool in our arsenal to confront white supremacists, the alt-right & those who incite violence and hate in our country. We applaud GoDaddy for heeding our call and pulling the site."
Richard Spencer did not respond to a request for comment. On Twitter this week, he retweeted multiple accounts using the hashtag #BoycottGoDaddy. Currently, AltRight.com's homepage is down. It says the "IP address could not be found."
It is not the first time GoDaddy has acted to purge white supremacy outlets for breaking its policies. In August last year it outlawed The Daily Stormer, a controversial website known for promoting Nazi ideologies, often for shock value. Social network Twitter has also banned a slew of far-right activists and bloggers.