The Riches of Ben Carson, Ted Cruz and Bernie Sanders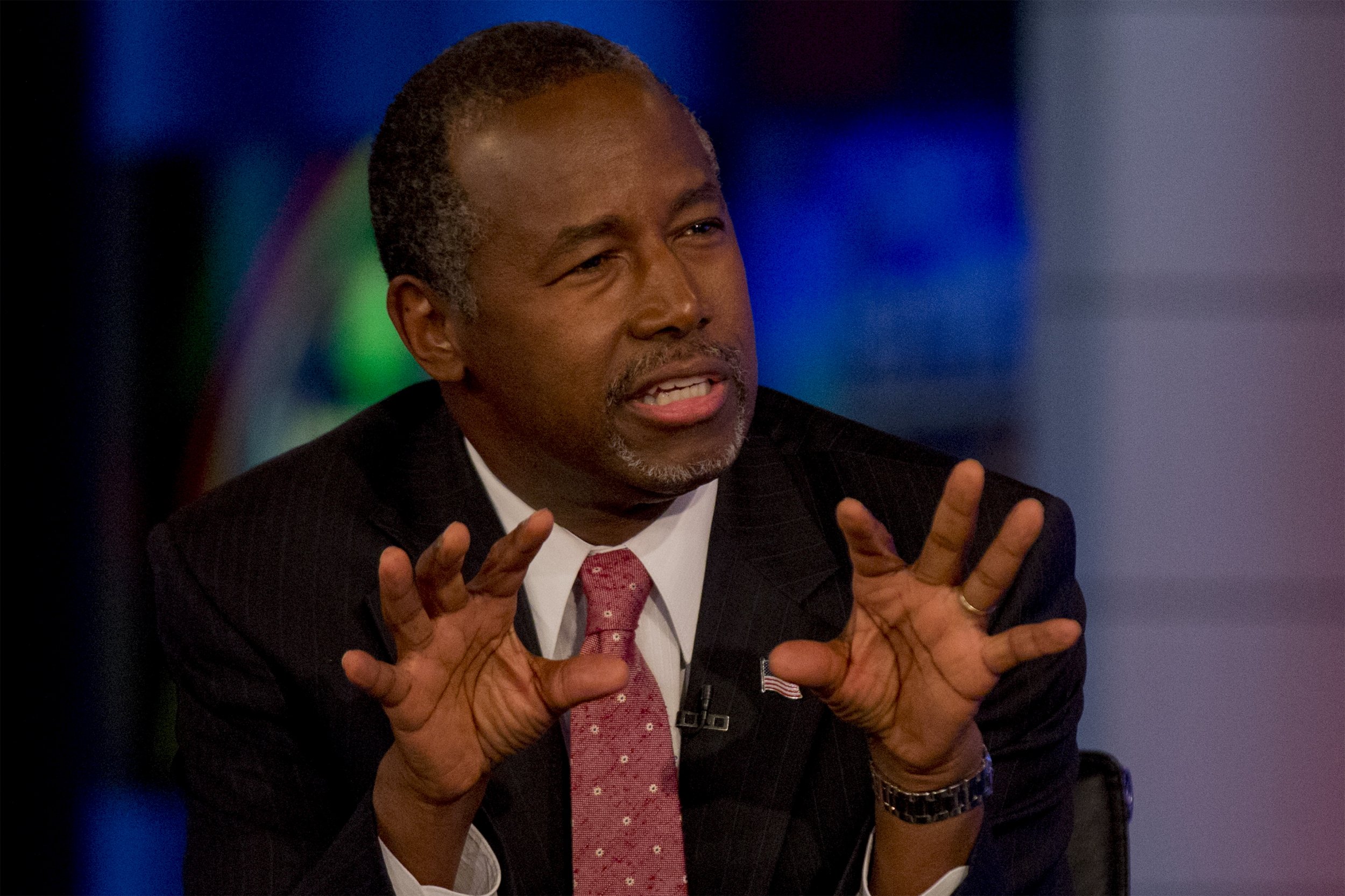 There aren't too many pundits who would have predicted that Ben Carson, a first-time presidential candidate, would out-fundraise political scion Jeb Bush, the former governor of Florida, four months before the Iowa caucuses. After all, Bush was supposed to have such money-raising prowess that his shock-and-awe dollar rake would clear the field of candidates.
And yet it's October and there are a dozen candidates standing and the latest campaign finance reports, filed at the October 15 deadline, show the retired neurosurgeon crushing the political pedigree. Carson, along with Democratic Senator Bernie Sanders and, to a lesser degree, Republican Senator Ted Cruz, are proving that even in the era of Super PACs and unlimited donations, traditional small-dollar fundraising remains a potent force in presidential politics—and that underestimated candidates can quickly mount up huge dollars through small donations.
Indeed, Carson led the Republican field for the quarter that ended October 1, raising $20.7 million for his campaign (most of the Republican campaigns also have aligned Super PACs, which are fundraising separately). And he did it with a breadth of support that suggests an impressive grassroots base.
Carson, however, also spent a significant amount of money—$14 million, which is even more than spent by Bush, who's been slammed for being too loose with his cash. And a good chunk of that spending was related to fundraising, including $1.4 million for fundraising phone calls and $2.6 million for printing and postage, which tends to reflect a direct mail fundraising campaign.
Related: Reports: Bush Outraises Rubio, Trails Carson
According to the report the Carson campaign filed with the Federal Election Commission October 15, 60 percent of his donations came in amounts of $200 or less. And he banked sizable chunks of money from all over the country, including states that are not traditionally fertile fundraising ground. Carson's top-dollar states were Texas, Florida and California—big states with big populations and established pools of wealthy donors. But he also pulled in nearly a half million dollars from North Carolina and showed strength across the south. Another Carson stronghold: the Rust Belt, with donors in Michigan, Pennsylvania and Ohio all chipping in more than a quarter of a million dollars. Perhaps most telling, he raised more than $100,000 in Iowa, home of the primary's first contest—tops among Republicans.
Cruz, the renegade senator from Texas, also performed well among small donors, raising nearly half of his $12.2 million in increments of $200 or less. His total trailed only Carson and Bush's in overall fundraising among Republicans. The source of Cruz's funds, however, was much more geographically concentrated than Carson's. More than a quarter of his donations came from his home state. California, Florida, New York and Illinois were other major sources of cash.
On the Democratic side, Sanders had another eye-popping fundraising quarter, raising $26.2 million and trailing frontrunner Hillary Clinton by just $3.5 million. Not bad for a self-described Democratic socialist who vocally abhors big money in politics. More than three-quarters of Sanders' funds came from small donors. In addition to the traditional wells of Democratic fundraising (California, New York, Illinois), the Vermont senator raised significant sums from the Pacific Northwest—Washington and Oregon donors combined to give nearly $600,000, which makes sense because both states have voted Democratic in presidential elections since 1988. And Sanders proves wildly popular in his tiny home state, which chipped in more than a quarter-million dollars—a bigger haul than from either Texas or Florida, even though the second and fourth most populous states have populations more than 30 times as large as Vermont's.
The one warning sign for Sanders is that his donor base is from places with little political clout. Having support in liberal bastions like Portland and Seattle and Burlington, Vermont is not nearly as meaningful as if it comes from Cleveland or Pittsburgh, cities in swing states. Sanders has also opted to forgo a Super PAC, which puts him at a disadvantage vis-a-vis Clinton and, should he win the nomination, with any of the top-tier Republicans, who are all aggressively using the fundraising vehicle.
And yet, Super PACs (which file their fundraising reports semi-annually, not quarterly) have already proved this election cycle that they are no replacement for a well-run, well-funded campaign operation. Republicans Scott Walker and Rick Perry are evidence of that. Both the Wisconsin governor and the former Texas governor had millions of dollars sitting in their Super PACs but were forced to drop out of the race this summer when their campaign cash dried up. Having a few multimillion-dollar donors, moreover, is not replacement for grassroots support. And that's what makes Sanders, Carson and Cruz all serious contenders in 2016.