Richmond Police Chief Orders Policy Review After Tear Gas Incident During June Protests
William C. Smith, who is the police chief in Richmond, Virginia, called for a review of departmental procedure Monday after Richmond officers fired tear gas into a crowd of peaceful protesters in June.
According to the Richmond Police Department, tear gas was used against violent protesters who had blocked the exit of officers near the Robert E. Lee monument. Some protesters who were not engaging in violent activity were exposed to the chemical irritant. In a statement issued Monday, Chief Smith said several formal complaints had been logged with the city about the behavior of Richmond officers during the protests.
"I have ordered a review of our use of force and crowd management policies as well as all tactics used during the past week," Smith wrote. "Further, we will open a discussion with community leaders to advise us on how our policies, training and practices need to change to reflect the needs of our city, and I am personally committed to continuing the conversation on police reform with the community."
Smith also apologized for the use of tear gas during the protests. "It should not have happened," Smith wrote.
The incident, which occurred before the city's 8 p.m. curfew, is being investigated by the office of Commonwealth's Attorney Colette McEachin.
Newsweek reached out to the Commonwealth's Attorney's office for further information. This story will be updated with any response.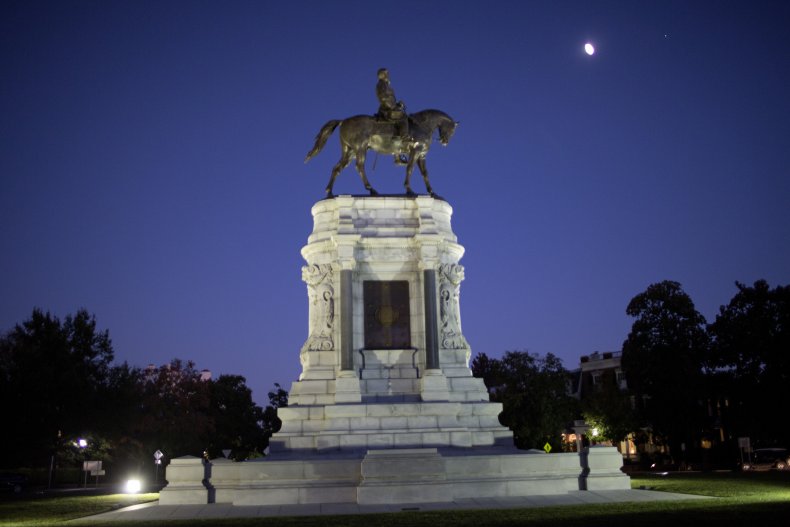 The usage of tear gas elicited an apology from the Richmond Police Department, which said the gas was necessary to allow its officers to get to a safe place. Officers involved in using tear gas against protesters were "pulled from the field" and are expected to be disciplined for acting outside of departmental policies.
"To our peaceful protesters: We stand with you today and will keep supporting your rights to express your opinions in safety," read a June tweet from Richmond Police.
Richmond Mayor Levar Stoney also apologized to protesters in person during a meeting at Richmond City Hall on Tuesday, acknowledging that "we violated your rights."
Some protesters in Richmond focused their demonstrations around the monument commemorating Confederate leader Robert E. Lee. The statue was defaced in June by demonstrators as part of civil unrest related to racism and police brutality. Many individuals involved in the protests see the Confederate monuments, which exist in several states across the southern U.S., as symbols of slavery and hatred.
Virginia Governor Ralph Northam said in a press conference Thursday he would remove the monument. "It was wrong then, and it's wrong now," Northam said.
Northam gave no specific date when the statue would be removed. However, a judge on Richmond's Circuit Court issued a temporary injunction on Monday preventing the state from relocating the statue for 10 days. In the order, the judge said there was "a likelihood of irreparable harm to the statue" if it were removed from its current location.
In response, a Monday statement from Governor Northam's office said the administration was "still reviewing the order. Governor Northam remains committed to removing this divisive symbol for Virginia's capital city, and we're confident in his authority to do so."