Richmond Police Chief Resigns Amid Calls for Law Enforcement Reform During George Floyd Protests
William Smith resigned from his position as police chief of Richmond, Virginia on Tuesday, according to Richmond Mayor Levar Stoney during a news conference. This comes in the wake of Richmond police receiving criticism on their handling of demonstrators who have protested the death of George Floyd, who died May 25 while in custody of police in Minneapolis.
Although Chief Smith had apologized publicly for the usage of tear gas against peaceful demonstrators, Stoney said it was time for a change in police leadership.
"I have high expectations for the Richmond Police Department, our law enforcement," Stoney said. "At a very minimum, I expect them to be willing to come around the table with the community to reform and reimagine public safety. So it boils down to whether the leadership of RPD embraces the change or stands in the way. That is why, as of this morning, I requested Chief Smith's resignation, and he has tendered it."
Newsweek reached out to the Richmond Police Department for comment. This story will be updated with any response.
Smith had served as Richmond's chief of police since June 2019. Replacing Smith as interim police chief is expected to be 16-year veteran Major Jody Blackwell.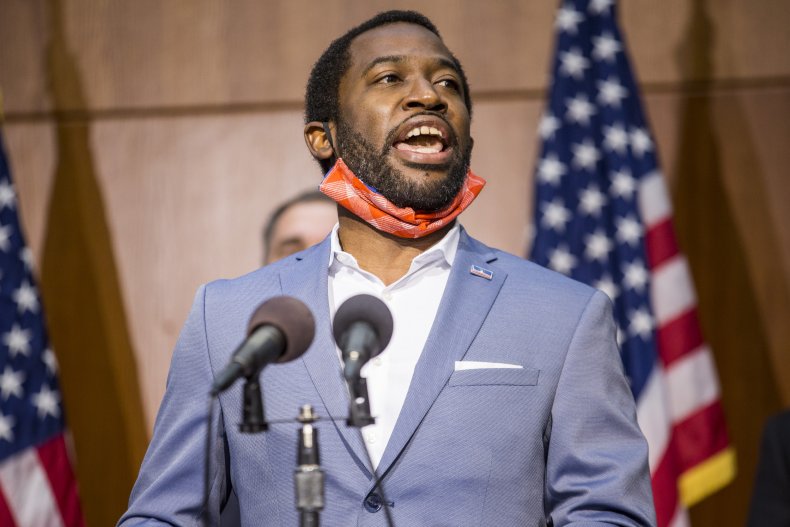 Police reaction to protesters in the city became violent in June as officers used tear gas against demonstrators who had gathered near the Robert E. Lee monument. Officers claimed the chemical deterrent was necessary to disperse violent protesters who had hemmed some police officers in, not allowing them to exit the area. Some peaceful protesters, however, were also affected by the tear gas.
Smith apologized for the gassing incident, referring to it as an "unwarranted action." Smith also called for a review of the police department's use of force and crowd management policies.
Protesters reported ongoing violence from Richmond officers. Sunday night, a Richmond police officer allegedly drove an SUV through a crowd of demonstrators. Mayor Stoney asked the Richmond Police Department to place the officer involved on administrative leave until an internal investigation could be completed.
Demonstrators allegedly threw projectiles towards the SUV while preventing it from leaving by blocking the road.
After a video of the incident surfaced on social media, protesters gathered outside the Richmond police station. Officers allegedly used tear gas and rubber bullets to dispel the crowd.
"Last night's actions far exceeded what is considered to be lawful First Amendment activity," Smith said in a Monday statement, which praised officers for showing "great restraint" in the face of the attacks by protesters.
In a Monday letter to Stoney, Smith and Virginia Commonwealth's Attorney Collete McEachin, the Virginia Chapter of the American Civil Liberties Union said more had to be done to protect demonstrators.
"After-the-fact apologies are, however, insufficient to remedy the harm and ongoing risk that individuals face when exercising their constitutional rights in this city," the letter read. "All of you must take positive action—individually and collectively—to lead changes in the laws, policies, practices, and police culture that allowed these events to take place."