Rick and Judge Morty Court Video Based On Real Denver Fenton Allen Transcript Is Back, Season 4 is Not
A Rick and Morty fan video based on a real court transcript is back online after being temporarily blocked by Adult Swim parent company Turner.
At last year's San Diego Comic-Con, Adult Swim debuted a video reading of the Denver Fenton Allen's (currently serving life in prison for murdering his cellmate) appearance before Super Court Judge Bryant Durham, except this time their incredibly profane argument was between Rick and Judge Morty.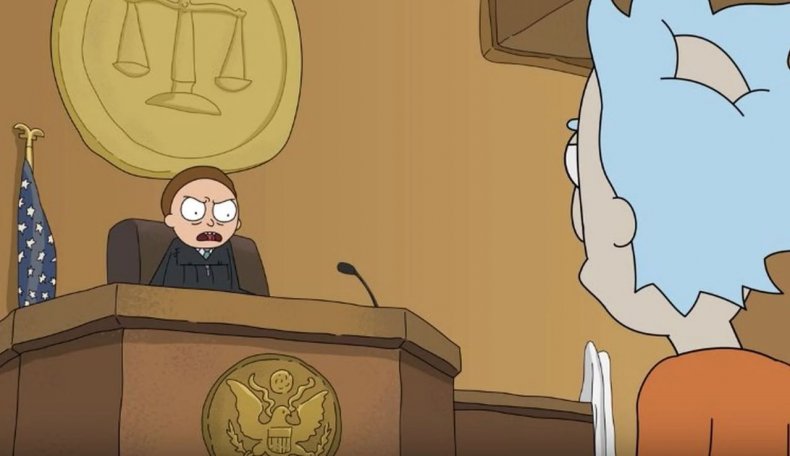 Voiced by Rick and Morty co-creator Justin Roiland, the video was visually bare-bones, using black and white animatics by Rick and Morty storyboard artist and director Erica Hayes.
Two months later, independent animator tiarawhy uploaded a radically enhanced version of the video, with full-color animation perfectly recreating the Rick and Morty aesthetic, and featuring cameos from popular characters like Mr. Meeseeks, Mr. Poopy Butthole and even some Futurama aliens.
The transcript Roiland recreated is surely one of the most bizarre court documents of all time, as Allen, who suffers from delusions and schizophrenia, accuses his lawyer of conspiring against him (for oral sex) and repeatedly tells the judge to "go fuck yourself" and "suck my dick."
"You know something, this is going to be an interesting trial," Judge Durham replies at one point.
"Oh yeah?" Allen replies. "You're not supposed to smile in court."
The video garnered millions of views before a takedown notice from Turner took it offline. After a public outcry, particularly on Reddit, Turner relented and restored the video.
"Judge Morty restored on YouTube, thanks for everyone's help!" tiarawhy posted to Reddit after the video's return.
While "Judge Morty: State of George Vs. Rick Allen" is back up, tiarawhy's other fan video, featuring Rick and Morty waiting in line for ice cream, is still blocked from YouTube by Turner, but can be watched on Newgrounds.
Meanwhile, tiarawhy is busy creating his own series, described as "about an asteroid station filled with bunny clones."