Why 'Rick and Morty' Season 4 Release Date Won't Be Christmas (Or July 30)
Some bad and dumb rumors about the Rick and Morty Season 4 release date are making the rounds online, but before explaining why they're bad and dumb, best to just get this out there: new episodes of Rick and Morty will not premiere on or around Christmas (and probably not on July 30 either!).
The idea that Rick and Morty Season 4 will have a surprise Christmas premiere is based on some extremely circumstantial evidence and a precedent that's likely to spoil Rick and Morty fans forever: the surprise premiere of Season 3 episode "The Rickshank Redemption" on April Fools' Day 2017.
'Rick and Morty' Season 4 Premiere Date: Not Anytime Soon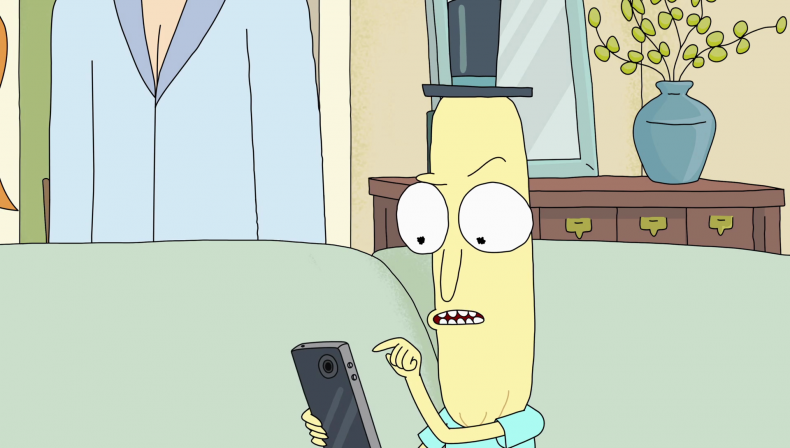 That particular idea came from Mike Lazzo, senior vice president at Williams Street in charge of Cartoon Network's Adult Swim. Harmon was originally reluctant to go along with an episode premiering without any advance notice, but the premiere wound up making a big splash.
"People had been waiting forever for the premiere of Rick and Morty. There was no date announced, ever. Then, on April Fools' Day, it just started airing," Harmon said in an interview with GQ. "I think this was about the third or fourth time I heard an idea from Adult Swim leader Mike Lazzo that I just thought, 'This is a horrible idea,' but the previous three or four times that had happened—Lazzo is always right."
It's hard to imagine Rick and Morty ever going back to the "surprise premiere" well.
It's even harder to believe when looking at the so-called evidence in support of the theory. In the end-credits scene appended to the Season 3 finale "The Rickchurian Mortydate," Mr. Poopy Butthole addressed the audience directly. "See you for Season 4 in like… a really long time. I might even have a big, white Santa Claus beard." That's it. Oh, and Rick mentions Doctor Who at some point, which, it is argued, somehow means Rick and Morty will have a competing Christmas special. Pretty thin.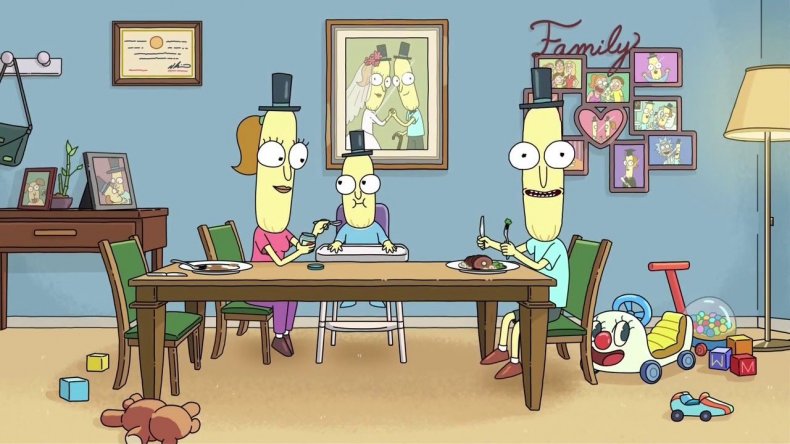 But even if Rick and Morty co-creators Dan Harmon and Justin Roiland laid out subtle clues and had long anticipated a Season 4 holiday premiere, the torturous road to renewal would certainly have negated those plans. It took months of negotiations before Turner picked up Rick and Morty for a further 70 episodes, substantially delaying production for Season 4. The timeline simply doesn't work with the paltry clues.
This isn't even the first time a season of Rick and Morty has been rumored to have a surprise Christmas premiere. In December 2016, a combination of cryptic Mr. Poopy Butthole GIFs and an Instagram post of the Smith household in winter was enough to spur speculation that Season 3 would have a Christmas unveiling. It was not to be.
But what about July 30? This rumor hasn't spread as widely, but is based on a recent video of Roiland unboxing the Rick and Morty soundtrack deluxe vinyl.
Fans scavenged the video for clues and soon noticed the poster in the background, which has a clear date on it: July 30. Since Rick and Morty has never premiered on July 30, the theory goes, this poster must be for Season 4! There's just one problem: while Season 3 may have officially premiered on April 1, the rest of the season didn't air for a few more months. Wouldn't you know it, the second episode of Season 3, "Rickmancing the Stone," premiered July 30—it's a poster for Season 3.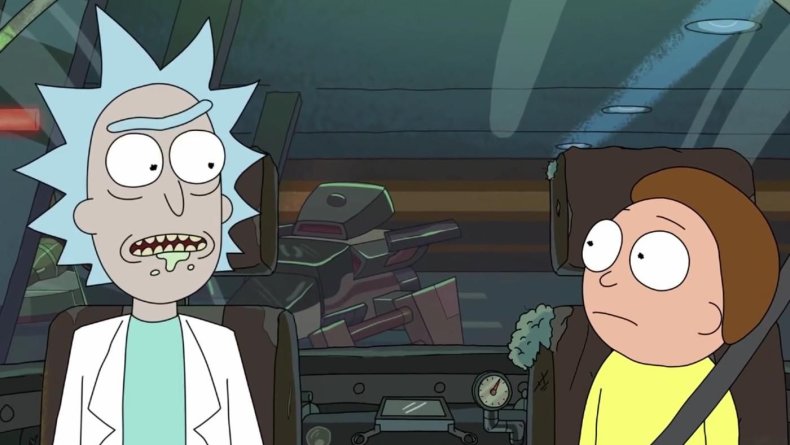 That said, July 30 sounds like a plausible date for Rick and Morty Season 4 to premiere, so it's not completely impossible. There's just no real evidence for the theory. After popping all these bubbles, we're left with one inescapable conclusion: the Rick and Morty Season 4 release date remains a mystery.