Whistleblower Dr. Rick Bright Warns 'Window is Closing' to Address Coronavirus in Congressional Testimony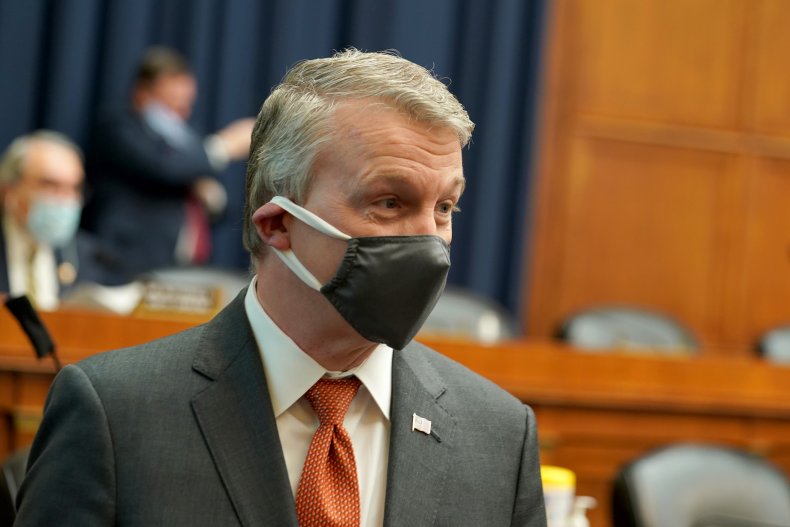 A government whistleblower and senior advisor at the National Institutes of Health (NIH) testified Thursday morning "the window is closing to address" the ongoing pandemic, further inflaming disagreements over the Trump administration's response to COVID-19.
Dr. Rick Bright, a longtime vaccine and infectious disease expert, also said in his testimony before a House of Representatives health subcommittee that "we still do not have a standard, centralized, coordinated plan to take our nation through this response."
Bright also said that he does not believe a coronavirus vaccine will be available until at least one year "if everything goes perfectly." Even that would be "an aggressive schedule" for production, considering vaccines can take up to 10 years to develop under normal circumstances.
Bright served as the director of BARDA, a division of HHS responsible for developing and acquiring defenses to biological threats, such as the outbreak of infectious disease, until he was removed from his post in late April.
Two weeks later, Bright filed a whistleblower complaint, alleging that he was reassigned to NIH in retaliation for his reluctance to promote an unproven drug, chloroquine, that had been favored by the Trump administration. He is also seeking reinstatement in his previous role as director of BARDA.
Thursday's hearing was convened to address the "scientific integrity" of the Trump administration's pandemic response efforts.
Early Thursday morning, President Donald Trump disparaged Bright on Twitter, claiming that he "never met him or even heard of him" and deeming him a "disgruntled employee." Trump said that Bright "should no longer be working for our government."
Bright has said in the past that he is "not disgruntled" but rather "frustrated at a lack of leadership."
He accused senior HHS officials of dismissing concerns about the scarcity of medical supplies needed to fight COVID-19, describing a sense of skepticism within the department toward the urgency of the pandemic.
In his testimony, Bright said he was "met with indifference" when trying to instill a sense of urgency among HHS leaders about unpreparedness for a surge in demand for medical supplies.
Officials provided him with "a number of excuses," he said, "but never any action."
Bright also recalled a culture of pressure and influence at HHS that he believed served to corrupt the integrity of the scientific process.
"There were some attempts to bypass that rigorous vetting process that caused me great concern," Bright testified, adding that clashes over ethical concerns with a senior HHS official "actually increased the tension between" them.
In response to a request for comment, an HHS spokesperson told Newsweek that Bright was "transferred from his role as BARDA director to lead a bold new $1 billion testing program at NIH, critical to saving lives and reopening America."
"Mr. Bright has not yet shown up for work, but continues to collect his $285,010 salary, while using his taxpayer-funded medical leave to work with partisan attorneys who are politicizing the response to COVID-19," the statement said. "His whistleblower complaint is filled with one-sided arguments and misinformation. HHS is reviewing the complaint and strongly disagrees with the allegations and characterizations made by Rick Bright."
In his opening statement, Bright warned that without clear planning and implementation of countermeasures to reduce disease transmission, this year will see the "darkest winter in modern history."
"First and foremost, we need to be truthful with the American people," a prepared copy of his opening statement said. "They want the truth. They can handle the truth. Truth, no matter how unpleasant, decreases the fear generated by uncertainty. The truth must be based on scientific evidence – and not filtered for political reasons."
The Office of Special Counsel, which handles whistleblower complaints, made a preliminary determination that Bright's reassignment was in violation of the Whistleblower Protection Act and recommended that he be reinstated pending an investigation.
Thursday's hearing was also slated to feature testimony from Mike Bowen, the executive vice president of Prestige Ameritech, a medical supplies manufacturer.
Bright said in his whistleblower complaint that he relayed to top HHS officials repeated warnings from Bowen the supply chain for face masks could disintegrate if the United States continued to rely substantially on China.
Bowen offered that Prestige Ameritech, with financial support from the government, could resurrect additional production capacity in the United States, bolstering domestic supplies against unprecedented demand. But Bright said he believed that Bowen's inquiries were "falling on deaf ears."
"We knew going into this pandemic that critical medical equipment would be in short supply," Bright testified. Industry officials told him that" he supply chain was diminishing rapidly."
Congresswoman Anna Eshoo, the California Democrat and chairwoman of the health subcommittee, blasted the administration's COVID-19 response in her opening statement, calling it "inept, ineffective and extremely late."
Responding to a question from Eshoo, Bright said that "there are critical steps we did not take in time" that may have forestalled the worst effects of the pandemic. He also elaborated on the difficulties he faced sounding the alarm about the crisis earlier this year.
"I was told that my urgings were causing a commotion" at HHS, Bright said.
The top Republican on the subcommittee, Congressman Michael Burgess, voiced frustration that a hearing on COVID-19 was only occurring now. "To say this is a disappointment would be an understatement," he said.