Rick Caruso Says Italian American Heritage Makes Him 'Latin' During Debate
Rick Caruso, the billionaire developer running to be Los Angeles mayor, sparked a backlash on social media after he corrected a debate moderator who called him white.
"The next mayor of Los Angeles will be either an African-American woman or a white man," debate host Dunia Elvir said, referring to Karen Bass and Caruso, who are both running as Democrats.
"I'm Italian," Caruso quickly interjected.
"Italian American," Elvir said.
"Thank you. That's Latin. Thank you," Caruso said.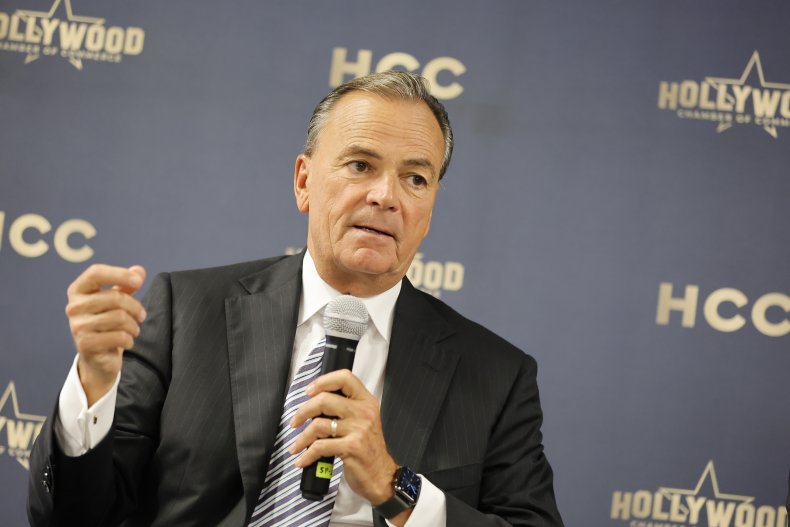 The candidates were then questioned about the racism scandal that has rocked the city after a leaked recording of a meeting between three Latino members of the Los Angeles City Council was reported by the Los Angeles Times on Sunday.
Asked how he would build trust with the city's Latino community, Caruso said: "I connect with the Latino community, but quite frankly, my job as mayor is to connect with every community."
Caruso and Bass' campaigns have been contacted for comment.
Many took to social media to blast Caruso for denying he is white, while others accused him of seeking to manipulate voters by calling himself "Latin."
"Yes, it's real. Listen to this Italian billionaire freak @RickCarusoLA," the People's City Council LA advocacy group tweeted.
"Wow, did Caruso just say he is Latin? That he is not a white man?" tweeted Alberto Retana, the president and CEO of Community Coalition, a nonprofit based in South Los Angeles. "I am floored. We cannot let him do this. Terrible."
Actress Yvette Nicole Brown tweeted: "Did @RickCarusoLA just... Cringe. #AllTheCringe! PLEASE don't elect this man, Los Angeles."
Writer Nick Jack Pappas wrote: "Can't wait for Rick Caruso to claim Columbus was a Latino immigrant."
Katherine Martinez Esquivel noted: "Latino is a general (& patriarchal) term that refers to people w/ a cultural (ex. language) or colonial tie to Latin Europe. It's an ethnicity, not a race, that includes Brazilians & Haitians as well. Not all Latinos are Hispanic, but Caruso is still a white man and a clown."
The incident comes after President Joe Biden called on the three Democrat members of the Los Angeles City Council who took part in a 2021 closed-door meeting to resign.
Former City Council President Nury Martinez is taking a leave of absence after announcing she would resign.
She was heard in the recording saying that white Councilmember Mike Bonin handled his young Black son as if he were an "accessory" and described the boy as "parece changuito," or "like a monkey."
A Tuesday meeting was almost derailed when a crowd of protesters packed the chamber, calling for the resignation of the other two council members involved in the meeting—Kevin de Leon and Gil Cedillo.
The council will attempt to reconvene Wednesday.