Paul Manafort Trial: Rick Gates Admits to Extramarital Affair and Maintaining London Apartment
Rick Gates, the former right-hand man to Paul Manafort, admitted to leading a "secret life" under tough cross-examination from Manafort's defense attorney on Tuesday.
The star witness in the trial of President Donald Trump's ex-campaign chairman, Gates testified to a long list of misdeeds, including maintaining a London apartment for an extramarital affair and inflating expense reports.
"In essence, I was living beyond my means," the married father of four said on the witness stand at a federal court in Alexandria, Virginia. "I'm taking responsibility for it. I made a mistake."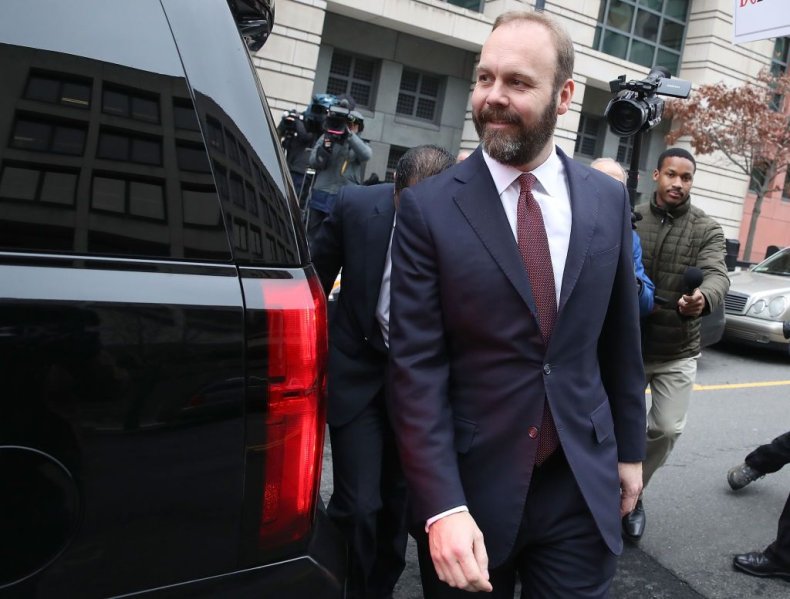 Gates struck a plea deal with prosecutors in February, agreeing to testify against Manafort to avoid prosecution. He was initially a co-defendant of Manafort, who was charged with tax and bank fraud, charges that stemmed from special counsel Robert Mueller's investigation into alleged Russian interference in the 2016 presidential election.
On Monday, Gates testified that he had helped Manafort doctor financial statements, hide foreign income and evade hundreds of thousands of dollars in U.S. income taxes.
Under questioning by defense attorney Kevin Downing on Tuesday, Gates also testified that he wrote a fraudulent letter to prospective investors for a movie project and that "it's possible" he submitted to Trump's inaugural committee as personal expenses, which may have been improper.
Downing sought to portray Gates as a liar who had misled Mueller even after striking a plea deal.
"After all the lies you told you expect this jury to believe you?" Downing asked Gates, who responded that he did.
"I'm here to tell the truth," Gates shot back. "Mr. Manafort had the same path. I'm here."
Downing quizzed Gates about what he described as his "secret life."
Gates admitted ro having an affair in London that lasted about two months, while keeping an apartment there but denied using company money to pay for it.
Manafort has denied charges of 18 counts of bank and tax fraud and hiding foreign bank accounts in which he stashed millions of dollars in payments from pro-Russian politicians in Ukraine, whom Manafort had lobbied for.
If convicted on all counts, Manafort could face eight to 10 years in prison, according to federal sentencing guidelines, said sentencing expert Justin Papeny.
Gates testified to stealing from Manafort, but he said he did not know how much money he had taken. Looking at a ledger listing nearly $3 million in transactions, he could not say which ones were legitimate and which ones he initiated using false expense reports.
Prosecutors hope to wrap up their case this week. Manafort's trial is the first to come out of Mueller's investigation, which is also examining whether Trump campaign members coordinated with Russian officials to sway the 2016 election.