Rick Leventhal Slammed for Dressing as Alec Baldwin in 'Rust' for Halloween
Rick Leventhal has sparked backlash after sharing photos of himself brandishing a gun while dressed as Alec Baldwin on the set of his movie Rust.
On October 21, Baldwin discharged a gun—which he was unaware contained live rounds—on the western film's New Mexico set, leading to the death of cinematographer Halyna Hutchins and injuring writer-director Joel Souza.
And former Fox News correspondent Leventhal poked fun at the actor and producer's expense days later for Halloween over the weekend, when he took to Instagram to share two snapshots of himself dressed as an armed cowboy.
He posed alongside his wife, Kelly Dodd, who was dressed in Native American-inspired costume in the images, which he captioned: "Kelly celebrated her Native American heritage & I celebrated the great American film actor Alec Baldwin #happyhalloween [Jack-O-Lantern emoji]."
The post sparked an onslaught of criticism from his followers, with one branding it "very insensitive," while another stated: "Sorry but bad taste. Come on someone lost their life."
"Poor taste. Alec Baldwin is probably devastated," commented another, while a further comment read: "And that my friends shows exactly how f***** up our country is. To make fun of someone killing someone just bc he made fun of your cult leader. Wow. Where's the empathy. No one has any anymore."
Despite the barrage of criticism, Leventhal defended his decision in a statement shared with Page Six, saying he intended to offend Baldwin, who he called a "jerk."
"In no way was I trying to offend anyone, except Alec Baldwin," he told the outlet on Monday. "He's a jerk and deserves all the heat he's getting."
"We planned our costumes weeks ago, and I just decided to be [Baldwin] at the last minute," Leventhal added in his statement.
News personality Leventhal suggested that sensitivity was at play with those who took umbrage to his choice of Halloween costume.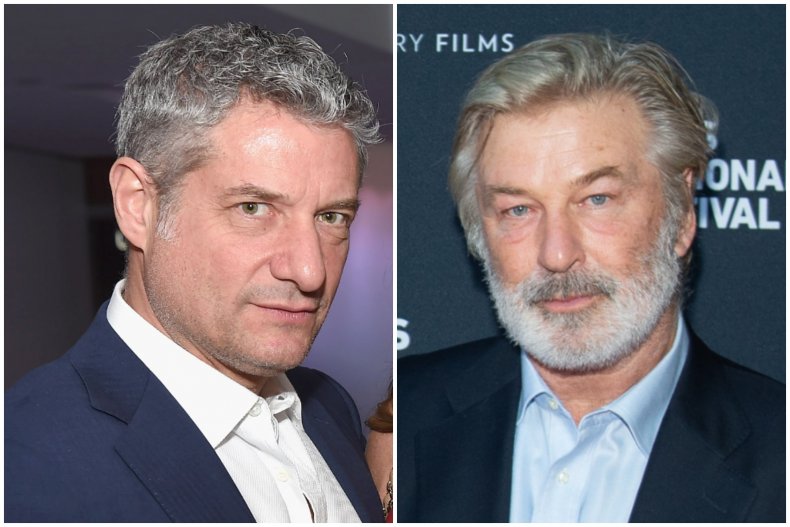 "If we analyzed every costume for who might be offended by it, there would be no Halloween anymore," he said, noting that Dodd's 15-year-old daughter, Jolie, had dressed up as a maid, as he added: "Is this offensive to the service industry?"
Mentioning mother-of-one Hutchins, he went on: "Of course I feel bad for the victim and her family, but this was never about her or them.
"If Baldwin is anti-gun, why is he waving them around in movies and pointing them at people and pulling the trigger? Focus your anger at him and the hypocrisy of that industry."
Real Housewives of Orange County star Dodd also weighed in on the furor surrounding her choice of costume, which she said was in celebration of her heritage. Dodd stated in January that she is 30 percent Native American.
"People are way too sensitive," she told Page Six. "I embrace my Native American heritage. I think the fashion is beautiful, and this was a tribute and celebration."
Dodd, who also brandished a gun in the photos, went on to state that she had received support from "many Native Americans," while asserting that most of the criticism she had received came from people who are "woke" and "don't have native in their blood like I do."
"People are always looking to criticize me for anything I do, so this is no surprise," she concluded. "And by the way, I've gotten lots of love and appreciation on Instagram, too, so thank you for all the support!"
Dodd shared images and video footage of herself at a Halloween party in the costume, writing in one caption: "2021 Halloween party highlights! For you haters, I embrace my Native American heritage. I think the fashion is beautiful & this was a tribute & celebration [heart emoji]."
Production on Rust was immediately halted following the fatal shooting, and Baldwin revealed on Saturday that the project would likely not be completed.
A police investigation into the circumstances surrounding the tragedy is ongoing, and it is yet to be revealed whether there will be any criminal charges.