Morty of 'Rick and Morty' Has a 'Dungeons and Dragons' Character Sheet
This week saw the release of Rick and Morty vs. Dungeons & Dragons, a four-issue comic miniseries co-written by The Kingkiller Chronicle author Patrick Rothfuss and Jim Zub, with art by Troy Little. The first issue opens with Morty on the school bus, eavesdropping on his classmates, all of them deep into the D&D scene. Morty goes to his grandpa Rick for help and things go terribly wrong from there.
But whether or not you pick up Rick and Morty vs. Dungeons & Dragons #1, you can check out Morty's D&D character sheet, featured on one of three variant covers for the first issue of the crossover series.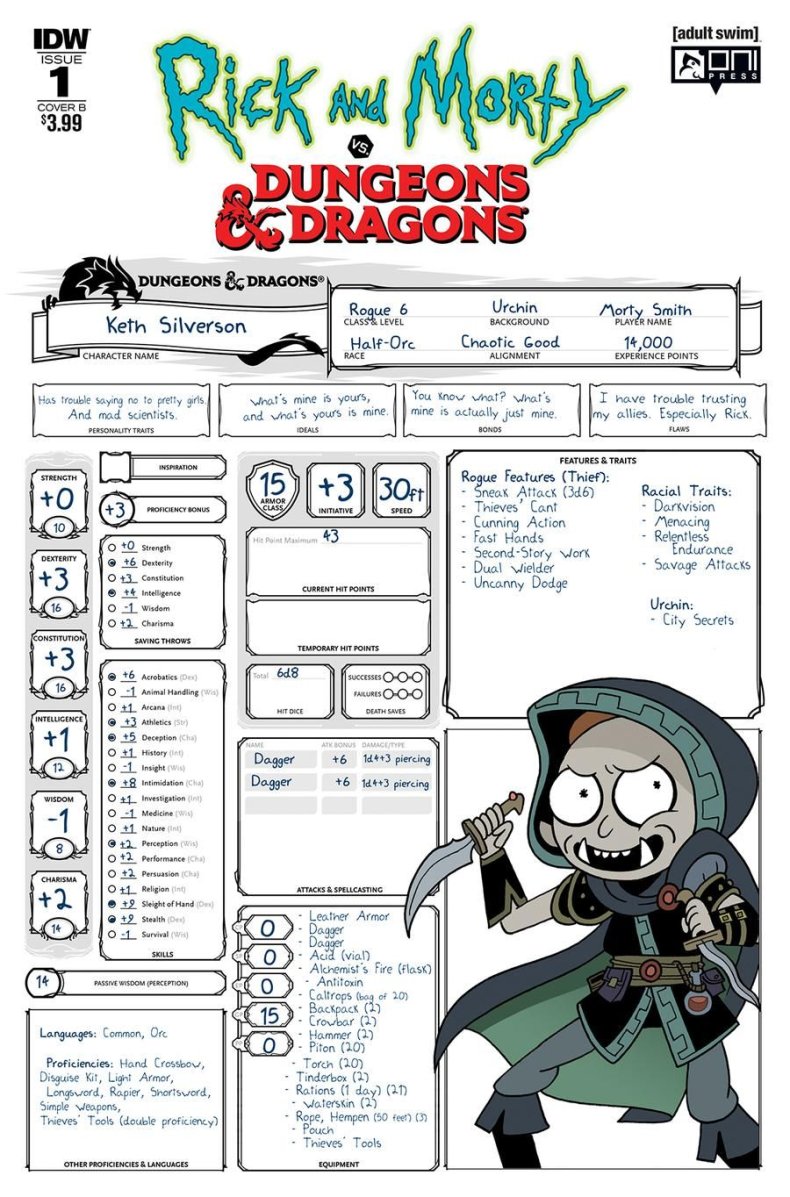 It is not a sheet for an inexperienced adventurer. While Morty may start as a beginner, he's a salty dog on the page. For many players, hitting Level 6 could take over 100 hours of adventuring. It's easy to campaign sporadically for years without reaching the same level as Morty's half-orc rogue, Keth Silverson.
Perusing Morty's character sheet reveals some qualities that are very Morty and others that seem out of character, as if he's trying to distance himself from the person his grandfather believes him to be. Keth Silverson is a version of Morty who's not afraid to get his hands dirty, complete with close-range melee weapons and a nasty sneak attack bonus. By choosing to play as a Rogue, Morty avoids the character class that most mirrors the toxic relationship he has with Rick: the Warlock, whose powers depend on a pact with a powerful deity or demon.
"I'm genuinely proud of some of the banter that I did in there," Rothfuss said after the release of the first issue. "Also? I've discovered that it's disturbingly easy for me to write in Rick's voice. I don't know how I feel about that, or what it might mean about me, as Rick is, at best, a dangerous sociopath."
While confined to the separate continuity of comics (whose Rick and Morty hail from Dimension C-132 instead of C-137), for now, Morty could always return to roleplaying in some future episode of Rick and Morty. Co-creator Dan Harmon's fondness for D&D is well known, both from Dungeons and Dragons -themed episodes of his last show, Community, and his live roleplaying show, Harmonquest.
But for now, there's Rick and Morty vs. Dungeons & Dragons #1. Maybe one day we'll get a look at Rick's character sheet.