'Rick and Morty' Episode 2 Preview: Double Trouble for the Smith Family
Rick and Morty face a family-sized problem in tonight's new episode on Adult Swim.
Last week's season opener saw the ridiculous Mr. Nimbus live up to the title of Rick's eternal nemesis, while Morty made enemies with an entire civilization, and Beth and Jerry ended up in bed with a third party. That explosive start to season 5 sets a high bar for tonight's new episode.
What happens in Rick and Morty season 5 episode 2
Most episodes of Rick and Morty are puns or parodies reflecting pop culture, with Rick and Morty's names shoehorned in. The latest episode of Rick and Morty is titled "Mortplicity" presumably as a parody of the 2009 film Duplicity starring Julia Roberts and Clive Owen.
At the start of the preview trailer for season 5 episode 2 we see the Smith family chasing a small creature around their home that sounds suspiciously similar to fan-favorite character Mr. Poopybutthole (voiced by co-creator Justin Roiland).
Rick suddenly receives an alert and tells the family to start packing to leave the house. Cut to everyone in the car and Rick explains to the Smiths that he's "made passable copies of the family and placed them around the country as a buffer zone to protect" them. The clones aren't seen in the preview but it wouldn't be the first time that Rick, Morty, Beth, Jerry or Summer came up against identical versions of themselves.
Episode 1 "Mort Dinner Rick Andre" saw the characters following their own storylines but it looks like "Mortplicity" will reunite them for a full family adventure.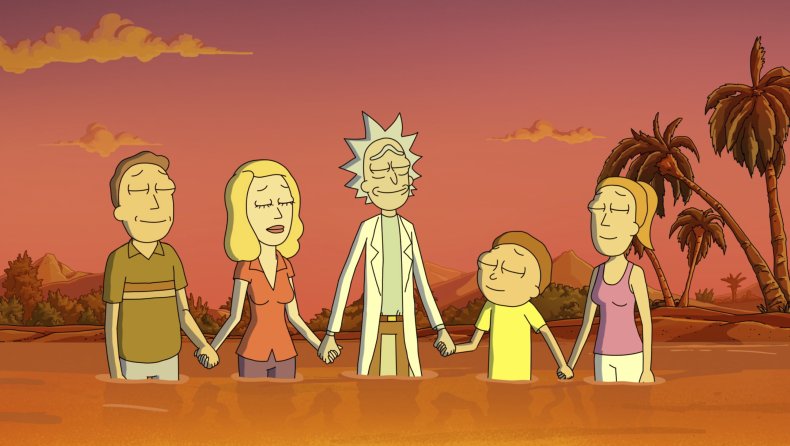 When can I watch Rick and Morty season 5?
Rick and Morty season 5 episode 2 will air on Adult Swim at 11 p.m. ET on Sunday June 27. Episodes are scheduled to air every Sunday for the rest of the season.
The creators of Rick and Morty revealed every title for all 10 episodes on social media, giving fans a clue as to watch will happen each week. After the first two episodes air, the remaining eight titles are: "A Rickconvenient Mort," "Rickdependence Spray," "Amortycan Grickfitti," "Rick & Morty's Thanksploitation Spectacular," "Gotron Jerrysis Rickvangelion," "Rickternal Friendshine of the Spotless Mort," "Forgetting Sarick Mortshall," and "Rickmurai Jack."
It's easy to decipher the forced pun in each title, so expect to see parodies and homages of films like An Inconvenient Truth, American Graffiti, Eternal Sunshine of the Spotless Mind and Forgetting Sarah Marshall in season 5.
Rick and Morty spinoff
In May 2021, Adult Swim announced that the creators of Rick and Morty would be producing a digital-short spinoff series called The Vindicators. It will see the superhero characters return from the season 3 episode "Vindicators 3: The Return of Worldender."
The Vindicators will center on the characters Supernova, Vance Maximus, Alan Rails, Crocubot and Noob Noob.
The episode is scheduled to be between eight to 10 episodes long and is due to launch either this year or next.