'Rick And Morty': How to Watch the Show's New 'Samurai and Shogun' Short Film
Rick and Morty has released its latest mini-episode, giving fans of the cartoon six more minutes of the show while they wait for Season 4 to return to Adult Swim. On March 29, the cult cartoon released a short, titled "Samurai & Shogun," giving the series an anime spin.
The video was unveiled by Jason DeMarco of Adult Swim's Toonami block. He tweeted: "Yeah so we spent a year putting together a five minute Rick And Morty Lone Wolf & Cub anime short for you guys. Here it is, hope you dig it! Don't tell me we don't have the most fun!" This referred to Lone Wolf & Cub, a classic manga and later film series about an executioner and his child.
To watch the new Rick And Morty short, all fans have to do is go to Adult Swim's YouTube channel. The video is currently the fifth top trending video on YouTube, where it has already racked up nearly 4 million views. You can also watch the mini-episode below:
The short made its debut during Adult Swim's Toonami block on March 28, when the short aired unannounced. It was then uploaded to YouTube the following day.
This new mini-episode is actually from a different team than the usual people behind Rick And Morty. "Samurai & Shogun" also has Japanese voice actors playing the two main characters. Studio Deen of Hell Girl created the anime short, while Rick and Morty are played by Yohei Tadano and Keisuke Chiba respectively.
Tadano and Chiba may already be familiar to fans of Rick And Morty in Japan, as the pair provide the same voices in the Japanese dub of the show.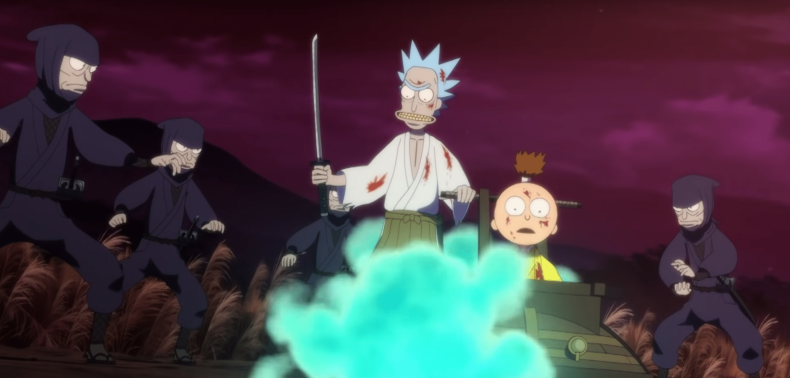 "Samurai & Shogun" is not the first time that the series has released a mini-episode while the show was on a hiatus. April 1, 2018, saw the release of "Bushworld Adventures," which saw animator Michael Cusack giving his very Australian take on the show.
As for Rick And Morty proper, the release date for the rest of Season 4 has not yet been announced. After Season 4, Episode 5 aired in December 2019, the Rick And Morty Twitter account tweeted an image saying, "Rick And Morty Season 4 will return in 2020" alongside the caption, "you can trust us." Though this seems like a strong indication we will get the remaining five episodes of the season this year, this could be another case of the show trolling its viewers.
Summer actor Spencer Grammer told Collider in November 2019 that the episodes would be "coming out eventually, sooner than later," though she revealed that at that point the remaining installments were not finished.
Rick And Morty Season 4, Part 2 is coming soon to Adult Swim.