'Rick and Morty' Season 4 Release Date, Episodes, Cast, Plot: Everything You Need to Know
They say that good things come in small packages, but Rick and Morty fans may not agree when they see that only five episodes of Season 4 will be released in 2019, with the rest coming next year.
Rick and Morty Season 4 does, however, offer some treats for fans, with Hollywood legends joining the cast and more mind-bending plots promised from the Cartoon Network series.
When is Rick and Morty Season 4 out?
The first episode, "Edge of Tomorty: Rick Die Rickpeat" will air on Cartoon Network at 11:30 p.m. ET, with the first half of the season airing weekly after that. For fans who want to watch episodes on Hulu, they are usually released onto the streamer eight months after the season has finished, meaning fans should get them in late 2020 or early 2021.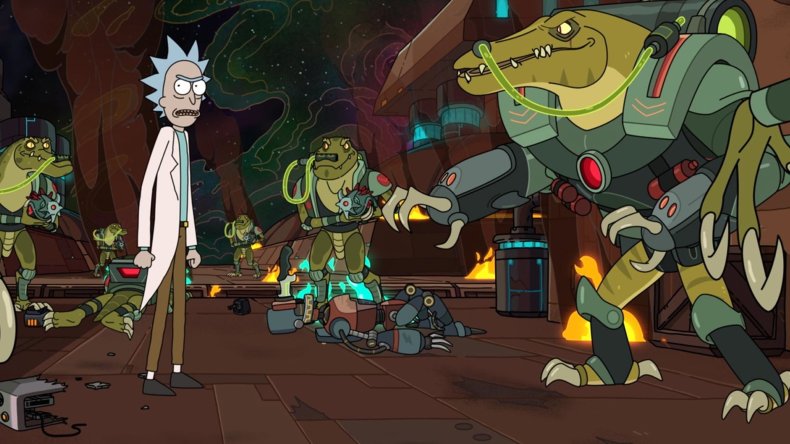 How many episodes are there in Rick and Morty Season 4?
For now, there will be only five episodes of Season 4, with the show's Twitter account saying it was, "half the season you deserve, all the season we can handle." However, the remaining five episodes of the season are due to be released in early 2020 on Cartoon Network.
In May 2018, the anarchic animated comedy was renewed for a staggering 70 episodes, meaning that there will be plenty more of the show coming in the future.
Who will star in Rick and Morty Season 4?
Alongside the usual voice cast members, a number of high-profile guest stars will voice characters. Justin Roiland (who voices Rick and Morty), Chris Parnell (Jerry), Spencer Grammar (Summer) and Sarah Chalke (Beth) are all confirmed to be back voicing their characters.
Joining them in episodes of Season 4 are actors including Jojo Rabbit director Taika Waititi, Billions' Paul Giamatti, Jurassic Park icon Sam Neil and Kathleen Turner, the one-time voice of Jessica Rabbit most recently seen in Netflix's The Kominsky Method.
What will happen in Rick and Morty Season 4?
In an interview with Entertainment Weekly, Roiland said of the new season: "Without giving anything away, we have serialized stuff we check in on now and then that's sprinkled over the top of strong episodic episodes. To fans of the show, they're going to want to watch them in order."
Co-creator Dan Harmon added: "There's going to be a couple Meeseeks popping up here and there. And like Justin is saying, if I read that as a fan, I'm now going to write in my head something that we can only disappoint on. What if Mr. Meeseeks just came in and said, [breaking into the Meeseeks voice] 'Ohhh, did you want some salt?!' And you're like, 'What the f—!? How dare you tease just that?' We're motivated too much by insecurity here. We're a bit more Morty."
Rick and Morty Season 4 airs Sundays at 11:30 p.m. ET on Cartoon Network.