'Rick and Morty' Season 5 Episode 3: Morty and Planetina's Relationship Explained
Rick and Morty both found and lost love in the latest episode of Season 5 Sunday night.
"A Rickconvenient Mort" split our heroes up and introduced a range of new characters that had heavy emotional implications for Morty, Rick and Summer. The episode title's spin on An Inconvenient Truth was incredibly appropriate as the environment was a big focus, not just on Earth but on other planets too.
For this episode, Rick and Morty's creator Dan Harmon recruited former Community cast member Alison Brie to voice the superhero Planetina, and Harmon addressed the casting on social media too.
With spoilers and behind-the-scenes details ahead, here's a rundown of what happened in the latest episode of Rick and Morty.
What Happened in 'Rick and Morty' Season 5 Episode 3?
While Rick and Morty are out buying custom tees when the cheesy villain Diesel Weasel makes a brief appearance causing it to acid rain. In swoops superhero, and Morty's love interest, Planetina (Brie) to save the day.
There's an instant connection between the two and their attraction is suitably awkward and sweet considering Morty is just 14 years old. This blossoming relationship separates Morty from Rick which leads to Rick taking Summer, who's suffering from her own heartbreak, to a hat trick of planets, which are celebrating their pending apocalyptic events.
Morty defies his parents' wishes and pursues Planetina romantically. Standing in their way of a relationship are her four "kids from each major ethnicity." They were young adults in a 90s cartoon-looking promo but have now grown into a pushy and overbearing PR team that control Planetina's life and image.
In a fit of rage, Morty murders all four of them, taking their elemental rings that they used to summon Planetina.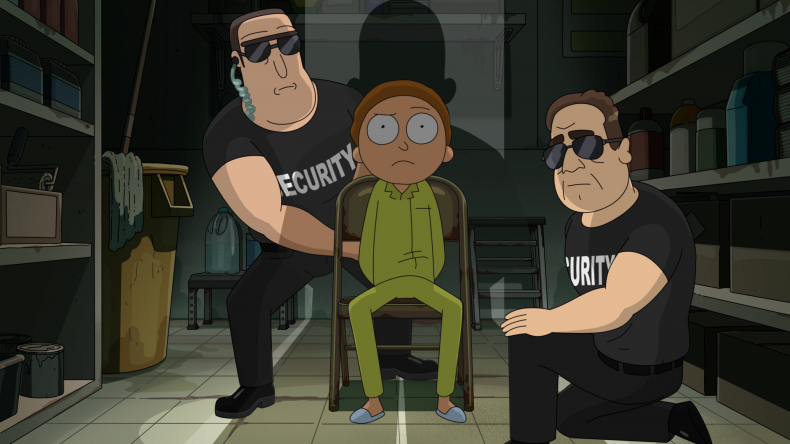 Meanwhile, Grandpa Rick and Summer are partying like it's the end of the world on planet one of three, where Rick encounters an alluring creature named Daphne, voiced by Jennifer Coolidge (American Pie).
Rick saves Daphne from her planet's destruction and sneaks her on to the next party planet to continue the hedonism and explore their relationship. Summer doesn't trust the newcomer but Rick is falling deeper in love.
Daphne only says "hello" in front of Rick but drops her act when alone with Summer. In an incredibly unsettling scene, Daphne reveals her glorious "elbow titties" that have ruined kings, caused wars and inspired nine national anthems. Coolidge has played many comedic roles but it must have been a first for her in the voice booth that day when she had to describe her wonderful arm mammaries.
To prove to Rick that Daphne is just using him to survive the end of the world, Summer averts the apocalypse on the third planet, allowing Daphne to survive without him. She quickly dumps our flawed genius leading Rick to begrudgingly thank his granddaughter for saving him, and tells her how alike they are.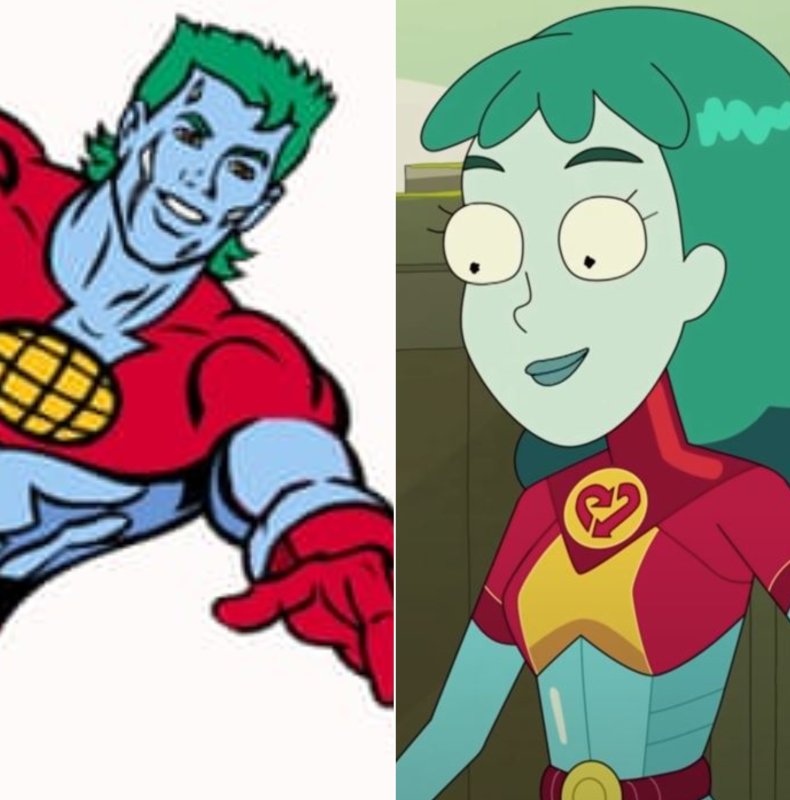 Back on Earth, Morty and Planetina's relationship is starting to spiral after a strong start. The environment protector is getting more extreme with her powers, and ends up murdering innocent miners in front of Morty. He is forced to end things with her, breaking both of their hearts in the process.
In a show that often aims for the absurd hyperbole, their break-up is handled with touching delicacy, lingering on Morty's pain and angst. His mother Beth, who opposed the relationship, simply enters his room to comfort her son in his time of need.
Who Is Planetina?
Voiced by Community and Glow star Brie, Planetina is a blatant reference to 90s TV icon Captain Planet.
A short video montage, which is straight from the 90s, shows that Planetina, the "conservationist super-person" also has the Tina-teers for support. The set-up is incredibly similar to Captain Planet and the Planeteers.
Ahead of the episode airing, Harmon shared an image of Planetina on Instagram and revealed why he's so happy with the outcome. Since the episode features Brie and was written by his longtime collaborator Rob Schrab, Harmon made the link to his previous fan-favorite sitcom Community.
Environmental issues are featured heavily throughout "A Rickconvenient Mort" with Planetina struggling to save everything throughout the episode. As she starts to unravel, she takes drastic actions because she can hear the "Earth screaming."
It's an eerie nod to real-life issues and even Rick and Summer's adventure on other planets features three end-of-the-world events that Al Gore and An Inconvenient Truth have tried to warn everybody about.
Steve Buscemi also lends his voice to a character in his episode. He plays the menacing fire element Tina-teer who Morty kills first.
What Next in 'Rick and Morty' Season 5?
A week too late for Independence Day, the next episode of Rick and Morty, scheduled to air on July 11 is called "Rickdependence Spray."
Each episode airs Sundays at 11 p.m. weekly on Adult Swim.