'Rick and Morty' Season 5 Episode 3 Preview: Introducing the Diesel Weasel
Rick and Morty are addressing environmental issues in the latest episode.
Season 5 Episode 3 airs on Adult Swim Sunday night and it looks like it's going to tackle the hot topic of pollution in its own unique way.
Early previews of the episode feature a lot to look forward to, including a parody and gender swap of a classic cartoon character from the 90s. Here's everything we know about tonight's episode of Rick and Morty.
What Happens in 'Rick and Morty' Season 5 Episode 3?
Tonight's episode is called "A Rickconvenient Mort" which appears to be a riff on Al Gore's famous documentary film An Inconvenient Truth. This implies that the entire episode could be based around the topic of climate change and pollution. The preview clip released by Adult Swim seems to showcase those themes in action.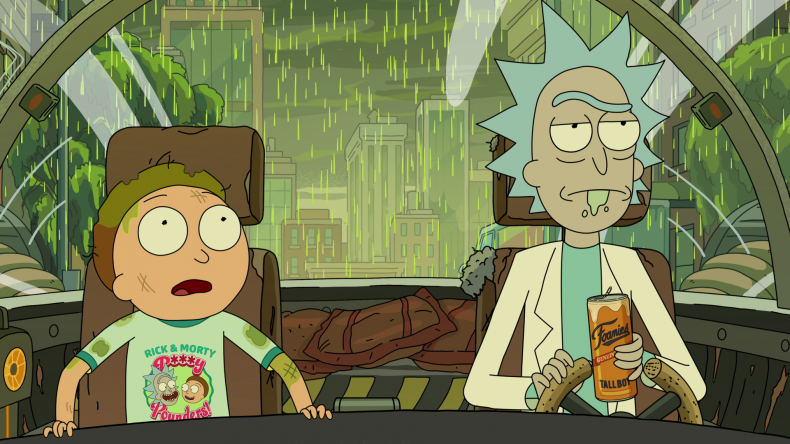 In the clip we see Rick and Morty taking shelter in their futuristic car while acid rain pours down around them. They head inside to protect their NSFW custom tees they just bought at Johnny D's. Morty's already wearing his shirt and it seems to say "Rick & Morty P***y Pounders."
Suddenly, in glides a giant creature on a flying motorbike called Diesel Weasel who's causing the havoc around him. Then, over his shoulder, a superhero appears who looks very familiar to anyone who watched cartoons in the 90s.
Morty is amazed by her entrance but Rick appears less impressed with her poor rhyming scheme, asking "who's the chick in need of a dialogue pass?"
This mystery superhero breaks the fourth wall by announcing: "There's only one solution to earth's pollution, you."
Her visual look is very similar to Captain Planet from the cartoon Captain Planet and the Planeteers.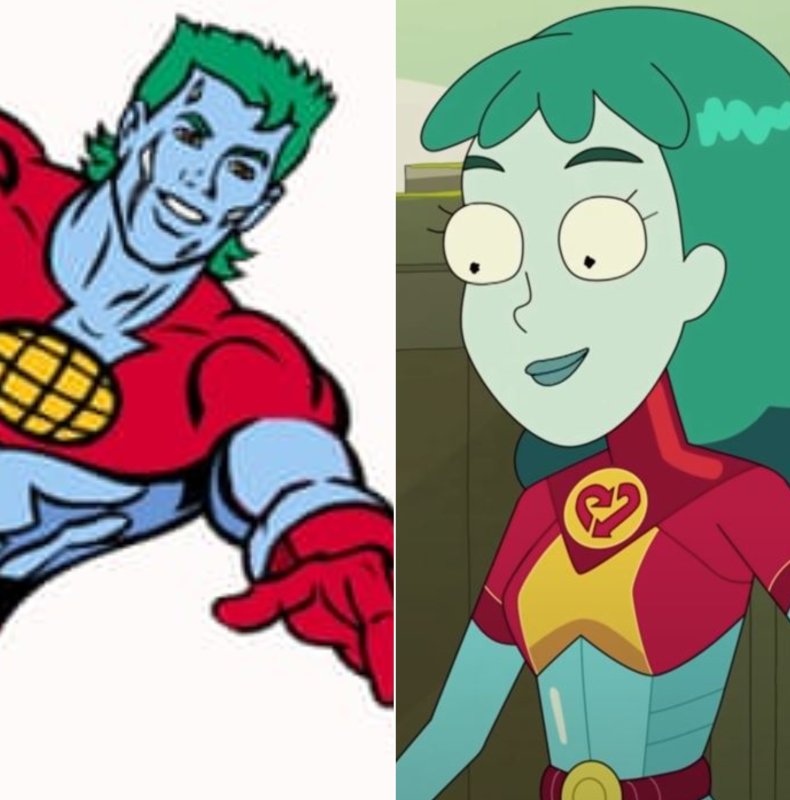 What Happens in 'Rick and Morty' Season 5?
The creators of Rick and Morty, Dan Harmon and Justin Roiland teased fans with small details about what to expect from the rest of Season 5.
Ahead of the season's premiere, they shared a glimpse of Rick on social media and revealed the titles of all of the episodes to come. After Episode 3's "A Rickconvenient Mort" there's six more episodes left in Season 5. They are: "Rickdependence Spray," "Amortycan Grickfitti," "Rick & Morty's Thanksploitation Spectacular," "Gotron Jerrysis Rickvangelion," "Rickternal Friendshine of the Spotless Mort," "Forgetting Sarick Mortshall," and "Rickmurai Jack."
The titles are often puns on classic pop culture references with Rick and Morty's names shoehorned in.
Episode 3 of Rick and Morty airs Sunday on Adult Swim at 11 p.m. ET. Each episode follows every Sunday afterwards at the same time.