'Rick and Morty' Season 5 Episode 4 Preview: Back to the Horse Hospital
Morty's adolescence comes to the fore in the next episode of Rick and Morty.
Season 5 continues on Adult Swim tonight as the Smith family continue their interdimensional shenanigans courtesy of Grandpa Rick Sanchez.
So far throughout the current season we've seen a 90s throwback parody, a decoy clone conundrum and the incomparably sexual Mr. Nimbus—so what does Episode 4 have in store?
What happens in Season 5 Episode 4 of Rick and Morty?
Apart from announcing the titles for each episode ahead of time, creators Dan Harmon and Justin Roiland are keeping the plot of Season 5 episodes under wraps.
Even the video trailer for the next episode doesn't give too much of the story details away.
Season 5 Episode 4 of Rick and Morty is titled "Rickdependence Spray" which sounds like a riff on Independence Day.
July 11 is an unusual time for this episode to come out as a reference to Independence Day, as the 4th of July holiday was one week prior. This could either be a subtle joke by the creators—or a production mishap.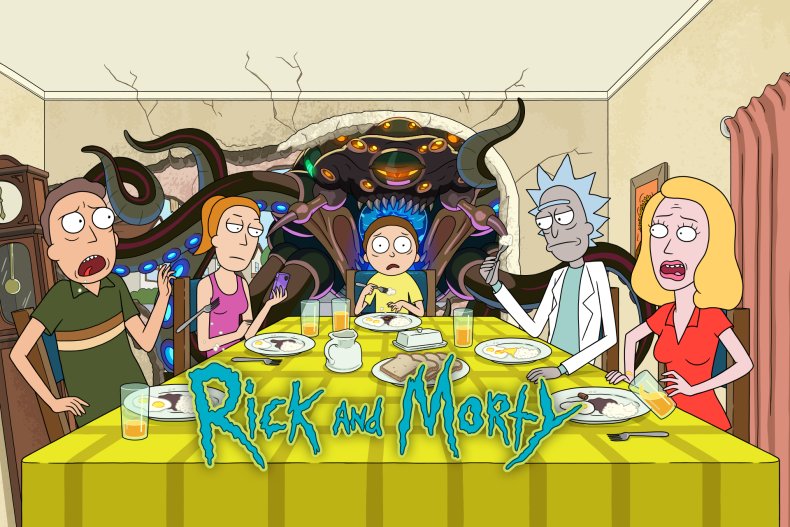 The first teaser to Episode 4 sees Rick waiting around at his mom's work. We haven't seen Beth, a horse doctor, working at St Equis Hospital for a number of seasons.
Morty is trying to get Beth to finish work faster so they can see a movie, until a piece of equipment catches Morty's attention.
Beth tells Morty the machinery is a breeding mount that the nurses use to collect "reproductive material."
Morty flicks the machine on and the hole in the end starts pumping, leading Morty to eye it up like Jim did to his dessert in American Pie. While the breeding mount continues to pump, Morty remains transfixed on its motion.
Who has guest starred in Rick and Morty Season 5 so far?
There's no details as to who will be lending their voice to the episode "Rickdependence Spray," although there has been plenty of recognisable voices in some of the previous episodes in Season 5 already.
Episode 3 featured Harmon's former Community colleague Alison Brie as well as Jennifer Coolidge (American Pie) and Steve Buscemi (Fargo) while other episodes featured comedian Jim Gaffigan and another has Keith David return as the president.
Co-creator Roiland voices both Rick and Morty while Sarah Chalke (Scrubs) voices Beth, Chris Parnell (30 Rock) voices Jerry and Spencer Grammer voices Summer.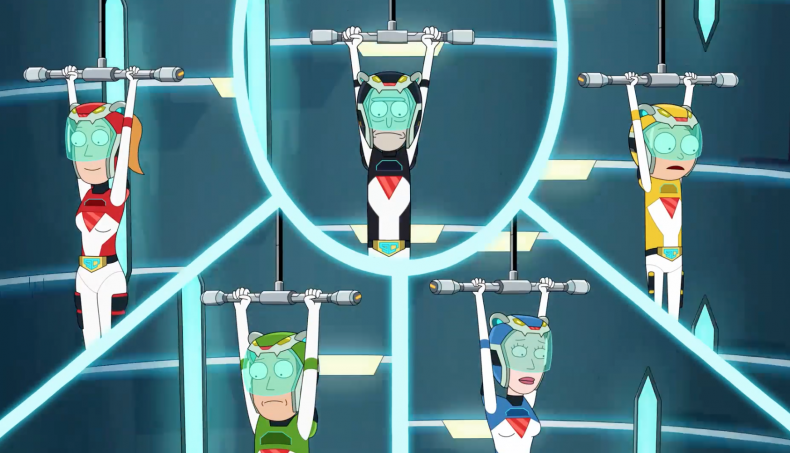 Future episodes of Rick and Morty in Season 5
Episode title for Rick and Morty are often forced puns on pop culture references with Morty and Rick's names shoehorned in. Here's a list of the remaining episodes for the rest of the series and the pop culture terms they're referencing:
"Amortycan Grickfitti"—American Graffiti
"Rick & Morty's Thanksploitation Spectacular"—A reference to the Blaxploitation genre
"Gotron Jerrysis Rickvangelion"—Neon Genesis Evangelion
"Rickternal Friendshine of the Spotless Mort"—Eternal Sunshine of the Spotless Mind
"Forgetting Sarick Mortshall"—Forgetting Sarah Marshall
"Rickmurai Jack"—Samurai Jack
"Rickdependence Spray" airs tonight at 11 p.m. ET on Adult Swim.