'Rick and Morty' Season 5 Episode 5: Rick and Jerry's Guys Night
Rick and Morty reunites its most unlikely pairing in Sunday night's episode on Adult Swim.
Rick and Jerry, who are complete opposites when it comes to personality and intelligence, are heading off on an adventure in the fifth episode of Season 5.
"Amortycan Grickfitti" marks the halfway point for the season, so fans should start to savor the new instalments while they can.
What Happens in 'Rick and Morty' Season 5 Episode 5?
Guest stars and storylines have been kept tightly under wraps for each episode of Rick and Morty this season. Only the weekly 30-second previews and episode titles give fans a hint of what to expect.
The teaser for "Amortycan Grickfitti" opens with Beth being called to deal with an emergency at the horse hospital. Someone played Barry White at the racing track, resulting in seven horses falling pregnant. The creators of Rick and Morty, Dan Harmon and Justin Roiland, rarely hold back when it comes to what they show on screen—but this image is definitely best left to the imagination.
As Beth has to leave, she asks Jerry to watch the kids, but Rick informs her that he can't because he and Jerry are having a "guys night."
Like the audience, Beth is incredulous but Rick assures her that the pair, who have always been at odds, are buds and Friday nights are all about Rick and Jerry.
Something is obviously afoot, though, as Rick and Jerry are seen unpacking a box labeled "occult items."
Morty and Summer are seemingly left unsupervised during the episode. Beth warns Summer as she's leaving the house: "No parties and no vape—stuff."
The episode title is once again a pop culture reference with Rick and Morty's names forced in. "Amortycan Grickfitti" is a play on American Graffiti, George Lucas' 1973 film about a group of teenagers and their adventures over the course of a night. Perhaps this is where the unsupervised Morty and Summer come into play.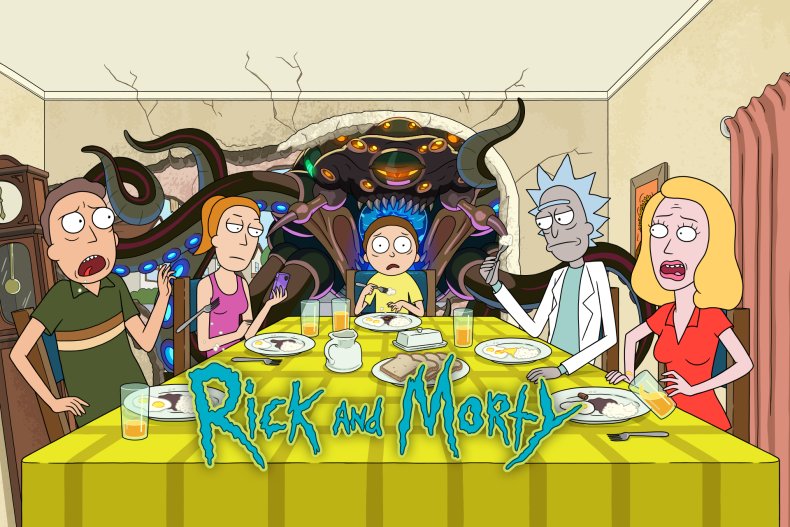 When Have Rick and Jerry Teamed up Before?
Rick and Jerry are perhaps the two characters who like each other the least and, although they're often at odds, they are rarely together for an entire episode.
One of the exceptions is Episode 5 of Season 3, "The Whirly Dirly Conspiracy," in which Rick takes Jerry on a pity adventure.
Jerry also bonded with Doofus Rick in Episode 10 of Season 1, "Close Rick-counters of the Rick Kind." His fondness for a dumber version of Rick suggests Jerry would get on with his father-in-law if it wasn't for his exceptional intelligence.
What Else Happens in Season 5 of 'Rick and Morty'?
Little is known about Season 5 of Rick and Morty apart from the episode titles. The show's Twitter account revealed all 10 titles ahead of the season's launch in June. Each one is a thinly veiled pop culture reference. The names of Episodes 6 to 10 are:
"Rick & Morty's Thanksploitation Spectacular"—a reference to the Blaxploitation movie genre
"Gotron Jerrysis Rickvangelion"—the anime series Neon Genesis Evangelion
"Rickternal Friendshine of the Spotless Mort"—the 2004 movie Eternal Sunshine of the Spotless Mind
"Forgetting Sarick Mortshall"—the 2008 film Forgetting Sarah Marshall
"Rickmurai Jack"—the animated show Samurai Jack.
"Amortycan Grickfitti" airs tonight at 11 p.m. ET on Adult Swim.